Norwalk Furniture gets essential status, shifts to making healthcare equipment
April 10, 2020 | 12:02 pm CDT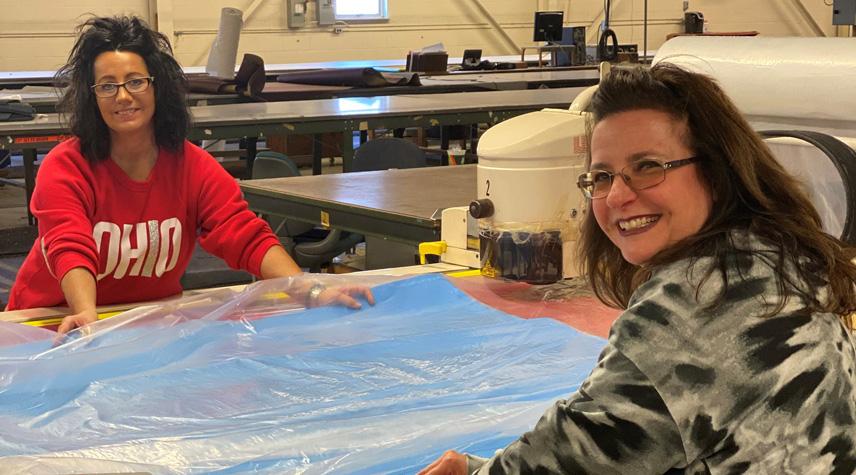 NORWALK, Ohio - As of April 6, Norwalk Furniture has been making very different products from what it is used to: Protective face masks and medical gowns for hospital workers.
Production began after the company received its designation for "Essential Business Status" from Huron County (Ohio). The designation allows Norwalk to redirect its production efforts and provides for a group of cutters, sewers and patternmakers to voluntarily return to work after being furloughed under the state's stay-at-home mandate. The company operates a 440,000 square foot production facility.
"A remarkable collaboration has taken place between our employees and executives at several community hospitals in just a matter of a few short days," said Troy Pittenger, vice president of finance, Norwalk Furniture. "They've demonstrated their true creativity and innovative drive to find ways to use suitable, on-hand hospital materials that are readily available. Now we can quickly produce these vital PPE products that our local healthcare workers rely on to remain safe, while helping those in need.
"The Norwalk community has been such a positive supporter of our company over the years, and our employees have really stepped-up to personally show their appreciation with these efforts," he continued. "In addition to performing our civic duty, many of our employees have family members on the front line of the health services industry. It seems as if all of us have some personal connection to trying to beat this virus."
As a result of the Ohio Governor's Mike DeWine's announcement of a stay-at-home order for the entire state, the company has moved its furniture production reopening date to May 4. With this extension, the company expects to move most of its furniture orders out about five to six weeks after their originally scheduled ship dates to reflect the new production timeframe. The company also maintains plenty of raw materials to resume production at full capacity when the stay-at-home orders are lifted.
"To witness our command team redirect their efforts to meet this critical need has been a ray of sunshine in these foggy few weeks," said Caroline Hipple, president of Norwalk Furniture. "We have, together, weathered many storms. We will weather this one too, together, and we'll be stronger on the other side as a result."
Norwalk produces around 40,000 furniture pieces every year. 
Have something to say? Share your thoughts with us in the comments below.