North Bennet Street School embraces trade school roots
July 10, 2019 | 8:43 am CDT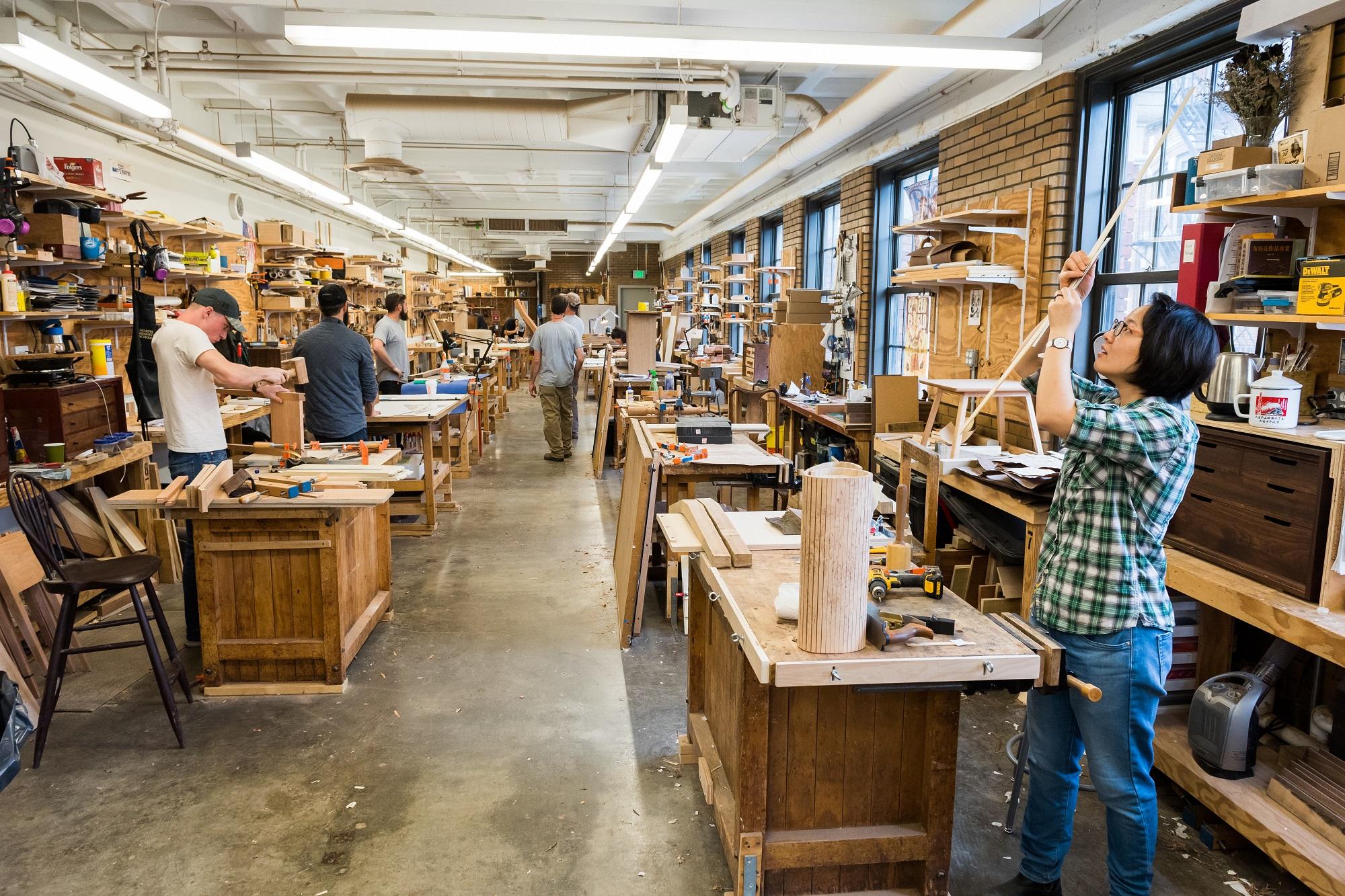 It's still called North Bennet Street School even though its address is now on North Street, still in Boston's historic North End. Among woodworkers it is a storied school famous for spectacular workmanship and attention to detail. But perhaps less known, North Bennet Street School is the nation's oldest trade school, founded in 1881 to train immigrants for skilled hand work in Boston factories of the day. With a multi-disciplinary program, a dedication to private funding and career training, and leadership from a newly appointed president, the school today embraces both its history and the role it has in shaping the careers of its students.
Those careers cover woodworking-related fields such as cabinet and furniture making, carpentry and preservation carpentry, violin making and repair, and the last hands-on piano technology program in the United States. But the curriculum also include bookbinding, jewelry making and repair, locksmithing and security, as well as a host of continuing education programs. It's all summed up by the school's motto: "A good life built by hand."
The new president of North Bennet Street School is Sarah Turner who enthusiastically embraces the school's trade school mission.
New president
Sarah Turner, North Bennet Street's new president, proudly reports that of 96 students in the school's 2019 graduation class, 82 already have been placed in jobs. High job placement is actually demanded by school creditors, requiring at least 70 percent placement each year.
Turner, who previously was dean of the Graduate School at Cranbrook Academy of Art, points out the high level of craftsmanship that North Bennet Street School is known for, but she makes a distinction between it and schools more devoted to art and design.
"This is a trades school," she said. "It's a different culture. You're expected to be on time. It's not like art school."
"Before our students walk in the door for their first class, we are already thinking about the skills and connections they will need to get a job within their field," says Turner. "Going beyond the bench, we work with students to shape their business and marketing skills, price their products and services, connect them to our diverse international alumni network, and prepare them for future employment in their chosen industries."
Still, the emphasis has been and continues to be on hand skills rather than technology. Powered machine tools supplement hand tools, but there is no CNC production.
Close collaboration between students and teachers is part of the fundamental hands-on Sloyd Education-based program at North Bennet Street School in Boston, the nation's oldest trade school.
Sloyd Education
This approach traces its roots to the Sloyd Education system developed in Finland in 1865 and that is still taught in Scandinavian schools today. Gustaf Larsson's Sloyd Teacher Training School was housed on the fourth floor of the North Bennet Street Industrial School (which became the North Bennet Street School) in Boston. Today, NBSS programs continue to incorporate the Sloyd philosophy of building skills based on hand work.
As North Bennet Street School moves into the 21st century, the emphasis is not so much on adding the latest technology as it is in meeting contemporary student needs for a practical and affordable trades education leading to a successful career.
A Marine Corps veteran, Abbie Smith, works on some marquetry in the Furniture program at North Bennet Street School. Veterans make up about 20 percent of the school's students.
A Marine in woodworking
Abbie Smith, a veteran of the United States Marine Corps, grew up restoring and caring for old sailing schooners alongside her father in Maine. But after high school, she met friends at Camp Lejeune in North Carolina who inspired her to enlist. Smith went on to serve in a mechanical engineering role for five years, including two deployments overseas, and met her husband, Timothy. The two eventually settled back in Maine where Smith discovered her passion for building while working at a local furniture store.
Both Smith and her husband enrolled in North Bennet Street School to pursue careers in the trades. Smith enrolled in Cabinet & Furniture Making; her husband went into Carpentry. 
Their education at North Bennet Street School was made possible by the School's Yellow Ribbon Program, which helps to bridge the financial gap beyond regular VA benefits to fund tuition, tools, and materials. 
"Veterans offer employers extremely valuable mechanical, analytical, troubleshooting and interpersonal skills, such as team work, collaboration and conflict resolution," says Smith, who plans to start her own business. "Working with your hands, problem solving, and learning to be patient with yourself, while creating something that's useful, can also be cathartic."
North Bennet Street School was founded in 1881 to train immigrants for hand work in Boston's factories. Today, training immigrants like Diego Rojas, who came to Boston from the Dominican Republic when he was 12, is still part of the school's mission.
An immigrant in carpentry
When Diego Rojas immigrated to the United States from the Dominican Republic at age 12 with his mother and siblings, his world turned upside down. It wasn't until he interned for the National Park Service through Boston's Madison Park Technical Vocational High School that he felt he found his place among craftsmen. His success led him to apply to North Bennet Street.
In 2016, Rojas started his post-secondary education in Carpentry. He went on with Preservation Carpentry. 
"When I graduate, I will miss the passionate and supportive environment of North Bennet Street School the most," says Rojas. "The opportunity to go here on a full-ride scholarship has afforded me a better life – a way to support my family with a sense of purpose. For that, I am forever grateful." 
Roja's time at North Bennet Street School was made possible by a Workforce Development Scholarship, which has been critical to funding his education. The School offers a variety of financial aid tools like this to students every year, and significantly, just froze tuition at current levels for the next three years. By 2022, North Bennet Street School aims to award $1 million in funding to make trades education more accessible to all.
Preservation Carpentry is another part of the North Bennet Street School program.
Highest craftsmanship
On a visit to North Bennet Street School's current 64,000-square-foot facility, you can't help but notice the expansive natural lighting, hands-on collegial atmosphere and attention to detail. Whether it is one student carefully mitering delicate mullions for a window frame or another shaving hair-thin pieces to craft a violin back, the intensity of concentration is apparent.
And the results are simply stunning. Finished work on display in the gallery from current students and alumni represents some of the highest level of hand craftsmanship in North America. But one has to ask if that is an anachronism in the 21st century. North Bennet Street School thinks not.
Since 1990, college tuition is up more than 300 percent. Today, the average student debt for a bachelor's degree is more than $37,000. Meanwhile, the U.S. Department of Education reports that there will be 68 percent more job openings in trade related jobs in the next five years than there are people trained to fill them.
"Working with one's hands promotes mindfulness, offers job security, and provides a sense of personal accomplishment," says Sarah Turner, North Bennet Street School President. "This prospect of skilled careers, at a time when four-year college debt is crushing, is worth considering. Pathways to meaningful lives do not have to come at an extreme cost."
To learn more about North Bennet Street School, visit
www.nbss.edu
. 
Have something to say? Share your thoughts with us in the comments below.