New JET 15, 18 & 20-inch Bandsaws Have Extra-Large Resaw and Rip Capacities
July 13, 2016 | 9:00 am CDT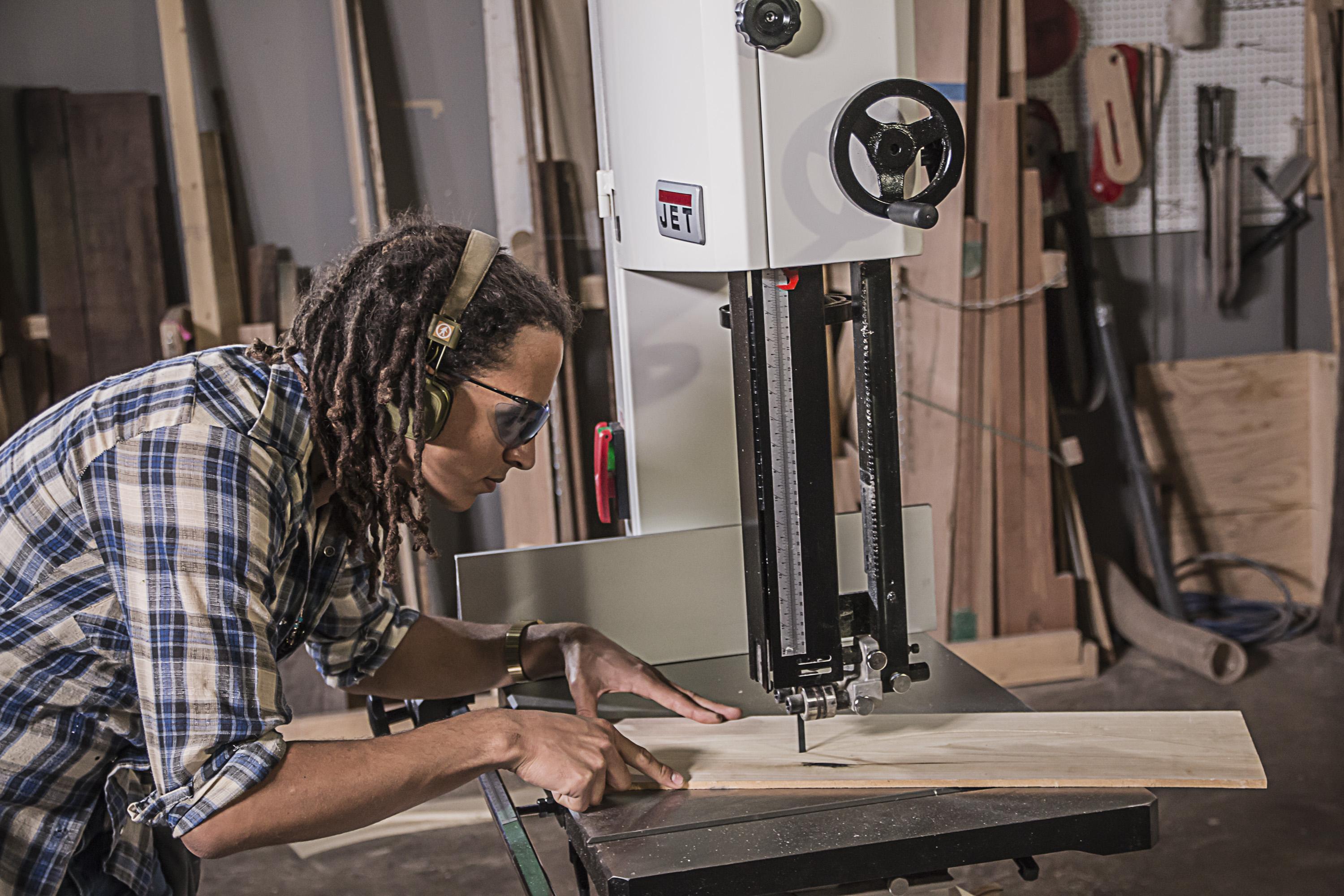 LA VERGNE, Tenn. - The new family of JET 15", 18" and 20" Steel Frame Bandsaws feature the largest resaw capacities and table dimensions in their respective classes, according to their manufacturer, JPW Industries. These versatile bandsaws also include a micro-adjustable, dual-position fence, four-sided blade guard, dual 4" dust collection ports, paddle off-switch with safety key and rugged steel frame construction.
"Our new JET Steel Frame Bandsaw family blends premium features with solid construction and ease of use," said Katie Davidson, JET's Product Manager. "These bandsaws are a great choice for small to mid-sized woodworking shops, as well as serious enthusiasts."  
Added resaw and rip capabilities enable the new JET bandsaws to accurately and efficiently perform a wider range of woodcutting tasks. They're ideal for cutting large pieces of wood to size, slicing veneers, sawing curves for cabinetry and furniture, creating intricate scrollwork, and cutting book matched panels. 
Resaw height of the new JET 15" bandsaws has been increased to 14", which is 4" larger than previous models. The 18" and 20" bandsaws boast a full 16" resaw capacity, which is a 3¾" increase over their predecessors.
The 15" bandsaw's table is extra-large for its class at 21½" L x 16" W, while the oversize table of the 18" and 20" saws measures 27¼" L x 20" W. These cast-iron tables are precisely ground for flatness and tilt 0-45o right and 0-5o left, providing support for a wide range of bevel cuts. A standard miter slot is provided. 
 A 4½" handwheel and easy-to-read scale provide quick and accurate table angle adjustments. The 15" bandsaw's table height is 35" from the floor and the tables of the 18 and 20" saws are set at 37". 
All of the new bandsaws are equipped with extruded aluminum, dual-position fences that can be used flat for inlays and furring strips or upright for crown molding and other materials. The fences slide on a steel guard rail and are fully adjustable with a laser-etched scale and micro-adjust feature.  
New JET 15, 18 and 20-inch Steel Frame Bandsaws 
The floor-standing bandsaws have rugged steel frames and wide bases that provide stability for smooth operation and work support, while minimizing vibration. Cast iron blade wheels are precisely machined and computer balanced to reduce vibration and ensure accurate blade tracking. They are equipped with polyurethane tires.
The saws are driven by single-phase motors ranging from 1¾ to 5 hp, prewired for 115 or 230V service. A paddle off-switch with safety key is provided on all models.
Precise blade tension adjustments are made by turning a handwheel and setting a tensioning scale, which can be viewed through an upper door window. A quick release has three settings: full tension, partial tension and full release. This is provided for making blade changes and relaxing the blade when not in use. The slotted table allows for convenient front blade removal. 
Upper and lower, ball-bearing blade guides are independently adjustable and tool-free.  The saws also are equipped with four-sided blade guards. Single-knob adjustment simplifies the blade tracking process, and a blade tracking window provides a clear view of the blade during tracking.
Dual 4"-diameter dust ports, located at the back of the bandsaw, connect to a dust collection system and require a minimum capacity of 400 CFM.  
The JET 15, 18 and 20" Steel Frame Bandsaws are CSA certified. They are covered by a 5-year warranty, as well as JET's RED Assurance.  
Visit
www.jettools.com
for more information or to locate a dealer for the new JET 15" Steel Frame Bandsaws (714600, $1,649.99 and 714650, $1,799.99), JET 18" Steel Frame Bandsaws (714700, $2,099.99 and 714750, $2,299.99) and JET 20" Steel Frame Bandsaws (714800, $2,999.99 and 714850, $3,249.99).
Have something to say? Share your thoughts with us in the comments below.