New Brunswick sawmills say they are unfairly singled out for U.S. anti-dumping duties
November 6, 2017 | 10:56 am CST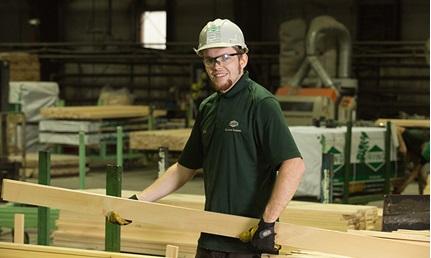 Photo By JD Irving, Limited
FREDERICTON, N.B. - New Brunswick lumber producers took issue with the U.S. Department of Commerce punitive tariffs issued last week, stating the antidumping duties set for softwood lumber "excluded all of the Atlantic Provinces except New Brunswick in its final determination of duties on softwood lumber."
Under the new tariffs, New Brunswick sawmills (excluding J.D. Irving, Limited) will pay 14.25 percent Countervailing Duties - CVD -  plus 6.58 percent in anti-dumping duties for a total of 20.83 percent duty. 
J.D. Irving, a 15,000-employee forest products firm based in St. John, was the only Canadian producer to volunteer for a review by the Department of Commerce during the Countervailing Duties proceedings. As a result, it will pay 3.34 percent in countervailing duties and 6.58 percent in antidumping duties -  9.92 percent in all. 
"There is no good news for any sawmill in New Brunswick with today's announcement and the 20.83 percent disadvantage that we now face compared to other Atlantic Canadian producers," said .the group  "The Province should act immediately to according to a statement issued by theNew Brunswick lumber producers, and called for an expedited review for New Brunswick softwood sawmills."
The New Brunswick Lumber Producers' 10 member sawmills say they represent 95 percent of softwood lumber production in New Brunswick. The group contends that the lower tariff established for J.D. Irving means that all New Brunswick lumber producers should be excluded from the trade remedy tariffs process, noting, "This exclusion has existed for 35 years and nothing has changed."
The NBLP says it is united in calling on the Province of New Brunswick to immediately do everything it can to resolve the trade dispute, which it claims is the first time in the history of the U.S. softwood lumber trade negotiations that the Province of New Brunswick has not been exempt.
"The change in treatment of New Brunswick essentially comes down to an auditor general's report which speculated, without providing any hard conclusions, that there may be some distortion in the New Brunswick market which might make [softwood sawlog] prices higher or lower than they might otherwise be," according to attorney William Barringer, who has been representing New Brunswick in the U.S. trade proceedings. 
The government should immediately address the speculative comments about market distortion. New Brunswick's forestry system has always been based on free and fair trade. This has not changed and should be recognized by the US Department of Commerce. 
SOURCE New Brunswick Lumber Producers (NBLP)
Have something to say? Share your thoughts with us in the comments below.