Museum display specialist Taylor Studios now offers casework, cabinetry
September 28, 2016 | 10:32 am CDT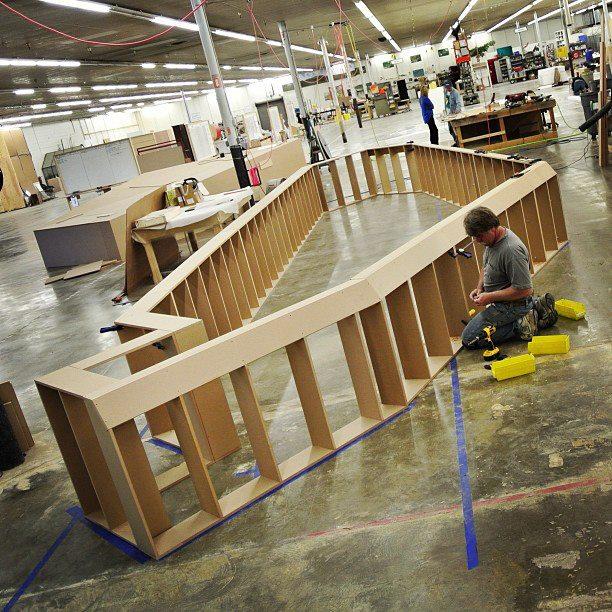 RANTOUL, Ill. - Taylor Studios Inc., whose museum display clientele includes historical sites such as San Diego's USS Midway Museum, says it has begun offering professional casework and cabinetry services in its local market.
Taylor Studios ordinarily can be found engaged in building display cases, dioramas, walk-through nature experiences,  or even the occasional whale or mastodon. With over 25 years of experience fabricating museum-quality pieces, Taylor is adapting its skills and working with interior designers, architects, general contractors and developers to provide custom, high-end casework and cabinetry.
Investment Planners - casework and cabinetry fabricated by Taylor Studios, Inc. 
After a market analysis in 2015, Taylor Studios took strategic measures to increase its capacity - including the addition of a Multicam CNC router - and expand its ability to serve the area with custom cabinets and casework.

Woodworking has always been part of the fabrication services offered at Taylor Studios, and they have added a variety of equipment, technology, and software - including V-Carve, Cabinet Vision, and CAD program -  to the woodshop. 
Equipment includes the CNC router, as well as an edgebander and boring machine from Stiles Machinery. Other equipment includes a case clamp (Uhling), pocket hole machine (Kreg), and hinge-boring machine (Grass Ecopress). The additions helps Taylor Studio's woodshop deliver a larger quantity of casework.
For Jeld-Wen, Rantoul Illinois: Breakroom cabinetry, designed by Spectrum Design Group.
With project management and quality control processes already in-place, Taylor Studios believes that commercial custom cabinetry and casework are a complimentary fit to the existing core business. In this realm they create frameless cabinets with a sleek, seamless design that offer more storage than framed cabinets, and more.

Betty Brennan, president and owner, co-founded Taylor Studios in 1991. With a marketing degree from Southern Illinois University and an MBA from Southwest Missouri State University, Brennan is the driving force behind Taylor's success, overseeing each department, and directing and coordinating activities to keep the business profitable and generate return on capital.
As a result of Brennan's efforts, Taylor Studios reached the Inc. 500 list of the fastest growing companies in 2000, and the Inc. 5000 lists in 2007 and 2009.  
Baxter's American Grille, Champaign IL - Bar islands and wine lockers fabricated by Taylor Studios, Inc
Have something to say? Share your thoughts with us in the comments below.