More than 100 students awarded an Ashley Furniture Scholarship
September 16, 2022 | 12:12 pm CDT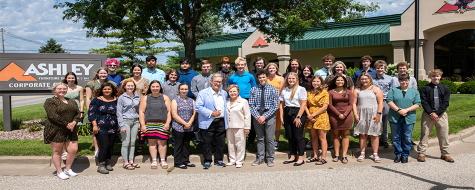 School is back in session across most of the country and over 100 students are heading off to college with a scholarship from Ashley Furniture Industries, and the Wanek family. The company's scholarship programs, which are awarding over $294,000 this year, support students who are choosing to further their education in a variety of fields.
Each year, Ashley provides two separate scholarship opportunities for children of Ashley employees who are graduating high school. One of those students who received a scholarship was the son of Ashley employee, Dan Myers.
"I am extremely grateful to work for a company that is able and willing to support the higher education of their employee's children. I was so proud to see the excitement on my son's face when he received the scholarship,"  said Myers.
The 'Ashley Grants-in-Aid Scholarship' provides a $2,000, one-time scholarship to graduating high school students who are enrolled in an accredited college or university during the following fall semester. The 'Wanek Engineering and Design Scholarship' is a $5,000 scholarship provided to graduating high school students pursuing a secondary degree in an Engineering or Design field.
"With the price of college tuition continuing to go up, we greatly appreciate all the financial help Ashley Furniture has given to our children over the years," said Janice Knudsen, another Ashley Employee. "All three of our children have received scholarships from Ashley, which has helped reduce the amount of student loans our children had to incur. Thank you doesn't seem adequate for how grateful we are to the Wanek family for their generosity."
Scholarships were awarded to students in Wisconsin, Pennsylvania, North Carolina, Mississippi, Florida, Washington, and California. Some of the Ashley facilities held scholarship ceremonies that recipients and their families were invited to for a presentation and tour of the company to learn more about career opportunities at Ashley, followed by a celebration for the recipients.
Ashley and the Wanek family have provided millions of dollars towards education initiatives, in-kind services, and more than 3,000 student scholarships. As manufacturing continues to advance and the global economy evolves, training and educating the future workforce will be a crucial part of our country's success. 
Have something to say? Share your thoughts with us in the comments below.