Missouri's Ortmann Woodcraft supplies inaugural walnut pens, mementos
January 25, 2017 | 11:40 am CST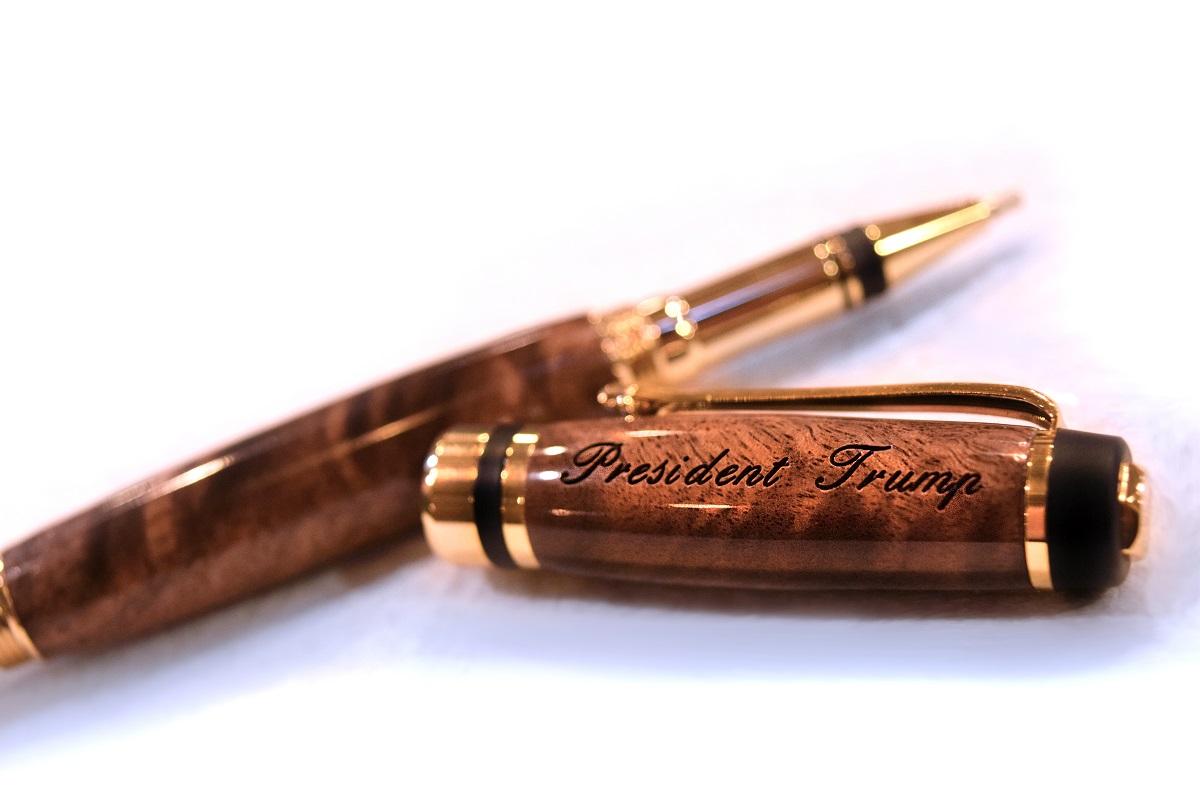 CAPE GIRARDEAU, Mo. -- Jon and Debbie Ortmann, owners of Ortmann Woodcraft in Cape Girardeau, supplied 500 pens and 400 letter openers that were included in gift baskets and given to President Trump and attendees of the Presidential Luncheon held just after the inauguration. 
On network television, Senator Roy Blunt (R-Mo.), chairman of the Joint Congressional Committee on Inaugural Ceremonies, identified and thanked Ortmann Woodcraft for their contribution.
A few minutes later, Jon Ortmann's phone started ringing and he reports that several days later it has not yet stopped. Calls came in from New York, Chicago, Florida, Los Angeles, and many other places thanking him for his involvement and requesting orders for President Trump's pen, attendee pens and letter openers.
"The whole experience has been surreal.  I'm still in shock," Ortmann said. Both Jon and Debbie also attended the inauguration.
This opportunity for the company began in 2016 when someone from Washington, D.C., was in town on vacation in Cape Girardeau
That person spotted Ortmann Woodcraft's workmanship at a local farmer's market. Jon and Debbie's passion for working with wood was on display through their cutting boards, pens, wine racks, styluses, and more. Ortmann Woodcraft concentrates on smaller wood products ranging from pens (every color, shape and style in regular ink or fountain pens or even mechanical pencil sets) and cutting boards to bottle stoppers and wine racks.
That customer returned to D.C. and brought the items to the attention of the office of Senator Blunt. Many samples of Ortmann's handiwork were requested, sent, reviewed, and a couple of days after the election, the order for engraved commemorative pens and letter openers was placed.
Missouri natives, Jon and Debbie went to work immediately, using Missouri walnut for the order. Every item was handcrafted in their workshop including the commemorative engraving.  Each pen and letter opener took at least 20 minutes to make, keeping the couple working day, and sometimes night, under an agreement of confidentiality, to have the items finished and shipped in plenty of time for the ceremony and luncheon.
Debbie and Jon Ortmann at the Inauguration.
"It was hard to keep it a secret," Jon said, "but being on the actual stage in Washington D.C. about 25 rows from President Trump during the inauguration made it all worth it."
Thanks to Senator Blunt, the secret is now out and orders are pouring in from around the globe from people wanting to own a piece of history while helping a small business.  In response, Ortmann Woodcraft is offering serialized commemorative sets of the pens and letter opener with a letter of authenticity as well as individual items for purchase through their online stores.
You may contact Ortmann Woodcraft through their website, Facebook, or Etsy. See http://www.ortmannwoodcraft.com
Have something to say? Share your thoughts with us in the comments below.