MiLL students are winners at SkillsUSA Colorado championships
By Katie Stearns
May 9, 2019 | 2:47 pm CDT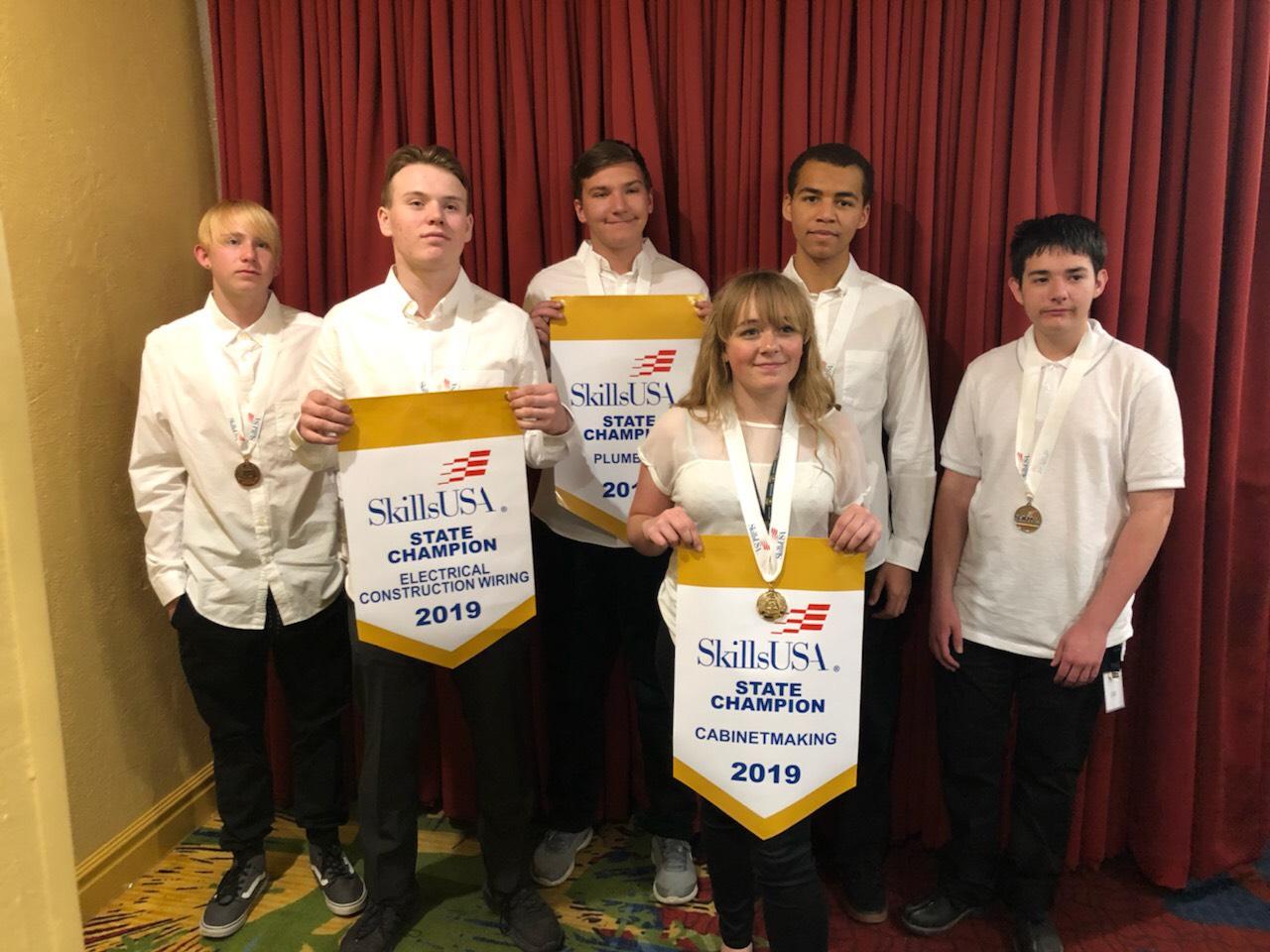 COLORADO SPRINGS, Colo. -- The MiLL had a great showing at the SkillsUSA Colorado State Championship. The MiLL students worked hard to earn three championship gold medals, one runner-up silver medal and two third place bronze medals.
All gold medal champions are qualified to compete in the SkillsUSA National competition held in Louisville Kentucky, June 24-26. In total there will be more than 6,500 CTE students competing in 103 different categories, including trades, leadership and technical fields.
Ashley Taylor took the championship title for cabinetry. Taylor is a Colorado Springs native and is in her third year at The MiLL. She started taking classes at The MiLL after watching her father working and building in their garage, she enjoyed the times she was able to help him. She was shocked when they announced she was the state winner, but is looking for to nationals and the opportunity to meet new people. "The teachers at The MiLL taught me how to properly read blueprints and how to safely operate the machines," she said.
Lucian Spurlin took the silver medal in cabinetry. Spurlin is a second year cabinet manufacturing student under the instruction of Chet Miller. "When they told me that I got second place, it was amazing to know that I was with some of the best of this trade in the state, and that I did well, it felt great!" Spurlin plans to compete next year, he enjoys seeing how far he can push himself, physically and mentally, to create a functional product. "All of the staff at The MiLL helped me get to where I ended up, they continue to show me the great opportunities that this industry has to offer," he said.
Construction teachers Jeff Beatty and Brandon Martinez were proud of the work their students accomplished at the state competition. The construction classes earned two gold medal championships and two third place bronze medals. Bronze medal winners were Daniel Smith in masonry and Nathan Follmar in electrical construction wiring.
The electrical construction wiring gold medal went to second-year MiLL student Devin Haller. An 18-year-old accomplished student athlete, Haller holds all-conference titles in wrestling and football. Previously a student in welding and car care, he joined the MiLL construction program to expand his skill set. Haller's preparation at The MiLL has given him the confidence for nationals, "I am extremely excited for nationals and ready to be a contender, to be completely honest I am not nervous at all," he said.
The plumbing championship was brought home by second-year MiLL student Jace Leimkuhl. He is a sophomore who wants to continue competing in skills throughout high school. He joined the MiLL because he likes working with his hands and has always enjoyed working with his dad on construction projects. Leimkuhl talked about his win at the state competition and upcoming nationals: "It felt good to win State Skills, since not a lot of people can say that they are state champions. I am excited to go to nationals, and look forward to seeing how well I do, I am a little nervous because I don't want to do bad. The MiLL teachers have prepared me for competition by teaching me with hands-on practice, practice in books, and by preparing me to not get stressed while competing."
The SkillsUSA Nationals week also includes a trade show for technical education. The MiLL will have a booth at the trade show, thanks to Next Wave Automation. Cabinet manufacturing lead instructor John Stearns will be at the booth promoting the Teacher Academy and The MiLL curriculum. Attendees can stop by the booth for a chance to win free curriculum and training at one of The MiLL's upcoming Teacher Academies (a $2500 value). See https://themillco.org/.
Have something to say? Share your thoughts with us in the comments below.