Michelman wins 2018 Manny Award for best place to work
June 20, 2018 | 12:46 pm CDT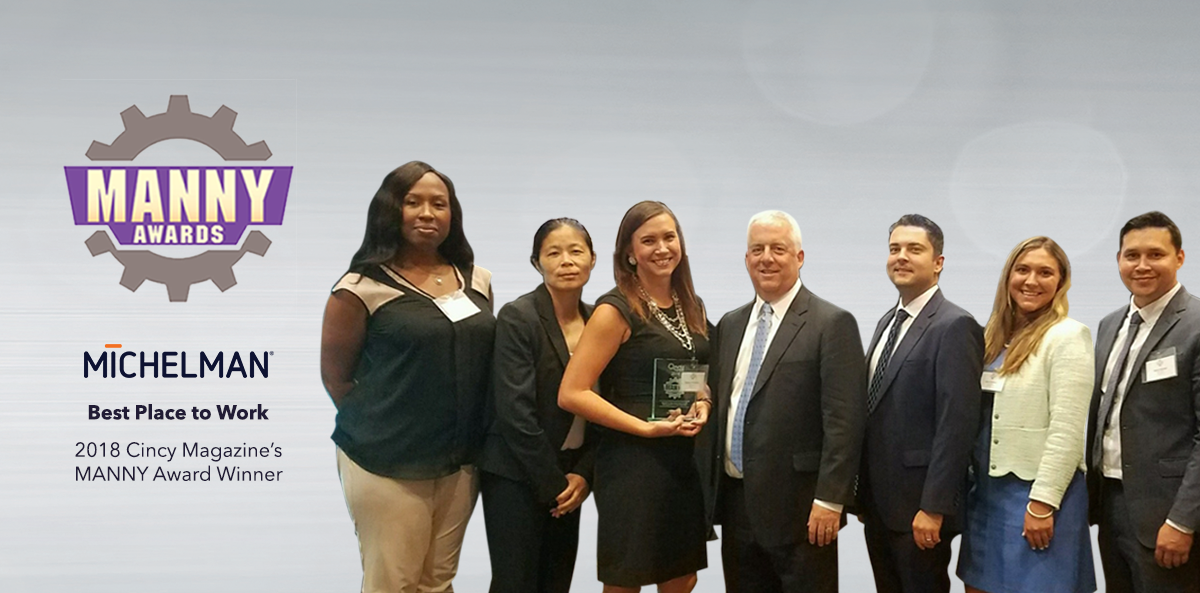 CINCINNATI -
Michelman, a global developer and manufacturer of environmentally-friendly advanced materials, has won a 2018 Manny Award in the Best Place to Work category. Sponsored by
Cincy Magazine
, the 2018 Manny Awards held its 12th annual dinner on June 13 at the Sharonville Convention Center in Cincinnati, Ohio.
Manufacturers from across the Tristate were recognized for achievements in five categories: New Product Development/Innovation, Best Apprenticeship Program, Top Growth, Best Place to Work, and New Job Creation.
Kreg Keesee, Michelman's chief supply chain and information officer, accepted the award, which was based on the company's strong relationship with its associates. 
"Michelman values are at the core of associate relationships, and a testimony to the company's success," says Steve Shifman, Michelman president and CEO. "These values include integrity, respect, success, collaboration, curiosity, and giving, and are a direct reflection of the organization and the driving force behind our achievements around the globe."
Headquartered in Cincinnati, and with manufacturing facilities on three continents, Michelman plans to host its 7th Annual Commitment2Community Day later in the year, when hundreds of associates leave their offices, labs, and email behind for a full day to volunteer their time at a wide variety of locations.
"One of our most important core values is giving," says Shifman. "Our staff is comprised of hundreds of generous associates who give freely of themselves, their time, their energy, their knowledge, and their resources. In the Tristate area alone, Michelman associates participate in more than 40 non-profits and have volunteered approximately 3,780 hours throughout the year. The genuine embracement of the spirit of giving makes me proud to have won this particular award at the 2018 Manny event."
Michelman offers solutions for the coatings, printing and packaging, and industrial manufacturing markets. Michelman is also an innovator in the development of barrier and functional coatings, as well as digital printing-press primers that are used in the production of consumer and industrial packaging, paper products, labels, and commercially printed materials.
Have something to say? Share your thoughts with us in the comments below.