Mass-timber goes big: 500,000-sq-ft skyscraper in the works
February 7, 2018 | 3:54 pm CST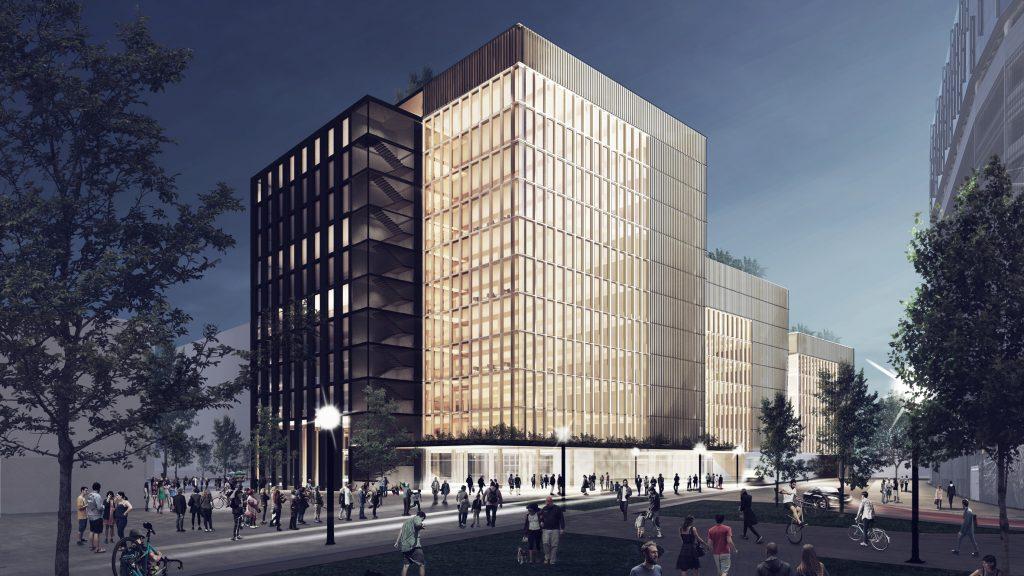 NEWARK, N.J. - A 500,000-square-foot skyscraper will be the largest mass timber building in the United States.
Designed by Canadian studio Michael Green Architecture - architects of T3, the current tallest cross-laminated timber (CLT) building in the U.S. - the new Riverfront Square structure comprises three buildings with heights of six, eight, and 11 stories. The structure will be made of both cross-laminated timber and glulam.
Riverfront Square will reach more than double the size of T3, an office building in Minneapolis.
---
Construction of the 11-story skyscraper is set to begin as soon as developer Lotus Equity finds an anchor tenant, says Michael Green Architecture. Wth a concrete base, the building will use mass timber panels to achieve a smaller carbon footprint and to provide enhanced lighting and acoustics within the interior. The timber will be fire resistant.
The structure will feature 2 million square feet of office spaces, 2,000 residential units, a hotel, public space, and cultural facilities. Workers will be able to lounge in covered roof gardens on top of each block. Triangular-shaped grass patches will be found along the exterior.
Advocates of CLT say it can be used to construct buildings of equal strength and fire-resistance as those made of steel and concrete. It has also fueled the passions of architects and environmentalists, who believe it to be a much greener method for housing the world's growing population. 
Due to its benefits for carbon capture and reduced CO2 emissions in construction, CLT has sparked interest worldwide. Proposals for new projects include a 100-story tower in London, a 40-story building in Stockholm, and a residential complex in Vancouver.  An 18-story CLT wood structure, a student residence at the University of British Columbia, is nearing completion.
Have something to say? Share your thoughts with us in the comments below.