Masonite acquires door component manufacturer for $375 million
November 4, 2022 | 6:52 am CDT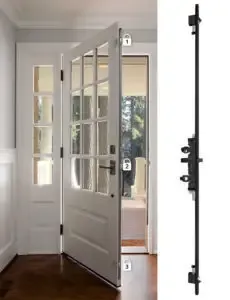 Photo By Endura Products
TAMPA, Fla.-- A wholly owned subsidiary of Masonite International Corp. has entered into a definitive agreement to acquire the holding company of Endura Products for approximately $375 million in cash.
Endura is a manufacturer of high-performance door frames and door system components. The company's product offerings include engineered frames, self-adjusting sill systems, weather sealing, multi-point locks and installation accessories used by builders and contractors in residential new construction as well as repair and remodeling applications. Endura has a long history of product innovation and holds more than 100 patents on its door system components.
"We are thrilled to welcome the Endura team to the Masonite family," said Howard Heckes, President and CEO of Masonite. "Endura shares our passion for creating solutions that address homeowner needs for comfort, security, style and convenience. In recent years, we have significantly increased our level of collaboration with Endura on new product offerings featuring integrated door systems that drive superior performance. The combination of our two companies is a natural fit that will allow us to accelerate our Doors That Do MoreTM strategy and maximize our growth potential."
Founded in 1954, Endura has been a family-owned business for three generations. The company employs approximately 800 people across four facilities located in North Carolina, Texas and Oregon. Endura products are sold to distributors located throughout the United States and Canada, as well as direct to OEMs and online. Endura's net sales* for the twelve months ended September 2022 were approximately $270 million representing a compound annual growth rate of 17% since 2019.
"I am very proud of the work we have done at Endura over the past seven decades to build a trusted brand, an amazing portfolio of innovative products, world-class manufacturing operations and a book of business based on tremendous customer relationships," said Bruce Procton, president of Endura. "We have been partners with Masonite for more than 25 years, and I could not think of a better company to help take Endura into the next era. In combination with the resources and talent at Masonite, we will be able to continue to provide the best possible products, service and support for existing customers while moving even faster to bring new door system solutions to market."
Masonite plans to integrate the Endura business into its North American Residential business segment. Bruce Procton and his leadership team will remain part of the business to ensure a smooth transition for Endura customers and to focus on new product development and commercialization. A cross-functional team has been formed to plan the integration and deliver anticipated synergies, including sourcing and other cost synergies as well as longer-term opportunities for growth. The transaction will be funded with a combination of cash on hand, borrowings under the recently upsized ABL credit facility and an expected new term loan.
The transaction is currently expected to close near the end of 2022, subject to the satisfaction of customary closing conditions, including expiration of the waiting period under the Hart Scott Rodino Antitrust Improvements Act. 
 
Have something to say? Share your thoughts with us in the comments below.