Mandatory furniture stability standard goes before House
April 25, 2019 | 4:52 pm CDT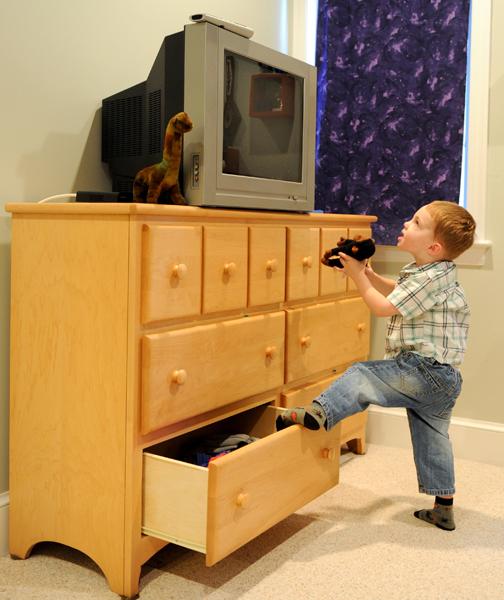 Photo By CPSC Anchor and Protect blog
WASHINGTON, D.C. – Rep. Jan Schakowsky (D-IL) has introduced the Stop Tip-Overs of Unstable, Risky Dressers on Youth (STURDY) Act of 2019 which would require the U.S. Consumer Product Safety Commission to promulgate a mandatory stability standard for clothing storage furniture.
H.R. 2211 directs CPSC to finalize a mandatory safety standard for clothing storage furniture, including stability testing regardless of the furniture's height. The voluntary standard currently in place applies to units more than 30 inches tall, but a revision expected to be adopted this summer would reduce the minimum height of covered units to 27 inches.
"Every hour, of every day, approximately three children are getting injured – over 25,400 per year. Between 2000 and 2011, these tip-overs have resulted in at least 363 fatalities, with most of the innocent victims being less than 8 years old," said Congresswoman Schakowsky, Senior Chief Deputy Whip and chair of the Energy and Commerce Committee's Consumer Protection and Commerce Subcommittee.
"I'm introducing the STURDY Act to help protect children from these preventable accidents and spare their families these painful situations, resulting simply from a piece of furniture," she added.
Introduced on April 10, H.R. 2211 is similar to legislation first introduced by Schakowsky and Bob Casey (D-PA) in June 2016.
What can occur during a furniture tip-over. According to CPSC, a TV can fall with the force of a thousand pounds. Photo from the CPSC 2016 Anchor It video.
The 2019 version of STURDY requires: an increased weight limit for stability tests to simulate children up to six years old; testing under real-world conditions such as climbing, carpeted floors, and open drawers; inclusion of smaller clothing storage units; and strengthened warning requirements. The current voluntary standard, ASTM F2057-17, requires a 50-pound weight (simulating the 95th percentile weight of a child up to 5 years of age) to be used in stability testing.
The legislation is supported by several consumer groups, including Kids In Danger, Parents Against Tip-overs, the Consumer Federation of America, and Consumer Reports.

"There's no easy way for a consumer to simply look at a dresser and tell whether it is likely to tip over. A more effective, mandatory standard would help consumers trust that dressers on the market resist tipping over onto young children. Consumer Reports strongly supports the STURDY Act and urges its swift passage to help prevent these avoidable tragedies," said Meg Bohne, organizing manager for Consumer Reports.
The American Home Furnishings Alliance (AHFA) also supports a mandatory standard, but said in a statement that "CPSC has already begun work on a mandatory standard, making the STURDY Act unnecessary."
Referencing the STURDY Act's requirement for additional product testing to "more closely simulate real-world use," AHFA CEO Andy Counts also noted, "none of these proposed new tests have been defined yet nor determined to be feasible." For example, he said, identifying a "standard" carpet and a "standard" carpet padding for use in every stability test could be particularly problematic.

"In order for a mandatory standard to be enforceable, the stability tests must be precise, so every manufacturer is able to conduct the tests exactly the same way," Counts explained. "Whether a company is located in the United States or overseas, whether they produce low-cost furniture or luxury furniture, everyone must use specified test materials and methods to remove any guesswork and guarantee accurate results."
AHFA said its member companies have been complying with ASTM F2057 since its adoption in 2000. Through involvement on the ASTM Subcommittee for Furniture Safety, AHFA and its member companies have worked in collaboration with CPSC staff and child safety advocates on the committee to adopt significant improvements to the voluntary standard.
"AHFA remains committed to working with CPSC to research meaningful new tests that can be standardized and incorporated into a mandatory standard," Counts said.
CPSC tip-overs: facts & figures
Launched in 2015, the Consumer Product Safety Commission's Anchor It public safety program is aimed at reducing the number of injuries and deaths from tipping furniture and televisions in the home. The product's instability can be triggered by a variety of causes,  including heavy objects on top of the dresser or by having multiple drawers open.
Below is some recent data from CPSC on the issue at large. CPSC utilized NEISS injury data for its reports.
• In the CPSC 2018 Annual Tip-Over Report, television/TV+furniture tip-over injury estimates for all ages, rose from 15,900 emergency department visits in 2006 to 20,000 in 2010, and then dropped every year to an estimated 6,600 in 2017.  In contrast, furniture-only tip-overs for all ages fluctuated from an estimated 21,600 in 2006 to a high of 23,400 in 2009, with up and down movement in the years following; an estimated 19,400 were treated in the emergency department in 2017.
• According to the 2018 report, tip-overs by clothes storage units (CSU) appear to decline by the age of six.
• From 2000-2017, there were 172 fatalities from CSU tip-overs by children age 6 and younger, with 145 occurring between the ages of 1-3.
• Every year during 2001 - 2016, (except 2010 and 2015), there were at least 3 CSU tip-over fatalities to children under 6 years when no television was involved.
Have something to say? Share your thoughts with us in the comments below.