A long and winding road leads Cole to a career in woodworking
June 7, 2022 | 3:31 pm CDT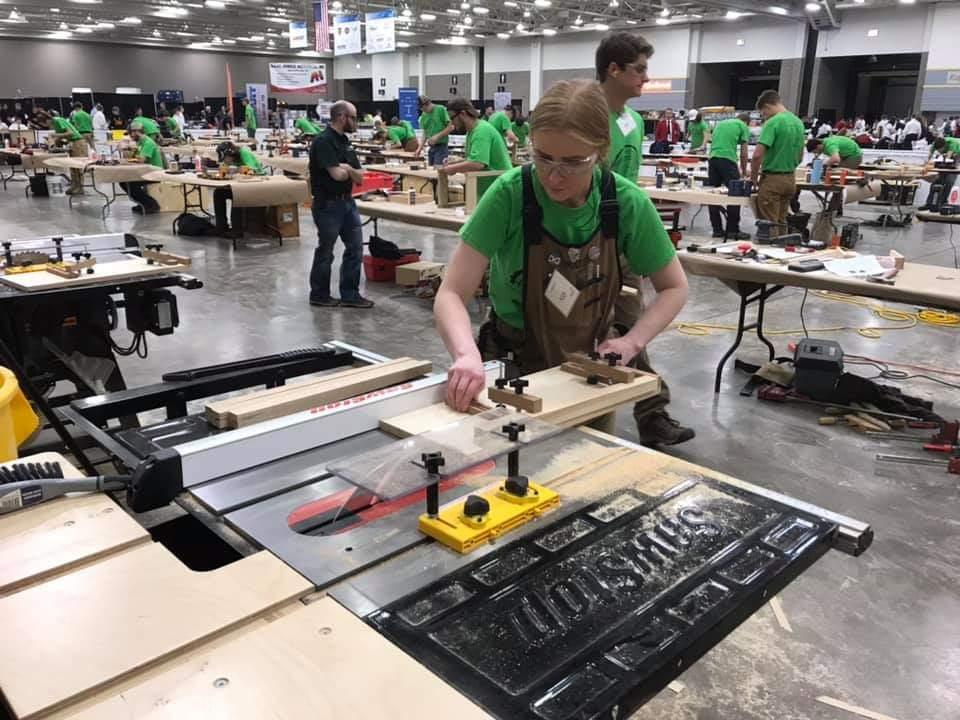 Three years ago, Cat Cole competed in SkillsUSA Wisconsin as a student of Madison College's Cabinetmaking & Millwork program. Now a project management coordinator for Wisconsin Built, Cole returned to SkillsUSA Wisconsin last month, this time as a judge.

Cole's career path has been anything but linear. Her journey has taken many twists and turns. Along the way, she has grappled with the peer pressure of following her passion to learn woodworking. That pressure was made all the more intense because she is a woman. Considering that Cole once had her sights on becoming a stem cell researcher, working as a liaison between general contractors and Wisconsin Built's production department says a lot about how much her life has been re-routed.
And she couldn't be happier.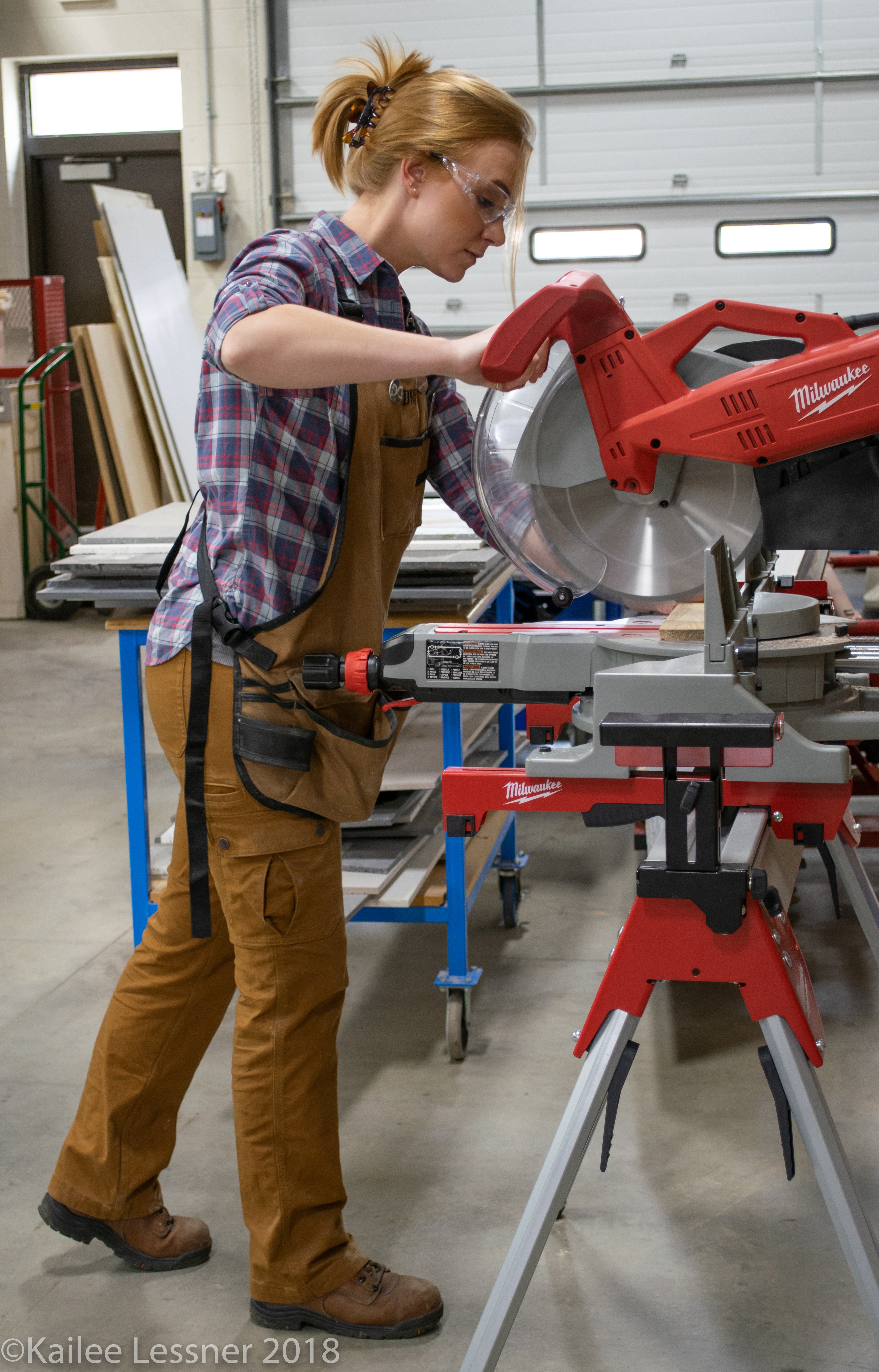 An early love for woodworking
"As a child I watched my dad build and fix things. I was fascinated by the fact that he could do that," Cole recalls. "I was pretty much hands-on and definitely followed in his footsteps a lot. I asked for my own tools, so he got me this pistol grip saw that I would use to cut down these tiny boards to make who knows what. But it still felt cool to be in the workshop with him and doing the work myself."

Cole's interest in woodworking expanded during her years at Kromery Middle School of Middleton, WI. "I got my first formal exposure to woodworking there. That was the course that I poured most of my heart and soul into. I just found it so fascinating and so rewarding. The teachers made it such a great experience."

"I was definitely one of the few females to take three years of woodshop," Cole adds. "Everyone had to take woodworking in sixth grade, but not many girls were interested enough to take it as an elective in seventh and eighth grades." As much as she enjoyed woodworking, she passed up the opportunity to take woodshop in high school. "Growing up in a pretty well-to-do suburb of Madison, the expectation was that you were going to go to college to become a doctor, a lawyer, an investment banker or something else high profile if you wanted to e considered successful," Cole says. "I focused my attention on science and math classes with the intention going into health sciences and took Spanish and orchestra as my electives."

After graduating from high school, Cole enrolled at the University of Wisconsin Madison intent on earning a biochemistry degree and becoming a stem cell researcher. Her plans soon took a major detour. "During my freshman year I came down with some pretty serious health issues," she says. "I had to withdraw from my studies to focus on getting my health under control."

As her health improved, Cole went to work full time with the full intention that she would return to UW Madison to pick up where she left off. Then, just 20 years old, she bought a house. "I suddenly realized that I would be working for a while because I had a mortgage to pay."

Cole bounced from job to job. After a stint in finance, she went to work in high-end diamond sales and then joined the commercial construction division of a large general contractor. "I thought it was pretty cool to be in the construction industry and to be able to walk on jobsites. Then I reached a point where I realized that I really needed to go back to school."

At the age of 26, Cole returned to her health science roots by enrolling in Madison College's Surgical Technologist Program. She had a 4.0 grade point average taking the prerequisite courses. "When it came time to apply for the clinicals I was told there would be a two-year wait. I thought about finding a temporary job for two years but it's hard to back to school as an adult so I took other classes that interested me like art. Then I saw the Cabinetmaking and Millwork program and thought this might be a great opportunity to get back to something that I really loved doing."

At Home in the woodworking lab
Cole began her first semester at Madison College's Cabinetmaking program with a stomach full of butterflies. "I was on one hand really excited, but on the other very nervous being the only female in this room full of guys."

Cole credits Patrick Molzahn, director of the program, and his brother, Jeff, who has since retired from teaching at Madison College, for making her feel welcomed. "I settled into my place and realized that I can do this and that the price and the love I feel then I completed a project was still very much within me. I started seeing all of these career possibilities because Patrick is so involved in the local woodworking community and setting up his students for success after they graduate. Everything began to click and I realized that I could make a career out of this, truly follow my passible and be happy."

Cole progressed through the one-year technical program and especially enjoyed making her own face frame cabinets using the wide variety of industrial woodworking machinery at her disposal in Madison College's well-equipped woodworking lab. "Being able to take all of those solid wood and panel products that start as a bunch of square and rectangles and turn them into a finished product is an incredible experience," she says. "You are kind of speechless when you turn the last screw on a hinge and put your drawer on the slides and think, "Wow! I did that."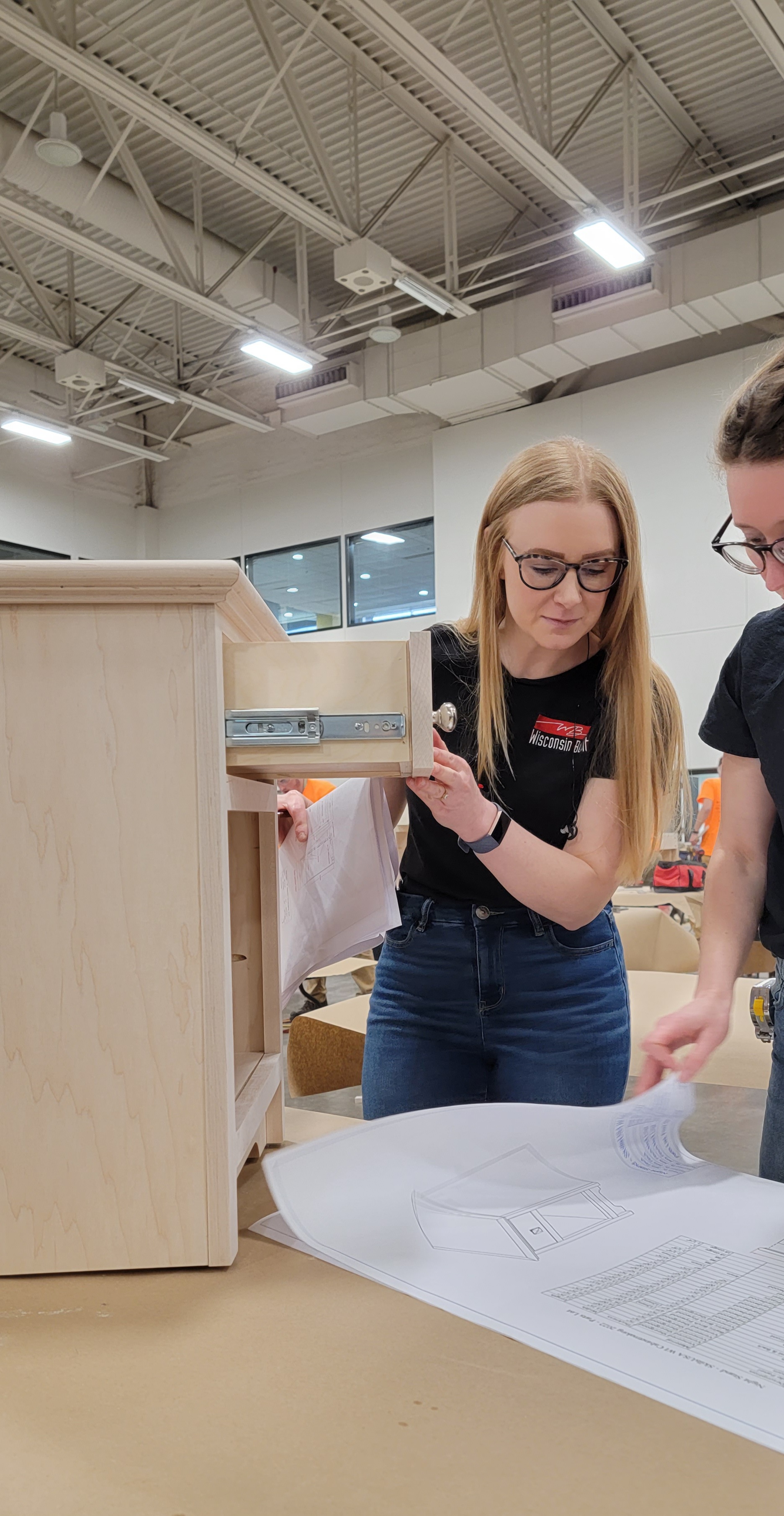 Cole learned about the Woodwork Career Alliance's skill standards and credentialing programs. She also earned her WCA Sawblade Certificate and Green Credential before graduating.

"The WCA skill standards are very eye-opening to the importance of having metrics to train someone and certify their knowledge to operate equipment. I think it's very helpful to be able to show someone in a job interview that you have been evaluated to successfully and safely run particular machines. I intend to go for my Blue credential but I've been really too busy at this time of my life."

Saying she's "busy" is an understatement to be sure.

Cole graduated for Madison College's Cabinetmaking & Millwork program on May 17, 2019, and started working at Wisconsin Built three days later. Last October she remarried. She and her husband spend their weekends renovating a a farm house they bought in a public auction.

"We stripped the house down to the studs," Cole says. "I've been working on the kitchens. I cut and finished a butcher block countertop and now I'm installing a hardwood floor. There is no way that I could be doing this if not for studying at Madison College."

Embarking on a woodworking industry career
Cole says he originally had her eyes set on working in the production department when she interviewed at Wisconsin Built. The company operates out of a 220,000-square-foot facility. In addition to custom millwork the company's prowess includes solid surface fabrications, metalworking and upholstery.

"I wanted to work on the shop floor and continue honing my skills But when I told them that I had worked for a general contractor previously they told me the open position with the project management team sounded like a good fit. I had to agree that it was kind of like this perfect marriage be take on the project management role because I had experience looking at shop drawings and working with engineering to actually make drawings in AutoCAD."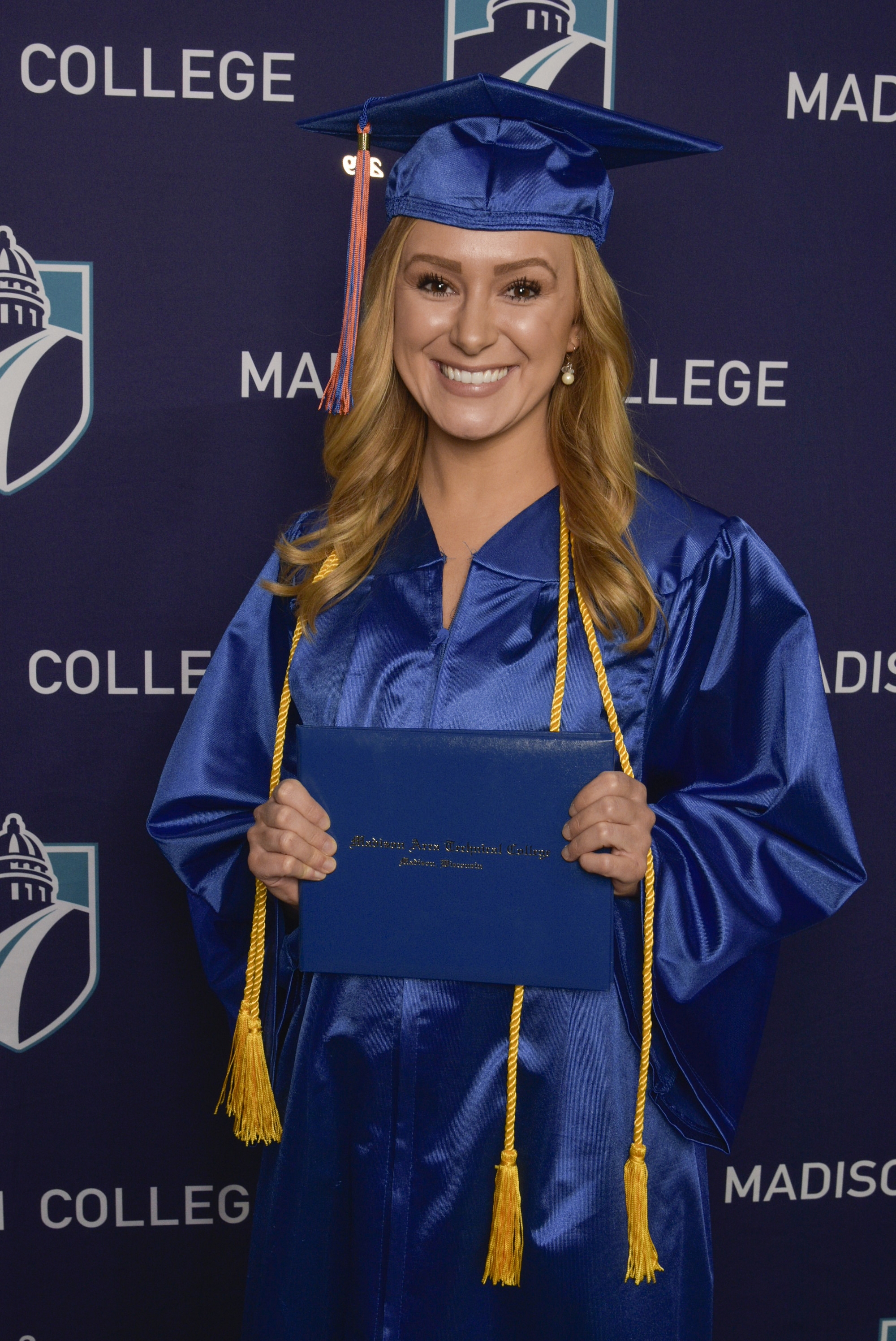 Cole adds that her studies at Madison College better prepared her for the new role in giving her a better understanding of the nuances of the broad range of materials and operations required to efficiently execute a retail fixture or commercial millwork project. "There are various grades of laminates. When it comes to profiles can you use the same knives or do you have to grind new ones? Should the countertops be high-pressure laminate or solid surface? What are the best practices that will achieve the goals of the project, including budget considerations? It's understanding these kinds of details that I would find harder to know If I hadn't attended the Madison College Cabinetmaking program."

Cole enjoys being part of a team and watching projects come to life. "It's never boring. We're doing new things all of the time," she says, then adds, "My favorite project so far was working on the Jules Verne building at Epic Systems (in Verona, WI). "They have the zaniest campus you have ever seen. They have buildings with Harry Potter and Alice and Wonderland themes. The Jules Verne building incorporates 20,000 Leagues Under the Sea, Around the World in 80 Days and other Verne novels. It's super creative and super cooky. There purple and red here and bright green over there. There's tons of curves and is extremely custom. Somehow it all comes together magnificently,"

Parting Words
Now that Cole has nestled into a career, she urges other women to considering the wood industry as a viable career.

"I want all of my fellow females out there to know that if you have the passion, you can do it. As much push back or negativity we might experience breaking into this field, there are also people cheering for you and wanting to see you win. The more of us that so through the process, the easier it will be for the coming generation of females to follow in our footsteps."

Watch video of Cole discussing her career at Wisconsin Built and more about her woodworking journey.
Have something to say? Share your thoughts with us in the comments below.