Lincoln Logs, returned to made in U.S.A. of real wood, turns 100
February 13, 2016 | 1:23 pm CST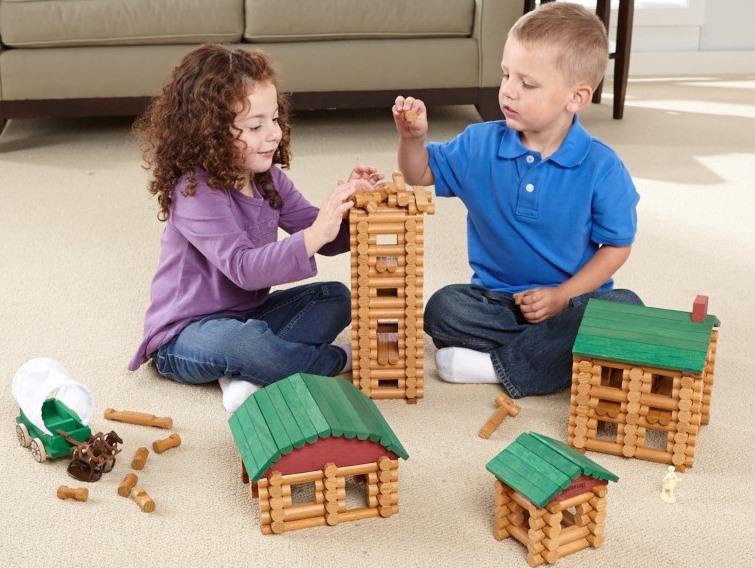 HATFIELD, Penn.  –  K'Nex Brands celebrates the 100th birthday of Lincoln Logs in 2016 with production of the iconic log building toy returned to the United States for the first time in nearly 60 years. The announcement was made at the Toy Industry Assocation annual fair that opened in New York's Javits Center today.
The toy Lincoln Logs have stirred controversy over the years, first when Hasbro shifted material from wood to plastic - roundly rejected by parents - then by moving production to China when a U.S. producer for the small wood parts could not be located. Last year K'Nex contracted with wooden golf-tee manufacturer Pride Manufacturing  Company, a 130-employee company in Burnham, Maine.
The logs had been produced in China for the  toy maker K'Nex Brands, which is famed for insourcing its other toy lines. Pride Manufacturing produces wood golf tees, and reached out to K'Nex after learning of its efforts to insource manufacture of Lincoln Logs. Originally made of redwood, the logs are now made of several species. Pride engineered equipment to produce the logs, and will output about 30 million annually. 
Randy Dicker, senior director of manufacturing at Pride's Burnham facility, expected addition of the production of Lincoln Logs to create up to 10 new jobs. 
"We operate a sawmill, dry kilns and numerous styles of wood working machines that allow us a good mix of products for our company," Dicker said when production commenced. "As world leaders in golf tee and cigar tip manufacturing, we will bring that top quality craftsmanship we are known for to the Lincoln Logs brand. The addition of Lincoln Logs is an exciting opportunity for us, and we're proud to be able to say that this iconic toy is made right here in Maine."
Developed in 1916 by John Lloyd Wright, son of the famous American architect, Lincoln Logs is licensed by Hasbro, and produced and distributed by K'Nex Brands. Lincoln Logs is authentic piece of Americana, K'Nex says, and also helps children develop fine motor and problem solving skills.
For the anniversary edition, the made in the USA line, all with real wood logs, includes a 100th Anniversary Tin with 111 pieces; the Forge Mill Cabin with 51 pieces; Horseshoe Hill Station with 83 pieces; and a "girls" set, Country Meadow Cottage (it includes wood logs, as well as stickers and a pony.)
Have something to say? Share your thoughts with us in the comments below.