Leading wood flooring manufacturers embrace NWFA Engineered Refinishable Program
September 26, 2023 | 1:33 pm CDT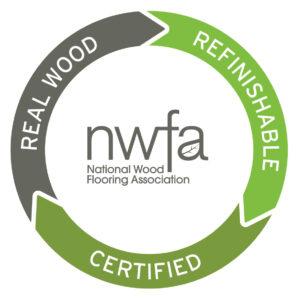 ST. LOUIS — The National Wood Flooring Association (NWFA) recently welcomed AHF Products, Mirage, Vintage Hardwood Flooring, and Preverco to the NWFA Engineered Refinishable Program, bringing the total number of participating companies to 23.
The program was established to identify engineered wood flooring products with wear layers thick enough to be sanded and refinished. The program is voluntary, and offers certification reciprocity for products certified to the European Parquet Federation's (FEP) Parquet Refinishable Program.
"With the growing number of engineered wood and look-alike flooring products available, there is definitely confusion in the hard surface category," says Julien Dufresne, Vice President of Sales at Preverco. "We welcome the introduction of the NWFA-certified refinishable logo into the marketplace. It is a clear way to bring the long-lasting benefits of hardwood flooring to the forefront."
The ability to refinish a wood floor extends its service life, making it a more-sustainable, multi-generational product. The color and sheen can be updated during the remodeling process or to suit the taste of a new homeowner, providing a completely new look.
All types of engineered wood flooring products are eligible to apply to carry the NWFA's engineered wood flooring refinishable logo. To learn more about joining the program, visit https://nwfa.org/manufacturing or contact John Forbes at [email protected] or 800-422-4556.
NWFA members that have completed the product evaluation process to be included in the program include AHF Products, Appalachian Flooring, Appalachian Lumber, BARLINEK Floors Forever, Breezewood Floors, Carlisle Wide Plank Floors, Concord Flooring, Lauzon Distinctive Hardwood Flooring, Maxwell/Ouachita Hardwood Flooring, Middle Tennessee Lumber, Mirage, Mullican Flooring, Pacific Hardwood, PID Floors, Preverco, Reliance Hardwood Flooring, Saroyan Hardwoods, Schafer Hardwood Flooring/V3 Brand, Somerset Hardwood Flooring, Superior Flooring, Vintage Hardwood Flooring, Wickham Hardwood Flooring, and Woodwright.
The National Wood Flooring Association is a not-for-profit trade organization, with more than 3,000 member companies world-wide, dedicated to educating consumers, architects, designers, specifiers, and builders in the uses and benefits of wood flooring.
Have something to say? Share your thoughts with us in the comments below.