Laminate panel firm Kronospan to invest $362 million in Alabama mill, hiring 160
June 24, 2016 | 4:31 pm CDT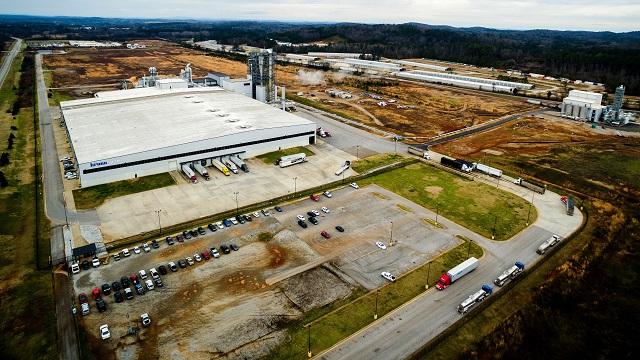 Photo By Alabama Department of Commerce
OXFORD, Al. – Kronospan, a manufacturer of wood-based panel products, will invest $362 million to expand its operations in Calhoun County, Alabama, adding 160 jobs to its workforce. The company entered the U.S. laminate flooring market with the acquisition of Clarion Boards and Clarion Laminates in December 2015. 
Kronospan said the expansion consists of four separate projects:
Two laminate flooring and decorative paper impregnation lines
A particleboard and thermally infused laminate line
An enlargement of the KronoChem resin plant
Development of a furniture cluster
Once the expansion is complete, the company will have invested $650 million in Alabama and its workforce will number 270 people, according to the Calhoun County Economic Development Council. Kronospan has been operating in Calhoun County since 2008.
---
Calhoun County says the expansion will make Kronospan the largest private capital investor in Oxford and one of the area's largest employers.
"Kronospan is making a significant investment to expand its production center in Oxford, and we will work closely with the company to ensure that their project is successful," said Greg Canfield, secretary of the Alabama Department of Commerce.
The Alabama Career Center will assist Kronospan as it recruits applicants for the jobs created by the expansion. Hiring for the expansions will be undertaken in phases.
Steven Waits, president of the Oxford City Council, said the manufacturer's expansion will produce a substantial economic impact on the east Alabama city of 21,000 residents.
"Kronospan has continued to be a generous corporate citizen for our city, and we are looking forward to their continued presence in Oxford for generations to come," Waits added.
Kronospan manufactures both MDF and HDF (high-density fiberboard) panel products and laminate flooring at its facility in Oxford.
Have something to say? Share your thoughts with us in the comments below.