La-Z-Boy cuts 850 jobs globally, closes Newton upholstery plant
June 5, 2020 | 10:34 am CDT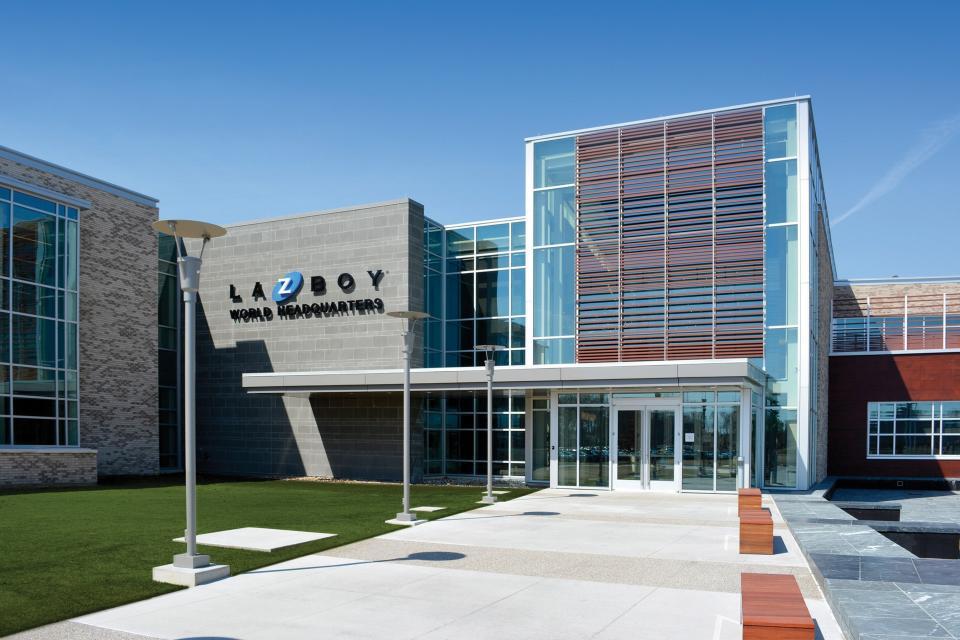 MONROE, Mich. – Effective immediately, La-Z-Boy Inc. said it will eliminate 10 percent of its global workforce,  approximately 850 jobs including those at the Newton, Mississippi, upholstery manufacturing plant as part of its initiatives designed to strengthen the residential furniture giant and position it to thrive in the new external environment, marked by COVID-19.
The Newton facility employed approximately 300 people and accounts for approximately 10 percent of the La-Z-Boy branded business total upholstery production. Built in 1960, the plant manufactures La-Z-Boy recliners, motion sofas and classics (high-leg recliners).  Production will be shifted to available capacity at the company's Dayton, Tennessee, Neosho, Missouri, and Siloam Springs, Arkansas plants.
The leather cut-and-sew operation was moved from Newton to La-Z-Boy's other North American-based cut-and-sew facility last year.
The Newton-based integrated internal supply functions will remain in operation.  Approximately 170 individuals work across these areas and will remain with the company, La-Z-Boy stated on Thursday.
The company began resuming operations in late April after furloughing approximately 70 percent of its total workforce due to the COVID-19 pandemic.
"The COVID-19 pandemic has had a far-reaching impact.  We responded quickly in March with our COVID-19 Action Plan to ensure the health, safety and well-being of our employees, customers and the communities in which we operate, while managing short-term liquidity.  As a result, we are confident we will emerge from the crisis with strength and remain a leader in the industry," said Kurt L. Darrow, chairman, president and CEO of La-Z-Boy Inc.  "Since restarting production at the majority of our plants at the end of April, we have steadily increased production and continue to bring back more employees to meet demand. As more states open and allow our retail partners to re-engage with their customers, we anticipate a stepped process of increasing production and bringing additional employees back to work."
Darrow added, "However, it is now appropriate to leverage the efficiencies we have created across the company and right-size our business for the long term given the impact of COVID-19 on the state of the economy, with wide-sweeping unemployment levels and the uncertain timing of a full economic recovery. With approximately 4.5 million square feet of remaining highly productive manufacturing space across the La-Z-Boy enterprise, we are confident we will continue to provide excellent service to our dealers and their customers. 
"Still, these are difficult decisions to make and we deeply regret the impact they will have on those employees who are affected. We greatly appreciate the contribution of each employee and thank them for their years of dedicated service."
La-Z-Boy (NYSE: LZB) expects to incur approximately $5 million to $7 million in fiscal 2021 of one-time pre-tax charges related to these moves, the majority of which will be realized in the first quarter and will be excluded from Non-GAAP results. The company plans to release its fiscal 2020 fourth-quarter and full-year results after the close of market on June 23.
Founded in 1927 and headquartered in Monroe, Michigan, La-Z-Boy Inc. markets furniture for every room of the home. The La-Z-Boy Upholstery segment companies are England and La-Z-Boy. The Casegoods segment consists of three brands: American Drew, Hammary, and Kincaid. The company-owned Retail segment includes 155 of the 355 La-Z-Boy Furniture Galleries stores.  Joybird is an e-commerce retailer and manufacturer of upholstered furniture.
The company is ranked #13 in the latest FDMC 300 list of largest North American wood products manufacturers.
Have something to say? Share your thoughts with us in the comments below.