JR Automation acquires Doerfer automation systems group
January 3, 2018 | 12:54 pm CST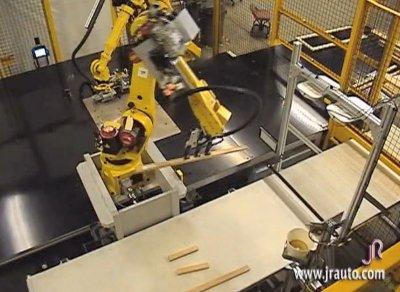 Photo By JR Automation
HOLLAND, Mich. – Intelligent manufacturing solutions provider JR Automation has acquired the automation systems group of Doerfer Corp. The group includes Advanced Automation, Wright Industries, FSA Systemes D'Assemblage, FSA Romania, PSB Technologies and equity interests in Beijing BYJC-Fabricom Assembly Line Co., Ltd.
Terms of the December acquisition were not disclosed.
JR Automation integrates automation technology and robotic systems to assist manufacturers, including those in the woodworking industry.  "The acquisition of these businesses will solidify JR Automation's position as a global leader in creating automated solutions, enabling us to better serve the needs of all of our customers," said JR Automation Chairman and CEO Mike DuBose.
"In addition to increasing our presence in North America, this acquisition will extend JR's footprint into Europe and Asia, further diversifying the end-markets and geographies we serve. Combining our operations, customer relationships, and complementary areas of expertise will further establish us as a global leader in industrial automation and robotics systems integration," he added.
This is the Holland, Michigan-based JR Automation's first major acquisition since private-equity firm Crestview Partners took ownership in March 2015. Founded in 1980, JR Automation has 14 manufacturing facilities in North America, Europe and Asia.
The acquisition involves six companies. Based in Greenville, South Carolina, Advanced Automation supplies automated process technologies that involve reactive chemicals, acids, and reagents. Wright Industries, located in Nashville, Tennessee, creates automated solutions for the production of specialty/carbon fiber, films and webs as well as hazardous waste handling. With offices in France and Romania, FSA Systemes D'Assemblage and FSA Romania are providers of custom designed automation equipment and solutions. PSB Technologies also provides high-precision automation equipment, for Asia and other areas.
JR Automation will also hold equity interests in Beijing BYJC-Fabricom Assembly Line Co., Ltd. This is a joint venture with Beijing No. 1 Machine Tool Plant in China, which produces automated production equipment primarily for the automotive industry.
Have something to say? Share your thoughts with us in the comments below.