ITC preliminary investigation finds U.S. cabinetmakers harmed by Chinese imports
April 22, 2019 | 11:43 am CDT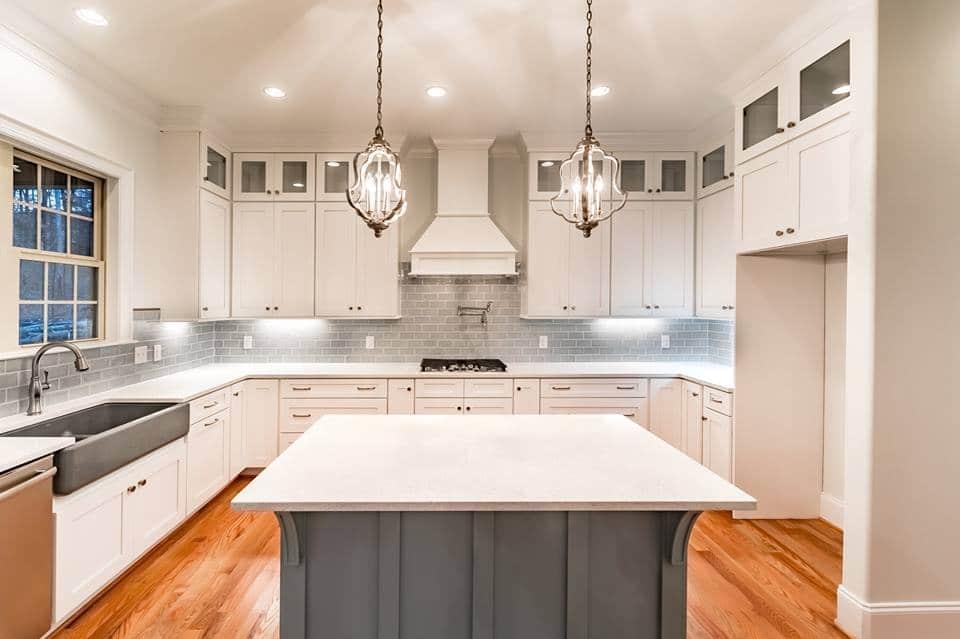 WASHINGTON - In a 4-0 vote, the U.S. International Trade Commission has determined that "there is a reasonable indication" that American cabinetry manufacturers are being harmed by Chinese imports of wooden cabinets and vanities.
Announced April 19, the preliminary determination by the USITC paves the way for the U.S. Department of Commerce to continue its antidumping and countervailing investigations into whether Chinese wooden cabinets, vanities and components are unfairly subsidized and sold in the U.S. market at less than fair value. The DOC will make its preliminary countervailing duty determination on or about May 30,  and its preliminary antidumping duty determination on or about Aug.13. (Investigation Nos. 701-TA-620 and 731-TA-1445 - Preliminary)
The investigations stem from a March 6 petition by the American Kitchen Cabinet Alliance which claimed China's "manipulation and unfair trade practices" have led to a more than 75 percent rise in Chinese imports of kitchen and bath cabinetry in the last few years. In 2018, imports of wooden cabinets and vanities from China were valued at approximately $4.4 billion, almost half of the estimated $9.6 billion American market.
The scope of the petition covers both face-frame and frameless cabinets, made of solid wood and composite panel construction, RTA cabinetry, cabinetry components including doors, drawers, back and end panels, as well as desks, shelves, and tables that are attached to or incorporated in the merchandise. (Click on the link for the DOC fact sheet.)
Excluded from the petition are products already covered under the hardwood plywood or wooden bedroom furniture antidumping duty orders, as well as aftermarket accessory items if imported separately from the wooden cabinet or vanity, including: drawer organization inserts or dividers (straight, round or oblong); carved wooden accessories including corbels and rosettes; and non-wooden cabinet hardware components, including metal hinges, brackets, catches, locks, drawer slides, fasteners, handles, and knobs.

"[The April 19] preliminary vote is an important first step in our long fight against China," said John Gahm, vice president of manufacturing at Kitchen Kompact. "Our aim through the AKCA is to stand up for the more than 250,000 American workers employed in the kitchen cabinet industry. Our trade case will help us combat Chinese dumping and subsidies and level the playing field for American workers and their families. We will continue to fight to preserve and strengthen this industry."

"The preliminary injury vote reaffirms that the ITC is taking this case seriously and underscores our assertion that China is using illegal trade practices in its effort to capture global production of wooden cabinets and vanities," added Tim Brightbill, chief counsel for the AKCA and a partner at Wiley Rein. The AKCA is comprised of more than 45 companies based across the United States.
A coalition is currently being formed to represent the cabinetry importers impacted by the petition.
Among the importers affected is Kitchen Cabinet Distributors. Randy Goldstein, CEO of the North Carolina-based company, commented, "This is not a typical China [antidumping] case. The largest players in the U.S. domestic industry have relied heavily on imported Chinese components for decades, and they're only now in the process of shifting this production to other countries, such as Vietnam and Mexico — not the United States. The notion that going after Chinese imports is going to somehow directly result in U.S. manufacturing jobs is belied by the very public actions that the largest domestic manufacturers have undertaken."
As to the AKCA's claims that the Chinese government is subsidizing its manufacturers, enabling the imported cabinets to be priced much lower, Goldstein countered,  "If you look at the data, the lowest priced cabinets in the U.S. market are not coming from importers, but instead they're coming from domestic producers."
He added, "I've spoken to many of my peers at other established import cabinet companies, and we all consistently lost bids to domestic players who are able to under-price us in the market," while also better able to meet the custom requirements demanded by a majority of consumers in regard to size, color and finish. "I also think it's important to note that this is a market where purchasing decisions are made based on many factors beyond price."
Goldstein also said that unlike other domestic industries found by the DOC to have been harmed by Chinese imports, "The domestic cabinet industry as a whole continues to achieve record levels of sales and profitability. The idea that imports which represent less than 10 percent of the industry and serve a highly limited market are causing material harm to the domestic industry or to U.S. manufacturing jobs is preposterous." He added that RTA importers directly employ tens of thousands of Americans, in addition to those employed in downstream roles.
The next preliminary determination date is May 30, with final determination dates to follow. (See chart below).
If the DOC makes an affirmative finding in the investigations, and if the USITC determines that dumped and/or unfairly subsidized Chinese imports of wooden cabinets and vanities are causing injury to domestic manufacturers, duties would be imposed on the imports and the U.S. Customs and Border Protection would begin collecting cash deposits from companies importing the products.
The alleged dumping margins for China range from 177.36 to 262.18 percent, according to the DOC. There are 36 subsidy programs alleged in the China countervailing duty investigation, including a provision of goods for less than adequate remuneration, loan programs, grant programs, tax programs, and export subsidy programs.
Below is a schedule of the process:
| Event | CVD Investigation | AD Investigation |
| --- | --- | --- |
| Petitions filed | March 6, 2019 | March 6, 2019 |
| DOC initiation date | March 26, 2019 | March 26, 2019 |
| ITC preliminary determinations (announced April 19) | April 22, 2019 | April 22, 2019 |
| DOC preliminary determinations | May 30, 2019 | Aug. 31, 2019 |
| DOC final determinations | Aug. 13, 2019 | Oct. 28, 2019 |
| ITC final determinations** | Sept. 27, 2019 | Dec. 12, 2019 |
| Issuance of orders*** | Oct. 4, 2019 | Dec. 19, 2019 |
**This will take place only in the event of final affirmative determinations from Commerce.
***This will take place only in the event of final affirmative determinations from Commerce and the ITC.  
Where the deadline falls on a weekend/holiday, the appropriate date is the next business day
Have something to say? Share your thoughts with us in the comments below.