Industry still struggling with supply chain disruptions
August 31, 2021 | 2:02 pm CDT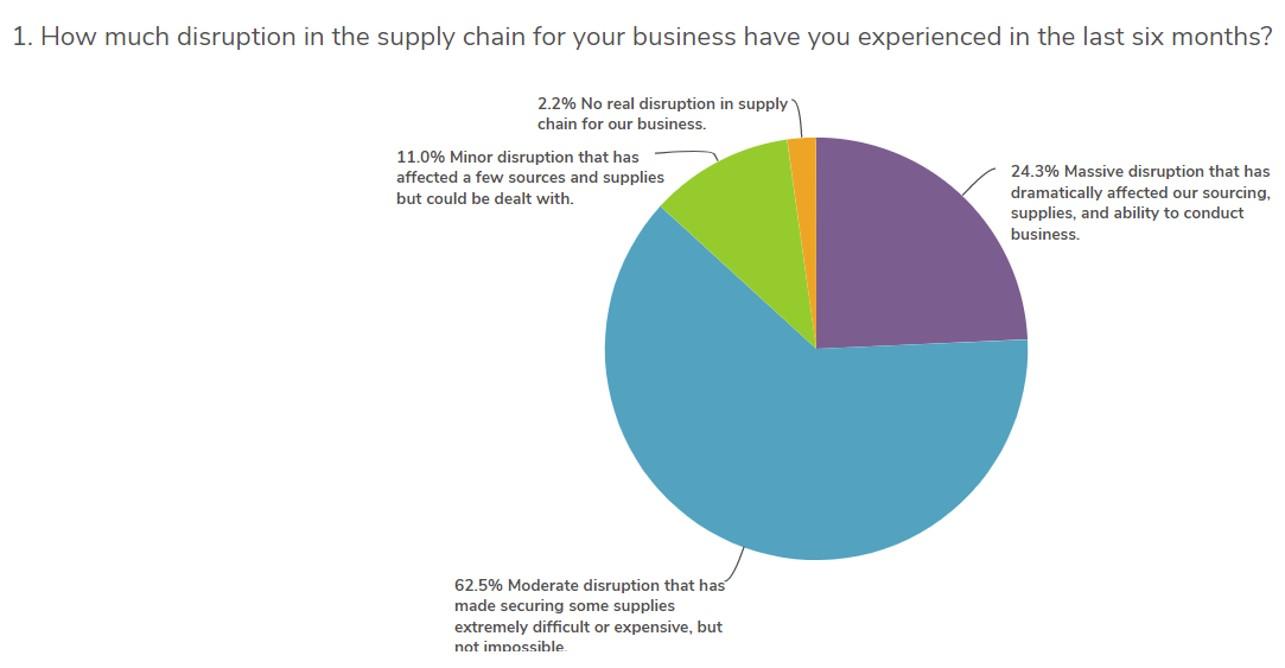 While mainstream media has largely moved on from covering major supply chain disruptions, a Woodworking Network survey confirms that most woodworking companies continue to struggle with serious challenges to get the materials and supplies they need to operate.

In a survey conducted by email sent to the Woodworking Network audience in August, nearly 87 percent of respondents said they suffered massive or moderate disruptions to their sourcing, supplies and ability to conduct business. Some 24.8 percent characterized the disruption as "massive," while 62 percent said it was "moderate." 

Nearly 11 percent said they suffered only minor disruptions affecting a few sources and supplies. Only 2.2 percent said they experienced no real disruptions in the supply chain for their businesses.


Price hikes, delays
Most of the disruptions have taken the form of skyrocketing prices, delays in shipments, and long or uncertain backorders.

More than 90 percent of respondents reported facing sudden increases in prices for regular supplies. Nearly as many, 87.6 percent, reported longer than expected delays in shipments, and nearly three-quarters (74.5 percent) reported long and uncertain backorders for the supplies they need.

The result of all of this for 62.8 percent of respondents was an inability to deliver their own products in a timely manner.

About a third of respondents (34.3 percent) said that orders they expected from suppliers were outright cancelled or just not delivered. In the worse cases, a majority of respondents (57.7 percent) reported that needed supplies were not available at all.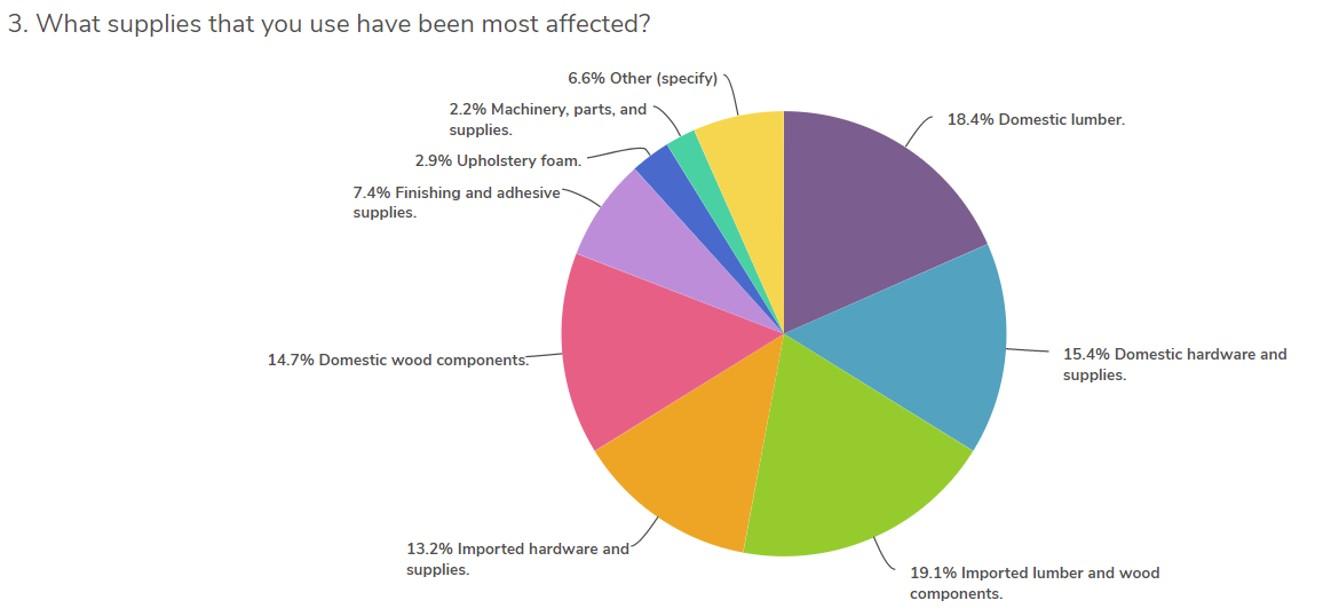 Wide ranging effects
While much of the mainstream media focused on such supply chain disruptions as rising lumber prices, the survey paints a broader picture of disruptions across nearly every product used by woodworking manufacturers.

Imported lumber and wood components led the list of disrupted supplies with 19 percent of respondents listing those items as most affected. Domestic lumber was quick behind with more than 18 percent of respondents listing that. No doubt related to the lumber supply issues, 14.6 percent of respondents reported problems sourcing domestic wood components.

Hardware was the next most affected area with 15.3 registering supply complaints about domestic hardware and supplies and 13.9 percent noting problems with imported hardware and supplies.
Other disrupted supplies included finishing and adhesive supplies (7.3 percent), upholstery foam (2.9 percent), and machinery parts and supplies (2.2 percent).


Taking action
Among the actions woodworking businesses have taken to deal with the crisis, it's not surprising to note that 70.8 percent have found it necessary to seek different supply sources. Similarly, 67.2 percent have been forced to raise their own prices to cover the costs of increased supplies.

Nearly two-thirds (64.2 percent) were forced to make substitutions for normally used products and materials in order to continue production and meet order deadlines. About a third (33.6 percent) reported having to cancel or postpone projects because of supply chain disruptions.

A significant number (17.5 percent) reported renegotiating client contracts in the face of supply chain disruptions. More than 15 percent reported they had to actually curtail production because of the disruptions.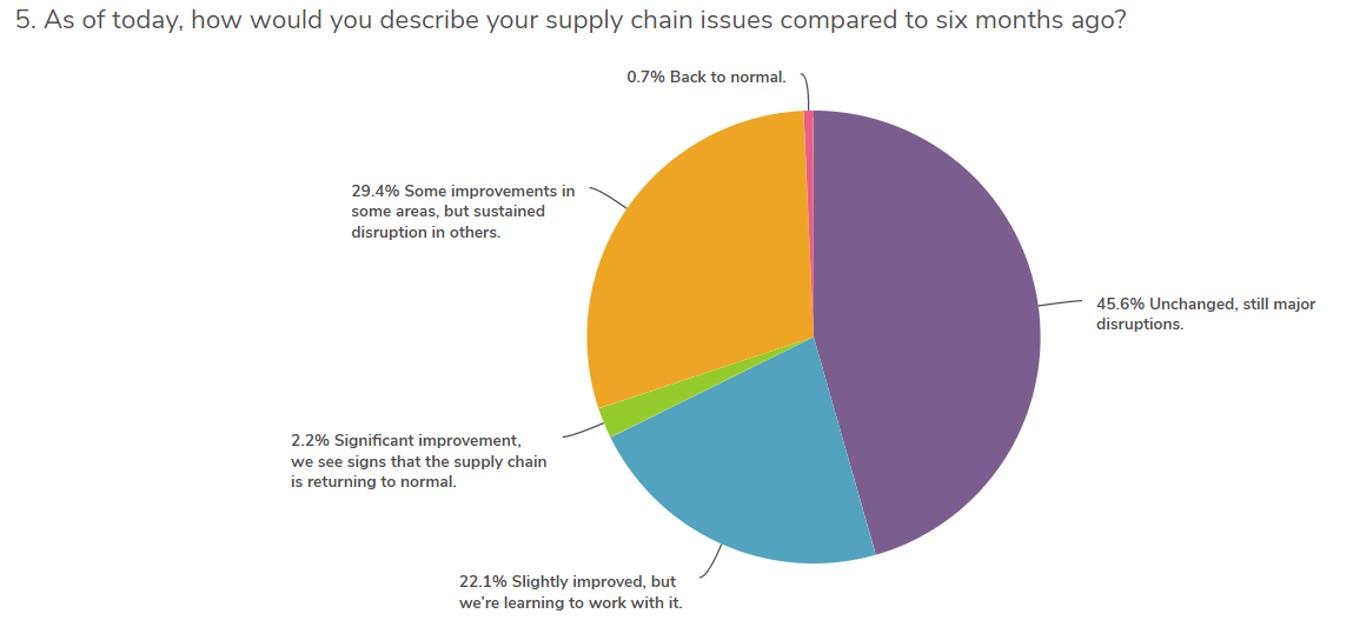 Still a serious problem
Although it's been more than six months since major supply chain disruptions surfaced, woodworking firms report the crisis is still continuing.

Nearly half (45.3 percent) report the situation is unchanged with still major disruptions in supply for the things they need. More than a fifth of respondents (21.9 percent) say the situation is slightly improved and they are learning to work with it.

But about a third (29.9 percent) say, while they see some improvements in some areas, they are still experience sustained disruption in others.

Less than 1 percent (0.7 percent) report the situation "back to normal."


For the future
When it comes to preparing for future supply chain disruptions, the single most common reaction is to raise prices. Two-thirds of respondents (66.4 percent) say that's what they are doing, hiking prices. But nearly as many (62 percent) are extending their lead times.

In some cases, the disruptions are forcing businesses to abandoning basic lean manufacturing tenets such as Just-In-Time ordering. Instead, more than half (54 percent) say they are dropping JIT ordering and stockpiling at least some supplies to ensure they have what they need when they need it. The same majority (54 percent) are accelerating ordering programs to order and re-order materials earlier and in larger quantities.

Faced with a situation in which they could no longer count on long-favored supply sources, many are looking elsewhere. More than half (52.6 percent) say they are expanding their network of suppliers to ensure better coverage of what they need. More than a fifth of respondents (23.4 percent) say they have gone so far as dropping some suppliers who proved to be particularly unreliable.

Nearly 30 percent (29.9 percent) saying they are revising their contracts to change language to specifically cover supply issues. And 27 percent say they are paying more attention to industry news to better predict potential supply problems.

About the survey
The Woodworking Network supply chain survey was conducted by email in August to an audience of 40,882. The 137 respondents from that audience results in a margin of error of 7.02 percent with a 90 percent confidence level.
Have something to say? Share your thoughts with us in the comments below.