Indonesian-made dressers cited for tipover hazard
June 26, 2020 | 3:35 pm CDT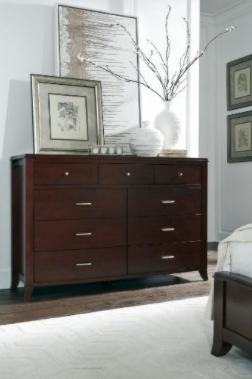 Modus Furniture has recalled dressers due to tipover and entrapment hazards. In-home remedy may be delayed due to Covid-19 restrictions; consumers are advised to keep the product away from children.
According to an announcement from the Consumer Product Safety Commission, this recall involves the Brighton nine-drawer dressers, bow-front dressers, Travis nine-drawer dressers, Travis nine-drawer double dressers, Bevelle dressers and wooden nine-drawer dressers with tapered feet, manufactured from November 2017 through February 2019.
The mahogany and cherry wood veneer dressers have satin nickel-finished pull knobs and handles. Each dresser is about 63 inches wide by 20 inches deep and 41 inches high, and weighs about 245 pounds.  A label on the back of each recalled dresser displays the date of manufacture and "Made in Indonesia."
CPSC advises consumers to keep children away from the dressers until repair is completed. Consumers can also contact Modus for a free compliant replacement tipover restraint kit and to request a one-time, free in-home installation of the kit. Modus Furniture is contacting all known purchasers directly. There have been no incidents or injuries reported.
The dressers were sold at Costco and other furniture stores nationwide and online from November 2017 through December 2019 for between approximately $700 and $1100. The dressers were made in Indonesia and imported by Modus Furniture, of Los Angeles, California. Recall number is 20-752.
The recalled dressers are reported to be unstable if the mirror is not installed, posing serious tip-over and entrapment hazards that can result in death or injuries to children. The dressers do not comply with one of the performance requirements of the U.S. voluntary industry standard (ASTM 2057-17). The tip-over restraint kits do not comply with the performance requirements of the U.S. voluntary industry standard (F3096-14).
Have something to say? Share your thoughts with us in the comments below.