Idaho cabinetmaking student heading to Russia for WorldSkills competition
July 19, 2018 | 4:16 pm CDT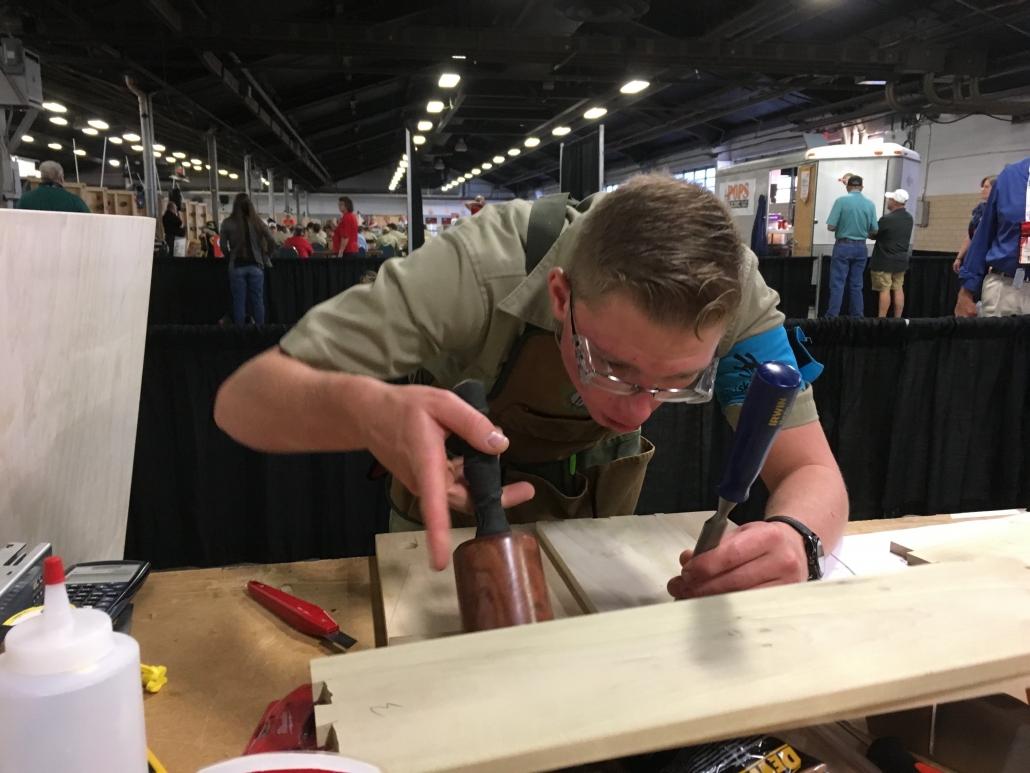 Ethan Harrison, a 2018 graduate of Blackfoot High School of Blackfoot, Idaho, will represent the United States in the biennial WorldSkills cabinetmaking competition Aug. 22-27, 2019 in Kazan, Russia.
Harrison earned the honor by winning a head-to-head competition at SkillsUSA in June in Louisville, Kentucky. Runner-up Hunter Thompson, a 2016 graduate of Cedar Ridge High School of Hillsborough, North Carolina, will serve as the alternate if Harrison is unable to compete in WorldSkills 2019.
WorldSkills is held to raise the profile and recognition of skilled people and show how important skills are in achieving economic growth and personal success.
"Both Ethan and Hunter did an excellent job in the run-off," says Jeff Molzahn, a woodworking instructor at Madison College and newly appointed WorldSkills cabinetmaking advisor for SkillsUSA. In that advisory role, Molzahn will coach Harrison as he prepares for WorldSkills. He says he plans to build Harrison's training program around the Woodwork Career Alliance's skill standards.
"One of my goals is that Ethan will earn his WCA Green Credential during his WorldSkills training," said Molzahn, a WCA accredited skills evaluator. "I think the WCA skill standards and evaluation process will dovetail nicely to get ready for WorldSkills. When you are getting your certification, you have an evaluator watching you work. While you might be really good on a table saw or other equipment, it's a different experience having someone standing over and judging you. I think that experience will go a long way to help prepare Ethan for the pressure he will face on the big stage in Kazan."
Both Harrison and Thompson qualified for WorldSkills by virtue of their solid placing in recent SkillsUSA competitions. Thompson won a gold medal in 2016. Harrison won silver in 2017.
Harrison says he only began learning woodworking as a sophomore at Blackfoot High School. His instructor, Peter Golinveaux, quickly realized his potential and encouraged him to compete in the state SkillsUSA competition.
Harrison says he prepared for WorldSkills using hand tools he purchased with scholarship money established in the honor of Rhett Fields, a Blackhawk High student who died in a motorcycle accident at age 17.  "Rhett was supposed to go to SkillsUSA nationals then he had his accident," Harrison said. "He really inspired me and I really wanted to win this for him."
Preparing for WorldSkills will dominate Harrison's life during the next year. After the competition he plans to do missionary work then attend college. "I plan to build furniture to pay tuition," Harrison said. "After I graduate I would like to have my own custom furniture shop making rocking chairs, tables and other one-of-a-kind pieces."
Thompson already has a WCA Green Credential and is working toward his Blue Credential. He studied woodworking for four years under Keith Yow, woodworking instructor at Cedar Ridge High School, a WCA EDUcation member. "The WCA Passport program was a good structure to build my skills on," Thompson said. "Mr. Yow, my instructor, was very helpful in my development and a great role model throughout my high school years."
Thompson just completed his associate's degree at Alamance Community College and will enter North Carolina State University as a junior this fall to pursue a degree in sustainable materials and technology. Upon graduating he wants to work for a large woodworking company. His ultimate goal is to run own furniture and cabinet business.
"Just being a finalist for WorldSkills was wonderful," Thompson says. "It will look great on my resume."
In addition to the WorldSkills qualification contest, SkillsUSA featured the annual cabinetmaking competition for postsecondary and high school students from around the country.
Winning medals at the college level were:
Gold — Alex Hamacher, Washburn Tech of Topeka, Kansas.
Silver — Andrew Dearing, Utah Valley University of Orem, Utah.
Bronze – Johnathan Schnyder, Jefferson Community & Technical College of Louisville, Kentucky. Jefferson College is an EDUcation member of the WCA.
Winning medals at the high school level were:
Gold – Bradlee Benjamin, Berks CTC – East Campus of Oley, Pennsylvania.
Silver – Tyler McLaughlin of Yutan Public Schools, Yutan, Nebraska.
Bronze – Ravindra Dave of Cary High School of Cary, North Carolina.
For more information on Woodwork Career Alliance, see http://woodworkcareer.org.
Have something to say? Share your thoughts with us in the comments below.