Housing sales are up as are softwood lumber prices
October 28, 2021 | 8:45 am CDT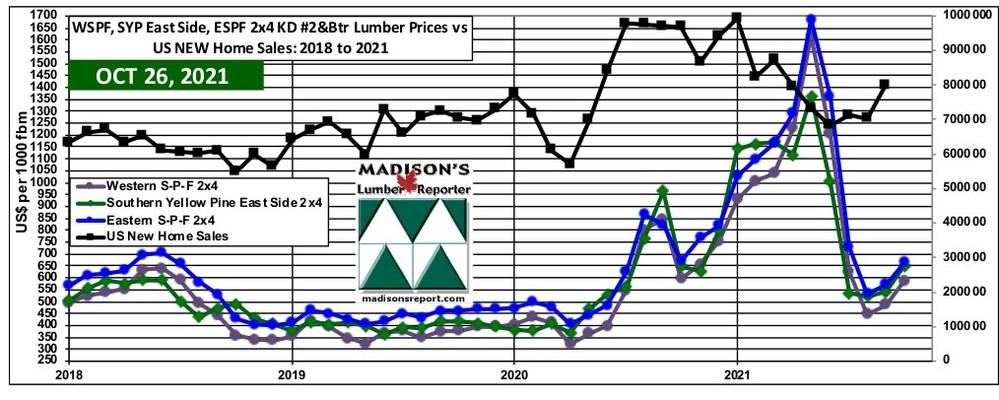 Photo By Madison's Lumber Reporter
VANCOUVER, BC -- After slowing down in the summer, sales of new US single-family homes rocketed up by +14%, while the median price of newly built houses increased by even more, compared to the previous month, according to Madison's Lumber Reporter
There were 800,000 new U.S. homes sold in September, which is up +14% from a significantly downwardly-corrected 702,000 in August, and is down -18% from 971,000 in September 2020.
At the sales pace in September it would take a regular 5.7 months to clear the supply of houses on the market, compared to 6.5 months in August. 
Madison's Lumber Prices used data from the U.S. Census Bureau and the U.S. Department of Housing and Urban Development. The Census Bureau and HUD released October 26 new home sales and house price data for September 2021.
New home sales comprise 10% of real estate activity and are considered a leading housing market indicator as they are recorded when contracts are signed.
The ratio of homes sold in September either still under construction or yet to be built was an astonishing 74%. Houses under construction made up 62.5% of the inventory, with homes yet to be built accounting for about 28%.
Looking at lumber prices, showing surprising strength in ongoing increases when usually lumber prices are dropping, in the week ending October 22, 2021, the price of Western S-P-F 2x4 #2&Btr KD (RL) was US$630 mfbm, which is up by +$35, or +6%, from the previous week when it was $595. This price is up by +$142, or +29%, from one month ago when it was $488. 
For more information on Madison's Lumber Reporter, visit https://madisonsreport.com/
Have something to say? Share your thoughts with us in the comments below.