Hilarious job ad goes viral - Is this the answer to finding workers?
March 10, 2020 | 12:01 pm CDT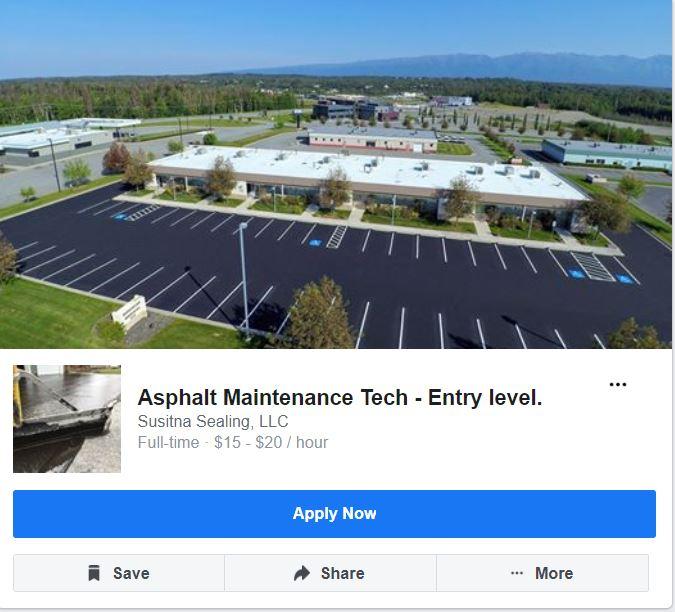 "Are you looking to get jacked, tan, and juicy this summer while lining your pockets with fat stacks?"
This is the first question in a job ad posted on Facebook three days ago from Alaskan sealing and asphalt company Susitna Sealing. The post went viral after it was shared by Mike Rowe, earning more than 10,000 likes and hundreds of comments and shares.
The ad
 is for an entry level asphalt maintenance tech, which pays between $15 and $20 an hour. Here's the full post:
Are you looking to get jacked, tan, and juicy this summer while lining your pockets with fat stacks?
Bruh, I gotchu.
You should come work with us.
With this entry level job you will:
Work outside all day in the blistering heat to achieve maximum (farmers) tan.
Shovel your butt off moving 350* asphalt to get some mass on the upper body (We 100% skip leg day tho. You're welcome)
Literally run across parking lots and driveways all day to stay lean. (Except this doesn't work great for me. I'm still chubby. but I'm sure it'd work for you cause I'm the boss and I'll just make you run more than I do myself. Ha.)
We work alot. Like 60-90 hrs a week. #overtime
Job can be pretty boring. Lots of pressure washing and pushing a squeegee around. That's cool tho its a good time to catch up on some Joe Rogan Experience.
Gotta have a good attitude and be polite to customers. 0 tolerance for cussing on the job, and we strive for a positive atmosphere.
Bonus points if you:
Show up on time every day
Don't do drugs.
And by bonus points I mean you won't get fired.
'Cause you will if you are late or do drugs.
Winter positions available if you feel like being an actual popsicle when shoveling snow and plowing.
People who last the whole season will have the opportunity for bonuses and a company fishing trip.
401K will be available by summer time for those that stick around.
Shoot me a resume or your work experience and some references.
If you are in/just out of high school and have limited work experience, ill need a letter of recommendation from a teacher or 2.
Pay is based on how hard you work, how fast you can learn, and your attitude. If you work hard and aren't a terrible person you'll have a career here and Ill pay you a more-than-livable wage with massive room for growth both financially and professionally.
If your lazy and/or a terrible person, well, I have no problems firing you immediately.
Work starts slowly around the middle/end of April and really ramps up by may.
We usually work consistently until about October, then its snow removal time.
Thanks ~ CameRon
The worker shortage remains the lead issue affecting the woodworking and manufacturing industries. In early 2019, we surveyed 150 woodworkers and managers in our audience to find out why. Most of them
said an overall lack of interest
was the main reason for the shortage. This was followed closely by schools not doing enough to expose students, and a pressure for young people to go to college and get urban skills.
Maybe part of the answer rests in ads like these.
Maybe it is all about making working in the trades cool again.
Have something to say? Share your thoughts with us in the comments below.