High school students make courtroom furniture
July 18, 2022 | 4:28 pm CDT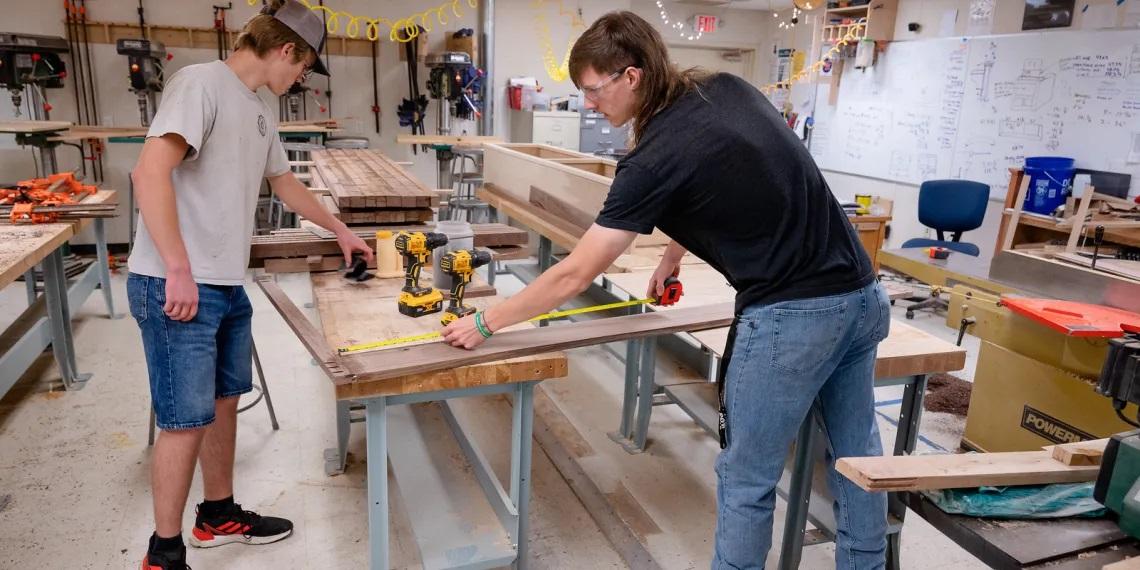 Photo By J. Alex Wilson - Supreme Court of Appeals of West Virginia/lootpress
CLENDENIN, WVa. – Three students from the Herbert Hoover High School in Clendenin, W.Va., shop classroom, and their teacher are building furniture for a new Intermediate Court of Appeals (ICA) courtrooms.
The school won the bid to produce the benches, podiums, and tabletops for the main courtroom in Charleston and five satellite courtrooms. The students are also producing carved wooden ICA seals for each bench, according to the website, lootpress.
The main courtroom bench is made of walnut and will seat up to five judges, in case the Supreme Court ever needs to hear a case from a high-tech courtroom. The satellite courtroom benches, made of cherry, are much smaller and are designed to hold 55-inch televisions that will link the courtrooms in Grant, Lewis, Morgan, Raleigh, and Wetzel Counties to the main courtroom in Charleston. Chief Justice John Hutchison, Justice Tim Armstead, and ICA Judges Tom Scarr and Charles Lorensen visited the shop on July 7 to see the furniture and discuss details like where to put pencil drawers, lights, and electrical outlets for laptops. The justices and judges thanked the students and their teacher for their work.
ICA Chief Judge Dan Greear plans to visit the shop later this month. "I have heard rave reviews of the beauty of the furniture. I am glad we were able to provide this learning experience for Herbert Hoover students."
Have something to say? Share your thoughts with us in the comments below.