Giving back a shared trait of Canada's three 40 Under 40 honorees
July 22, 2019 | 11:24 am CDT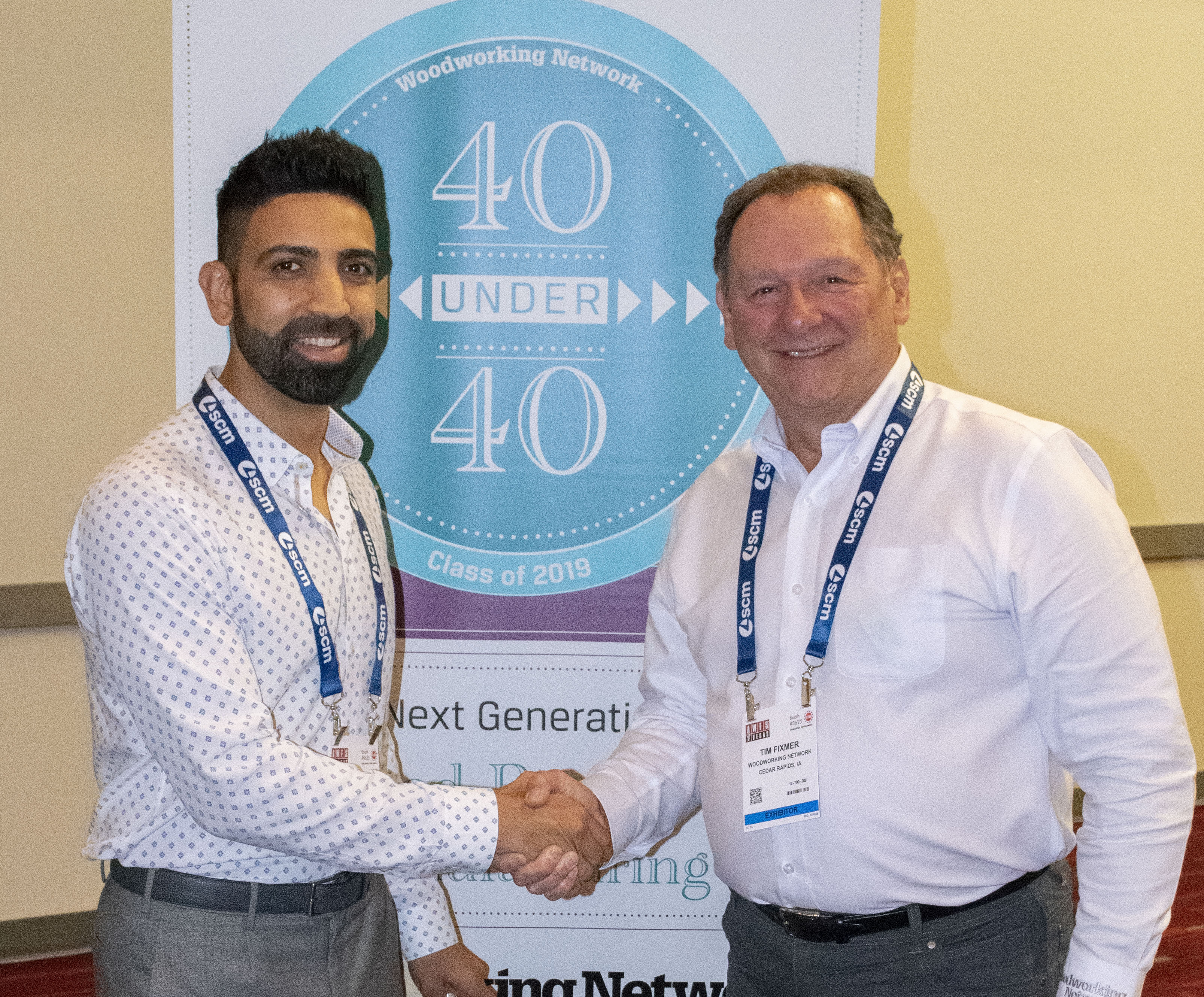 LAS VEGAS -- The Wood Industry 40 Under 40 class of 2019 includes three Canadians. Each of them is lauded by their peers for exuberating passion and dedication to their organizations and to the industry at large.
Véronic Landry, head of an industrial research chair in wood finishing at Laval University; Jim Larin, sales manager of Toronto-based Fuji Spray; and Ankit Sharma, owner of Kitply of Vancouver, were among the Wood Industry 40 Under 40 winners celebrated at an awards gala held Tuesday, July 16, on the eve of the AWFS Fair in Las Vegas.
Wood Industry 40 Under 40, now in its fourth year, is presented by Woodworking Network to celebrate the next generation of industry professionals who impact – through their deeds, motivation, innovation or entrepreneurial spirit – wood products manufacturing. The honorees were selected by Woodworking Network's editorial team and will be featured in the special October Leadership edition of FDMC magazine, as well as online. (View the 2018 issue.)
Sponsors of this year's event included Timber Products Co. and Hexagon Manufacturing Intelligence: Cabinet Vision and Alphacam.
Read on to learn more about each of Canada's three distinguished members of the Class of 2019 40 Under 40.
"Véronic Landry not only is a researcher with more than 10 years of industrial experience in wood product innovation and head of an industrial research chair in wood finishing, but is also a leader and a great mentor training the next generation of wood researchers," said her nominator. An associate professor in the Wood Engineering Department at Laval University in Quebec, Landry's research focuses on improving the resistance, look and performance of interior wood finishes, including UV and water-based coatings, with innovations such as improved polymerization, fire retardancy, self-healing and chemical coloration.
Part of a $2.3 million CAD industrial research program, "Her research aims to overall increase performance of wood products through innovative green interior wood finishing and densification," the nominator added. "Through her research chair, she impacts both the academic research and the industrial wood market by bringing innovative solutions to the wood finishing world. Working closely with wood products manufacturers, finishing manufacturers and chemical suppliers, she ensures that her research addresses industrial challenges."
"Her chair of research will train over 40 students within five years, conducting projects on green interior wood finishes and densified wood. Her personality and passion for innovation make her an inspiring and motivating mentor for her students."
Motivated by the desire to inspire others in the woodworking industry, Jim Larin, the operations and sales manager at Toronto-based Fuji Industrial Spray Equipment Ltd., "is an educator who invests all of his time and effort into educating others, helping them achieve better success in all of their woodworking efforts. His genuine approach and attitude have ignited excitement in the industry as he selflessly ensures that each and every woodworker has the tools to succeed. In addition to his skillset, Jim has presented at Fuji Spray Finishing workshops in Canada, the Kingston Woodworkers Association in Canada, AWFS Las Vegas, IWF Atlanta, and overseas in the UK, Ireland, and Asia," said one of his four nominators.
Another added, "I have witnessed Jim's masterful instructional techniques during Fuji Spray workshops. There he demonstrates his rare ability to break down highly technical information into terms attendees can readily grasp, then apply successfully back in their own shops.  Those same characteristics are very evident in his many Youtube videos, designed to encourage finishers at every level to achieve optimal results and grow beyond their potential."
The 28-year-old Larin is also known for his efforts to get young adults more involved in the trades. In addition, "Jim's ability to reach out to others in simplifying complex systems and procedures and dispelling myths about spray finishing has enhanced the ability of small to mid-sized companies to more effectively compete with larger companies in terms of finish quality and cost savings."
A Business in Vancouver "40 Under 40" winner and Ernst & Young Entrepreneur of the Year finalist, Ankit Sharma owns Kitply, a successful wood products business in Vancouver, British Columbia.
Since its launch 10 years ago, Kitply has expanded into a recognized national wholesale distributor of hardware and plywood, earning an International Trade Award and Employer of the Year award. The company has more than $5 million in annual revenues and sells 20,000 products from all over the globe.
Kitply is guided by five core values: Dreaming Big, Fun & Positive Work Environment, No One is Pigeon-Holed, and Giving Back. Contributions are given to organizations that help eradicate poverty, reduce the impact of diseases, preserve the environment, protect and support the rights of minorities, and promote education. For example, Kitply has established a $20,000 endowment fund to award a $1,000 scholarship in perpetuity to disabled students at the local trade college/university, notes the nominator.
According to the nominator, "Ankit has carefully nurtured each member of staff to bring out the best in their abilities, which begets validation, inner strength, confidence and positivity. Each team member radiates, and it shows by their personal achievements, and the achievements of the company."
He added "[Ankit's] philosophy that the best way to do business is by putting other people first and his genuine ability to help solve other people's problems has earned him a remarkable reputation, and a worldwide network of strong, positive business and personal relationships." A philanthropist, the 34-year-old Sharma also donates thousands of dollars to charities around the world.
Through his blog, "Make Wood Sexy," Sharma said he hopes to "help the industry flourish and regenerate interest in young people who sometimes see it as unsexy and boring."
Read profiles for each of the 2019 Wood Industry 40 Under 40 honorees.
Have something to say? Share your thoughts with us in the comments below.