Genesis Products undertakes biggest expansion in company history
March 28, 2017 | 9:01 am CDT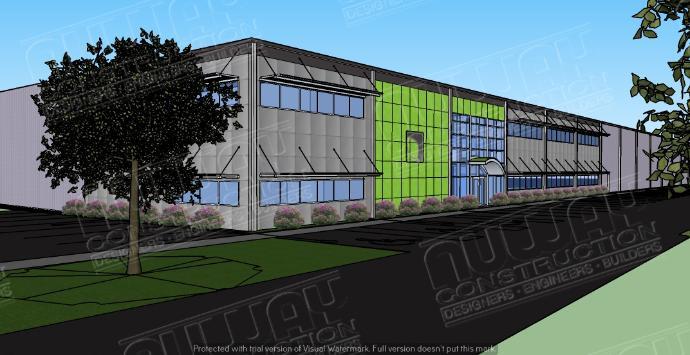 Photo By Nuway Construction
GOSHEN, Indiana - Wood and laminate products manufacturer Genesis Products broke ground on its new 200,000 square-foot facility in Goshen, Indiana. 
The new $10 million facility will house production across a 17-acre site, as well as their corporate office, the company says.
"This new facility is the largest expansion that we've ever done and will be used for panel production, the core of our business," said President and CEO Jon Wenger. 
Genesis Products employs 550 people across seven facilities: three in Elkhardt, Indiana; three in Goshen, Indiana; and one in Virginia.
The city of Goshen is extremely grateful for the company and recent expansion. The new facility will employ 100 workers - about 20 percent more than what they currently employ. Mayor of Goshen Jeremy Stutsman says this is the biggest expansion the city has seen in quite a while. Unemployment rates in the city are down over three percent. 
The complex will have 364 feet of rail service, which Genesis says is exciting with wood products.
Nuway Construction, a design/build general contractor located in Goshen, was chosen for the project.
"We are excited to work on this project because we don't get the opportunity, very often, in Goshen to showcase a high-end facility such as this one," said Andy Nesbitt, VP of Operations for Nuway Construction.
The facility will be completed in November.
A supplier to OEM, Genesis makes its money from the RV sector, kitchen cabinets, residential furniture and retail and office furniture clients. The majority of its production is wood, plywood, and particleboard, and panel products.
Pictured left to right:  David Daugherty, Goshen Chamber President; Brian Spaulding, District Director, Congresswoman Jackie Walorski; Kyle Hannon, Elkhart Chamber President; Fred Ramser, Account Executive; Andy Nesbitt, V.P. of Operations; Randy Huffman, President, Nuway Construction; Mayor Jeremy Stutsman, City of Goshen (in sunglasses behind Randy Huffman), Jon Wenger, CEO and President, Braden McCormick, Vice President, Business Development, Welformed, Heather Jenks, Vice President of RV Sales, George Tierce, Director, Continuous Improvement, Matt Hazelbaker, Vice President of Genesis Products, Julia King, Brett Weddell, and Jim McKee, Goshen City Council Members. 
 
Have something to say? Share your thoughts with us in the comments below.