Furniture industry reports largest industry contraction; wood products reports third most contraction
October 4, 2022 | 12:01 pm CDT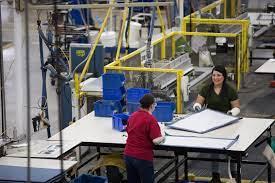 TEMPE, Ariz. -- Furniture industry orders contracted the most of overall industries, and wood products manufacturers ranked third in terms of contraction in September 2022 compared to August.
In addition, while economic activity in the manufacturing sector grew in September, with the overall economy achieving a 28th consecutive month of growth, the overall Manufacturing PMI dropped to its lowest level since May 2020, according to the latest Manufacturing ISM Report On Business.
The report was issued by Timothy R. Fiore, CPSM, C.P.M., Chair of the Institute of Supply Management (ISM).
"The September Manufacturing PMI registered 50.9 percent, 1.9 percentage points lower than the 52.8 percent recorded in August. This figure indicates an expansion in the overall economy for the 28th month in a row after a contraction in April and May 2020. The Manufacturing PMI figure is the lowest since May 2020, when it registered 43.5 percent," said Fiore.
Seven industries reported contraction in September compared to August, in the following order: Furniture & Related Products; Textile Mills; Wood Products; Printing & Related Support Activities; Paper Products; Chemical Products; and Fabricated Metal Products. Manufacturing Business Survey Committee.
 
Other highlights of the report, include:
The New Orders Index returned to contraction territory at 47.1 percent, 4.2 percentage points lower than the 51.3 percent recorded in August. 
The Production Index reading of 50.6 percent is a 0.2-percentage point increase compared to August's figure of 50.4 percent. 
The Prices Index registered 51.7 percent, down 0.8 percent points compared to the August figure of 52.5 percent. This is the index's lowest reading since June 2020 (51.3 percent). 
The Backlog of Orders Index registered 50.9 percent, 2.1 percentage points lower than the August reading of 53 percent. 
After a single month of expansion, the Employment Index contracted at 48.7 percent, 5.5 percentage points lower than the 54.2 percent recorded in August. 
"The U.S. manufacturing sector continues to expand, but at the lowest rate since the pandemic recovery began," said Fiore. "Following four straight months of panelists' companies reporting softening new orders rates, the September index reading reflects companies adjusting to potential future lower demand.
Have something to say? Share your thoughts with us in the comments below.