Furniture Hall of Fame Inducts Vaughan-Bassett, Stickley Execs
November 11, 2013 | 8:44 pm CST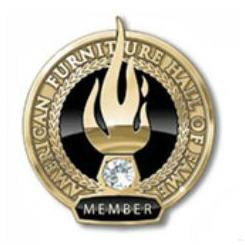 HIGH POINT, NC - The American Furniture Hall of Fame opened its door to six new inductees, all of them born in the 1930s.
Among the class of 2013 are Aminy Audi, CEO and chairman of L. & J.G. Stickley and John Bassett III, chairman of Vaughan-Basset Furniture Industries. Other 2013 inductees include furniture designer Milo Baughman Jr., rug maker Leon Capel Jr., Hassel Franklin of motion furniture manufacturer Franklin Corp. and Gene Rosenberg, founder of Bob's Discount Furniture.
Members of the class of 2013, join 83 other distinguished furniture industry leaders who previously were inducted into the American Hall of Fame. The hall is an initiative of the American Furniture Hall of Fame Foundation Inc.. The group formed in 1990 as an international, industry-wide organization founded to research, collect and preserve its cultural, economic and artistic history, as well as to honor those individuals whose outstanding achievements have contributed to the growth and development of the U.S. furniture industry.
As in past year's, 2013 American Hall of Fame inductees, were culled from a diverse range of furniture manufacturing, retailing and more. Their inclusion in the hall took into account leadership at their companies; service to the industry and philanthropic endeavors.
Aminy I. Audi, (1939-) CEO and chairman of L. & J.G. Stickley, with her late husband, Alfred, purchased a struggling company with only 25 employees in 1974 and turned it into a thriving enterprise known throughout the world for its quality Arts & Crafts designs. Today, Stickley employs more than 1,500 people with three manufacturing plants, including a 400,000-square-foot factory in Manlius, NY. Stickley furniture is sold through 14 company-owned stores and a network of leading retailers.
John D. Bassett III (1938-), chairman of Vaughan-Bassett Furniture Co., is a champion of American-made furniture and the third generation to work in the furniture industry. Under his leadership, Vaughan-Bassett Furniture Co. sales have increased from $38 million in 1983 when he joined the company to more than $90 million today, the largest wood bedroom manufacturer in the United States. With nearly 700 employees at plants in Virginia and North Carolina, Bassett believes that no one can outperform the American worker when given leadership, training and the best equipment. Bassett has reduced the percentage of imports to less than 2 percent of the company's total sales and in 2012 oversaw an $8 million plant expansion, which included the purchase and reopening of a furniture factory.
A past chairman of the International Woodworking Fair, Bassett served as chairman of the Committee for Legal Trade which successfully petitioned for antidumping duties to be assessed to wood bedroom furniture imported from China. In 2012, Wood Products magazine named Bassett a Woodworking Industry Market Leader.
Milo Ray Baughman, Jr. (1923-2003) is widely recognized as a pioneer of mid-century modern furniture design whose unique and creative genius was combined with inventive engineering and manufacturing expertise. He formed Milo Baughman Design Inc. in 1947, creating collections for Drexel, Pacific Iron, Tropitone and Glenn of California in the burgeoning California Modern style. In 1953, he forged a 50-year collaboration with upholstery manufacturer Thayer Coggin Inc., designing the Stuido MB chair for Thayer Coggin two months before his death.
A. Leon Capel, Jr. (1931-) led Capel Inc., America's oldest rug manufacturer, from 1954 until his retirement in 2005. Working together with his five brothers, he led the company founded by his father in Troy, N.C., in 1917 through a remarkable period of growth. Under his direction, Capel expanded from two to five factories and from $1 million to $55 million in sales worldwide, employing 800 in a town of only 3,200.
Hassell H. Franklin (1935-), chairman and CEO of Franklin Corp. of Houston, MS, launched a small, family-owned business in 1970 and built it into one of the largest, privately owned furniture manufacturers in the nation, achieving double-digit growth nearly every year since its founding. Today, Franklin employs a workforce of 1,300 that produces a diverse line of American-made upholstered motion furniture sold throughout the world.
In 2011, Franklin Corp. implemented the home furnishings industry's comprehensive environmental management system known as EFEC at its 1.1-million-square-foot manufacturing facility in Houston, Miss., that includes the company's corporate headquarters -
Gene Rosenberg (1935-), a founder of Bob's Discount Furniture and Planned Furniture Promotions, and a partner in the revival of Boyles Furniture, has combined hard work and perseverance with his love for the furniture industry. he helped grow the Bob's Discount Furniture chain to the 15th-largest U.S. furniture retailer with sales of $685 million.
Have something to say? Share your thoughts with us in the comments below.