Fire rages on ship carrying timber cargo
December 9, 2021 | 1:36 am CST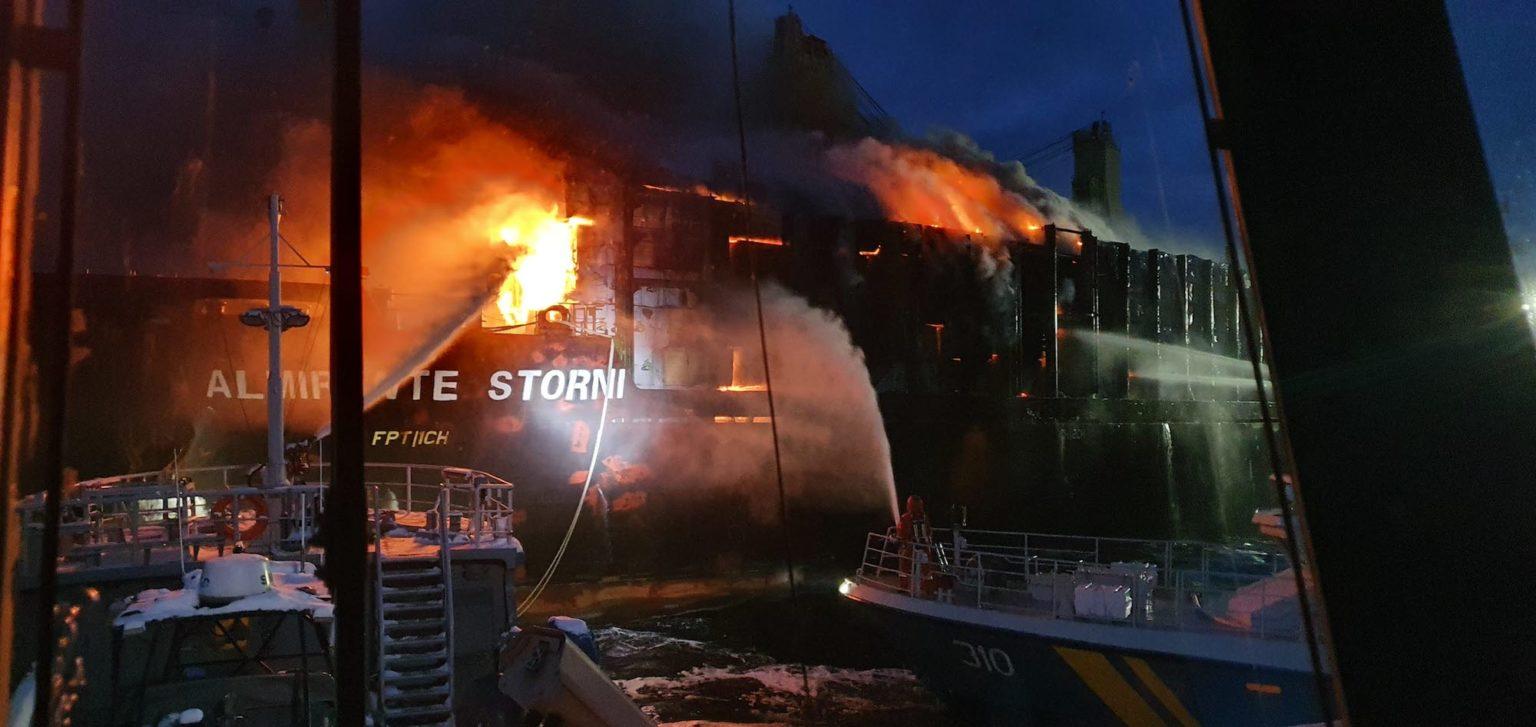 Photo By Sweden Coast Guard
A fire that started on a cargo ship carrying timber off Sweden's west coast on Saturday, Dec. 4 was still raging on Thursday, and thermal imaging is leading authorities to worry that the fire is spreading to the ship itself. A ship with more than 600 tons of fuel onboard.
The Maritime Executive reported that an international effort led by the Swedish coast guard is fighting the cargo fire on the Almirante Storni, anchored off Gothenburg. On Dec. 8, firefighting efforts were boosted by the Norwegian Coast Guard and a commercial offshore vessel as they attempted to reach the heart of the fire in the tightly packed cargo of timber.
Thermal cameras from a police helicopter show that the fire might be spreading aboard the vessel. Previously, multiple reports said that the fire was contained, but warned that the water applied to the ship was only dampening the timber cargo and not reaching the center of the fire. The latest images show heat transfer taking place in the fire.
"A heat transfer is serious," said Jesper Bäckstedt, rescue leader at the Coast Guard. "This is about an increased risk of escalation and risks for the ship, which has 600 tons of fuel onboard. We are now working intensively with everyone involved to get ahead in this situation."
Strong winds and cold temperatures are complicating the firefight. The Swedish Coast Guard reports in addition to a strain on personnel, the weather conditions are beginning to impact their equipment. "Our ships are now starting to get very icy," said Bäckstedt.
The focus of the effort remains to fight the fire and limit its spread aboard the Almirante Storni, but they have no projection of when the fire might be extinguished.
Have something to say? Share your thoughts with us in the comments below.