Fire in Finishing Department Ravages Cabinet Shop
July 1, 2014 | 10:55 am CDT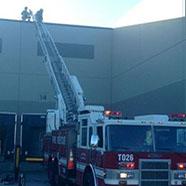 RIDGEFIELD, WA -- Pacific Crest Cabinets, a Northwest manufacturer of semi-custom cabinetry for builders, remodelers and dealers, suffered a fire in its finishing department on June 30.
Four employees were taken to the hospital for smoke inhalation as a result of the fire, which started at the company's water-based lacquer finishing machine, according to The Columbian.
The paper also noted that Pacific Crest Cabinets employees were able to contain the flames with 13 company fire extinguishers before the fire department arrived.
Ridgefield, WA-based Pacific Crest Cabinetry, in business approximately 40 years, shares space in its 180,000-square-foot, state-of-the-art plant with sister company, RidgeCrest Cabinets.
Have something to say? Share your thoughts with us in the comments below.