Female students sweep gold in California Woodworking Contests
April 28, 2022 | 1:53 pm CDT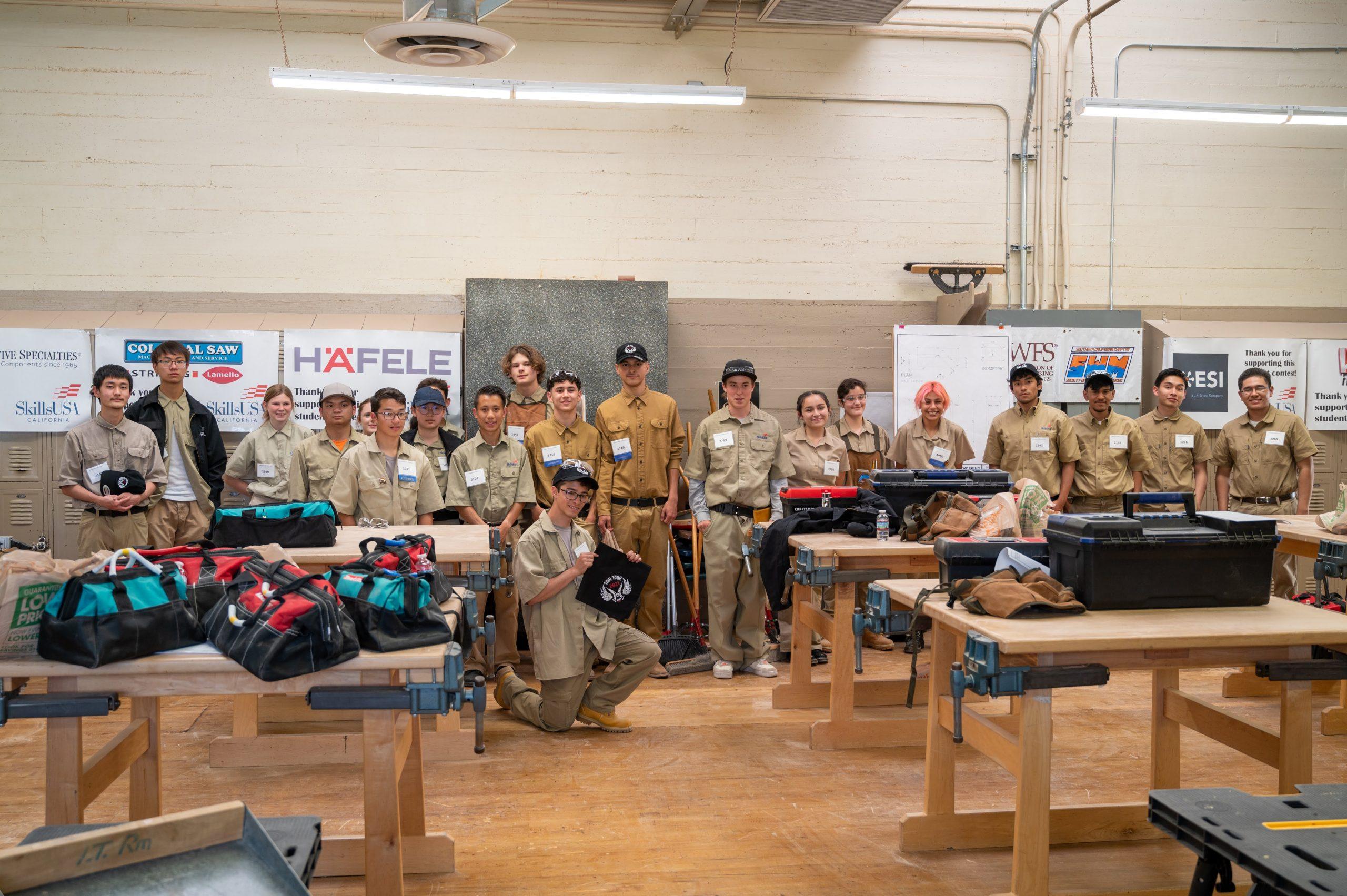 Photo By AWFS
ANAHEIM, Calif. – SkillsUSA California hosted the State Cabinetmaking and Introductory Woodworking competitions on Saturday, April 23, at Chaffey High School in Ontario, Calif.
Staff and industry volunteers from the Association of Woodworking & Furnishings Suppliers (AWFS) and the Society of Wood Manufacturing (SWM) served as contest coordinators, judges, and overall contest support.
The AWFS reports that for the first time in recent history, female students won the Gold Medal for both the Introductory Woodworking and Cabinetmaking contests, and a school from central California took home five of the six medals.
Over $10,000 in contest supplies, tools, and giveaways for students were donated by: Blum Inc., Colonial Saw/Lamello, Decore-ative Specialties, Drawer Box Specialties, Edgebanding Services Inc. (ESI), Grex Tools, Häfele America Co., Kemp Hardware, Royal Plywood, and Society of Wood Manufacturing (SWM), a chapter of AWFS.
Twenty-one students from nine schools throughout California competed in the Introductory Woodworking contest. This contest is intended to introduce students to the SkillsUSA competitive environment and encourage them to return to compete in the Cabinetmaking contest the following year. Contestants are given a set of plans to construct a folding shelf. They had access to chop saws, drill presses, a band saw, jigsaws, power drills, and hand tools to create the component parts and assemble the shelf in six hours.
 
Contest prepares students for industry
The 2022 SkillsUSA California State Cabinetmaking competition hosted twenty-two students from eleven different high schools across the state. Students competed for medals and the opportunity to represent California at the upcoming SkillsUSA National Championships, which will take place in Atlanta, Georgia in June.  
The students built a functioning cabinet that tested their skills using various woodworking machinery. Students had access to the table saw, router table, edgebanding machine, sliding panel saw, miter saw, and hand tools.
Karl Frey from Colonial Saw introduced the students to the Zeta joinery system with a contest loan of a Zeta machine and a donation of Tenso connectors for all of the Cabinetmaking students.
Local Blum representative Lee Schuette assisted the students in attaching their hinges using a Blum Minipress P and helped contestants install Blum TANDEM drawer slides.
Decore-ative Specialties donated the beautiful solid oak doors and drawer fronts for the contest, saving the students' time and enhancing the project.
Cabinetmaking contestants had about three hours to review the plans and just six and a half hours to finish the project. Contest judges used criteria such as accuracy of measurements, safety, and use of tools and machinery to determine the scores. Not all students completed the project, but all contestants took home their cabinets after the event so that they could complete them if necessary.
 
Have something to say? Share your thoughts with us in the comments below.