Dorel relaunches Bridgeport contract furniture brand
May 27, 2020 | 9:04 am CDT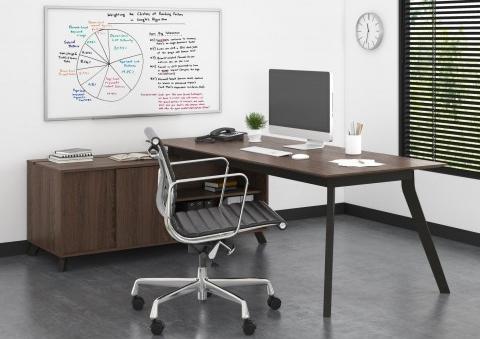 COLUMBUS, Ind. – Furniture provider Dorel Business announced it is relaunching its Bridgeport brand, featuring seating, tables, office and reception furniture for the education, hospitality office and storage markets.
Bridgeport will include two sub-categories, Essentials and Commercial. Targeted for smaller, family-owned types of businesses, the Essentials line will focus on products that are a mix between residential and commercial quality and will be offered at a low- to mid-price point. The Commercial line will focus on items that are commercially rated, designed specifically for high traffic and commercial environments, the company said. These products will fall within the mid- to high-price point range.
"Over the past 80 years, we've built a strong reputation for quality and innovation within the commercial category, and this new brand represents that," said Bryan Hollingsworth, Business Development manager, "We're focusing on design and trends to create products that are best in class for small and medium business partners in North America."
The brand was initially scheduled to relaunch at NeoCon in June. Due to the cancellation of the show from COVID-19, the announcement was made on NeoConnect, a virtual environment to connect the NeoCon community. According to Dorel, the Bridgeport product line will be available to dealers and business distributors, including: furniture dealers, office products dealers, school supply dealers, industrial distributors, architects, contract furniture dealers, government purchasing agents, universities and colleges, and office furniture wholesalers.
Dorel Business™is a segment of Dorel Industries Inc.  Headquartered in Montreal, Quebec, Dorel (TSX: DII.B, DII.A) is a global organization, operating distinct businesses in home products, juvenile products, and bicycles. Dorel Home, markets a wide assortment of domestically produced and imported furniture under brands which include: Ameriwood Home, Cosco Home & Office, Dorel Living, DHP, Little Seeds, and Signature Sleep. Dorel Juvenile's products include global brands Maxi-Cosi, Quinny and Tiny Love, complemented by regional brands such as Safety 1st, Bébé Confort, Cosco and Infanti. Dorel Sports brands include Cannondale, Schwinn, GT, Mongoose, Caloi and IronHorse.
Dorel is ranked #16 on the current FDMC 300 list of top North American wood products producers. The company overall has annual sales of $2.6 billion USD and employs approximately 8,900 people in facilities located in 25 countries worldwide.
Have something to say? Share your thoughts with us in the comments below.