Diman School makes PPE for local health care providers
May 18, 2020 | 9:07 am CDT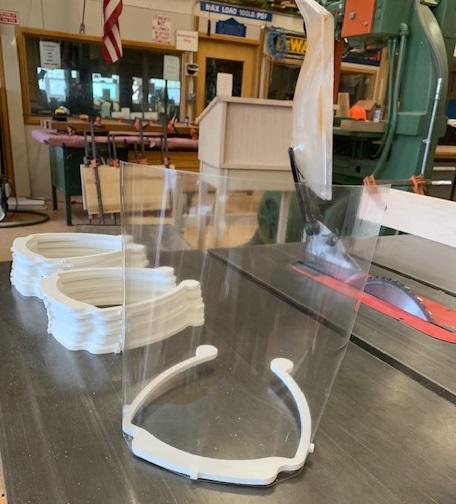 Diman Regional Technical High School of Fall River, Massachusetts, has produced more than 700 face masks and 200 ear guards for donation to local healthcare and residential nursing centers, as well as the Army National Guard.
Diman Regional has also donated to local facilities all of the personal protective equipment, or PPE, that the school reserves for the purpose of training students in its dental, health, and medical-assisting vocational-training programs.
"We're just very fortunate that we can help and that we have the ability to do so," said Manny Botelho, head of Diman Regional's carpentry and cabinetmaking department. "The leadership is unbelievable at our school; our administrators went through every program that we offer to see what we had, and donated all of the PPE to local hospitals and nursing homes."
The full-face shield masks produced at Diman Regional consist of headbands that are fitted with sheets of plastic that can be sterilized and reused by healthcare facilities.
The headbands were drawn and programmed in Alphacam, by Hexagon Production Software, and cut on an SCM router. The school has used Alphacam as a teaching tool for more than a decade, and has brought Cabinet Vision, also by Hexagon, online as an instructional aid over the last couple of years.
"Considering our capabilities at Diman Regional and the software that we have, I can't imagine not doing something to be able to try and help," Botelho said. "The people on the frontlines are the real heroes — the ones putting their lives on the line to help others."
Diman Regional drafting instructors Chris Padula and Mitch Sweet lead volunteer efforts to produce both headbands and ear guards using the school's 3D laser printers. To speed up production, Botelho and fellow carpentry instructor Donald Travers volunteered to use the school's carpentry equipment to augment existing efforts. Diman Regional donated all of the production materials, including ¼-inch PVC for the headbands, and plastic sheets for the face shields.
To transfer Padula and Sweet's existing project to the CNC router for production, Botelho imported the .dxf file used for the project on the 3D printer into Alphacam.
"We had to customize it to be able to cut it on the CNC, so we redrew the band itself in Alphacam to create toolpath, and then we output the code to the CNC," Botelho said.
Headbands and face shields are nested to maximize material yield, and cut face shields are punched with a three-hole punch to create notches by which they're attached to the headbands.
The instructors are able to cut 300 masks in a six-hour period, and a few seconds of deburring is required for each piece. They adhere to social-distancing directives throughout the production process, as just one instructor is on site at any given time.
"It's only the instructors who are making the masks and ear guards, and right now we only have two instructors who are going in to do this," Botelho said. "We're keeping our distance from each other."
Roughly 365 students are admitted each year to Diman Regional Technical High School, which can accommodate 100 students annually in its carpentry and cabinetmaking program. The school serves about 1,400 students each year and offers 19 vocational programs that run the gamut from auto collision and plumbing to graphics communication, programming and web development, culinary arts, and many more.
The school's carpentry and cabinet making program admits 24 freshmen annually, and accommodates about 100 students each year in grades nine through 12.
Like all high-schoolers across the nation, Diman Regional students are currently learning online, which is a challenging adjustment for the hands-on vocational school. Regardless, Botelho said, Diman Regional was able to quickly adjust its teaching model within 24 hours of receiving state-mandated social-distancing directives.
For more information about Diman Regional, see http://www.dimanregional.org
Have something to say? Share your thoughts with us in the comments below.