Denver Hardwood Flooring Supplier Acquired by Germany's Lägler
October 7, 2015 | 2:18 pm CDT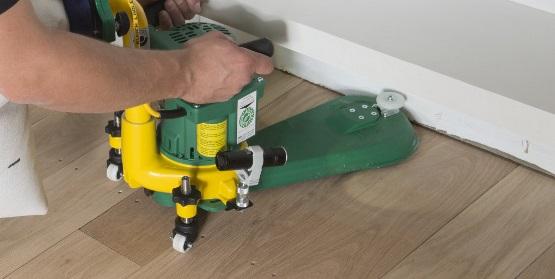 DENVER – Palo Duro Hardwoods, located in Denver, Colorado, has announced its acquisition by Eugen Lägler GmbH, a floor sanding machine manufacturer headquartered in Frauenzimmern, Germany.  The deal, intitially announced in June, was finalized on October 1.

Palo Duro, a wholesale flooring supply distribution company, has been the exclusive North American importer and sales agent for Lägler since 1995. Under the new business structure, Palo Duro's former VP, Jeff Fairbanks, will serve at its president.

Eugen Lägler GmbH was founded in 1956 and is credited with developing the first wood flooring belt sander. Today, under the management of Karleugen Lägler, Lägler is recognized world-wide as a leader in sanding equipment and technology, and has manufactured more than 50,000 Hummels.
The two companies have shared a close business relationship for more than 20 years. "This acquisition will solidify Palo Duro's position in the marketplace," said Palo Duro's outgoing president, Bruce Whisenhunt. Palo Duro, a wholesale distribution company, was founded in 1985 by Whisenhunt and his wife, Cathy. Through their insight and leadership, the company has grown to become one of the nation's largest flooring distribution companies.

Another husband and wife team, Eugen and Gerda Lägler, founded Eugen Lägler GmbH in 1956 in Germany. That company is now run by their son, Karleugen Lägler, who first worked for the company when he was about 10 years old .
"My father invented the first belt sander, which revolutionized the industry, says Karl Lagler. "He continued to improve on his design over the years, and made the first Hummel in 1969. That machine still runs. To date, we've manufactured more than 50,000 Hummels, and more than 18,000 of them have been distributed through Palo Duro. They have been a great business partner."
A major focus for the new Palo Duro team will be training.  "During the past few months, Lägler has been collaborating with us to design and build a new training facility in Denver," says Fairbanks. "As many wood flooring contractors know, for several years now, Lägler has hosted a training event at its headquarters in Germany, paying for travel, hotel and meals for all attendees. The new facility in Denver will allow us to significantly increase the number of training events we can host."

Both Palo Duro and Lägler share a commitment to long-term relationships with suppliers, customers and employees. A grand re-opening will be held at Palo Duro's headquarters on November 12; key Lägler staff will be in attendance.
 
Have something to say? Share your thoughts with us in the comments below.