Contour banding technology brings growth opportunities for Bella IMC
July 10, 2020 | 2:50 pm CDT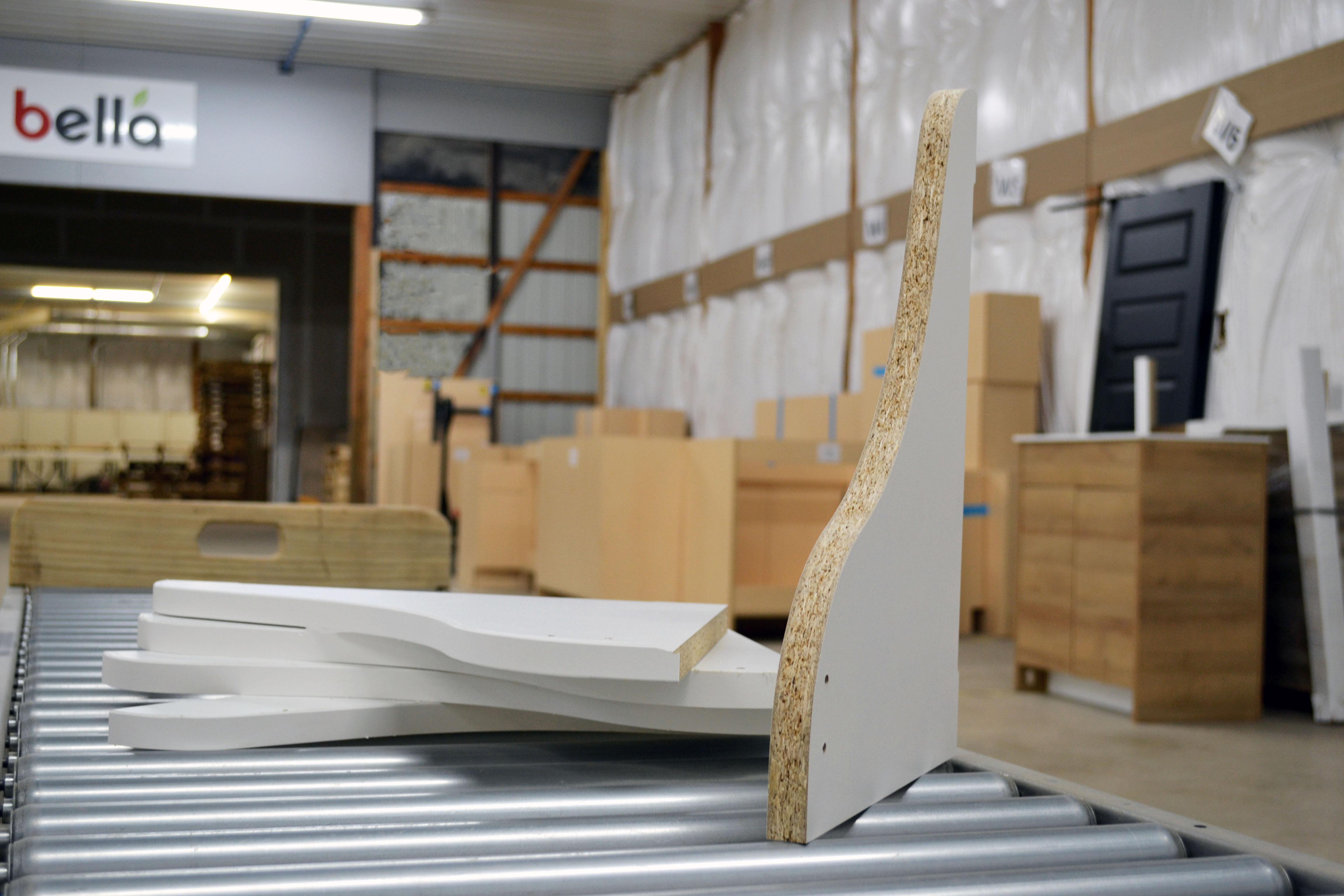 As the North American woodworking industry continues to recover from the impact of the COVID-19 pandemic, companies such as Bella Innovative Modern Cabinetry have used the time to invest in technology and find new opportunities for growth.  
It was around mid-April when the Huntertown, Indiana-based Bella IMC received a request to assist with parts manufacturing for a closet solutions company whose main supplier had been shut down due to COVID-19 restrictions. However, the closet firm incorporated closet verticals and bracket verticals in its parts list which had curved and slanted edges, while Bella IMC's equipment and expertise were in the straight edge processing of custom and semi-custom RTA frameless cabinetry.
RTA cabinetry is a specialty of Bella IMC
The decision to provide assistance during these tough times was an easy one for the company, said Chad Shelton, president of Bella IMC. The investment in new technology – an SCM Minimax e10 contour bander – offered the added benefit of enabling Bella to expand its current business pursuits.
The contour edgebander enables the cabinetry manufacturer to edgeband complex and tighter angles and shapes beyond 90 degrees. "Having the ability to utilize our new contour bander will not only extend our product line exponentially, but also it creates a more diverse portfolio we can produce for any particular one of our client type(s) and their cabinetry solution needs," Shelton said.
Company President Chad Shelton utilizes the SCM contour edgebander
The versatility to edgeband convex or concave edges at a fast-systematic pace also permits Bella IMC to continue creating large orders while still maintaining a fully automated and integrated production structure. Shelton noted the typical return on investment for new equipment purchases by the company is 24 months.
Already, the acquisition of the contour bander is expanding the company's capabilities for customizing orders, while opening new opportunities for growth at Bella IMC, Shelton commented.   "The biggest impact will be in closet and store fixture components. We don't manufacture store fixtures, but we do have store fixture companies that order components from us seasonally," he said.
Closets and home organization are among the markets served by Bella IMC
In addition to the new contour edgebander, technology at the 17,000-square-foot facility includes a Morbidelli CNC router, Stefani single-sided edgebander, Kaeser compressor and an Omal Lockdowel insertion machine. Bella IMC manufactures cabinets to order using Allmoxy's online 3D ordering system that allows customers to customize the cabinets, hardware, finishes and dimensions. Cabinets are shipped RTA or pre-assembled, and utilize Lockdowel fasteners, which the company says require no glue or screws and assemble 80 percent faster than conventional methods, while leaving the hardware hidden.
"Using Lockdowel as our construction method and Allmoxy as our storefront/ sales tool – those two things and thinking outside the box are our biggest advantage and help our margins grow exponentially," Shelton noted.
In addition to kitchen cabinets, bath vanities and closets, other product segments include home office, mudrooms, entertainment centers as well as commercial applications.
April's closet project is not the first time Bella IMC has been asked to step in and assist when another company couldn't complete a project. In 2019, for example, the company was awarded a 6,500 cabinet project for a 23-story, multi-family luxury housing unit in Washington, DC when the original supplier couldn't complete the order by the deadline.
More opportunities for the company await.  As the nation emerges from the COVID-19 crisis, the future for Bella IMC continues to be bright. Although the initial forecast has lessened, Shelton said, "We are still on track for a record year."
Have something to say? Share your thoughts with us in the comments below.