CNC-made wooden skull jumpstarts artist's career
April 22, 2021 | 11:20 am CDT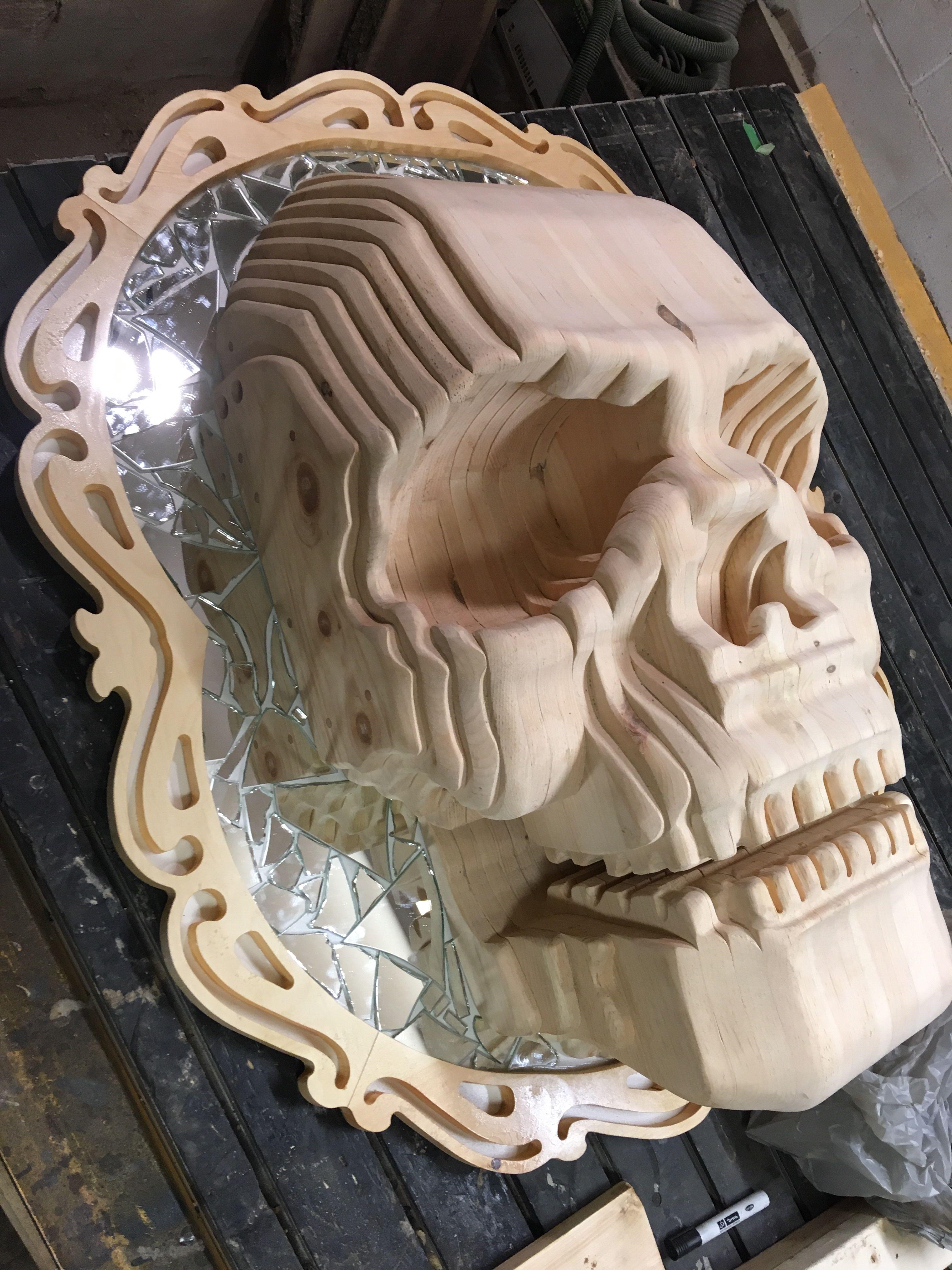 This article was submitted by Mastercam.
GUELPH, Ontario - In a 500-square foot studio on the lower floor of a two-story house in downtown Guelph, ON, Marcel Jordan is "living the dream." There— as well as in his 300-square foot detached shop—he spends countless hours making signage, one-offs, branded products, and furniture – work that many consider art. His work is getting attention from businesses, retailers, and national brands that want to partner with him, much of it coming from social media. 
Jordan works mostly with wood and, on occasion, acrylics, aluminum, and polycarbonate. He uses a one-ton 5-x 8-foot router he saw advertised online in 2014 and Mastercam CAD/CAM software from CNC Software Inc. to optimize the router's output. 
For more than a decade before, Jordan worked at machine shops in the aerospace, machining, and automotive industries. He first learned the software in 2002 while a pre-apprentice student and had taken several Mastercam courses along the way. In 2016, he made the decision to go out on his own. At first, he took in small jobs like acrylic cupcake trays for the bakery across the street and engraved charcuterie boards that he offered through local wine and cheese shows. 
"Getting my name out there and pricing my work low led to bigger projects like beer flight trays for local breweries and bottle holders from reclaimed wood for a spirits distillery," Jordan said. "I was also doing a lot of signage for local downtown retailers, bars, and restaurants." At the time, Jordan was programming with basic software and the help of a friend. Then, Jordan accepted a featured artist spotlight from Art Resin, a large epoxy company in Waterdown, ON.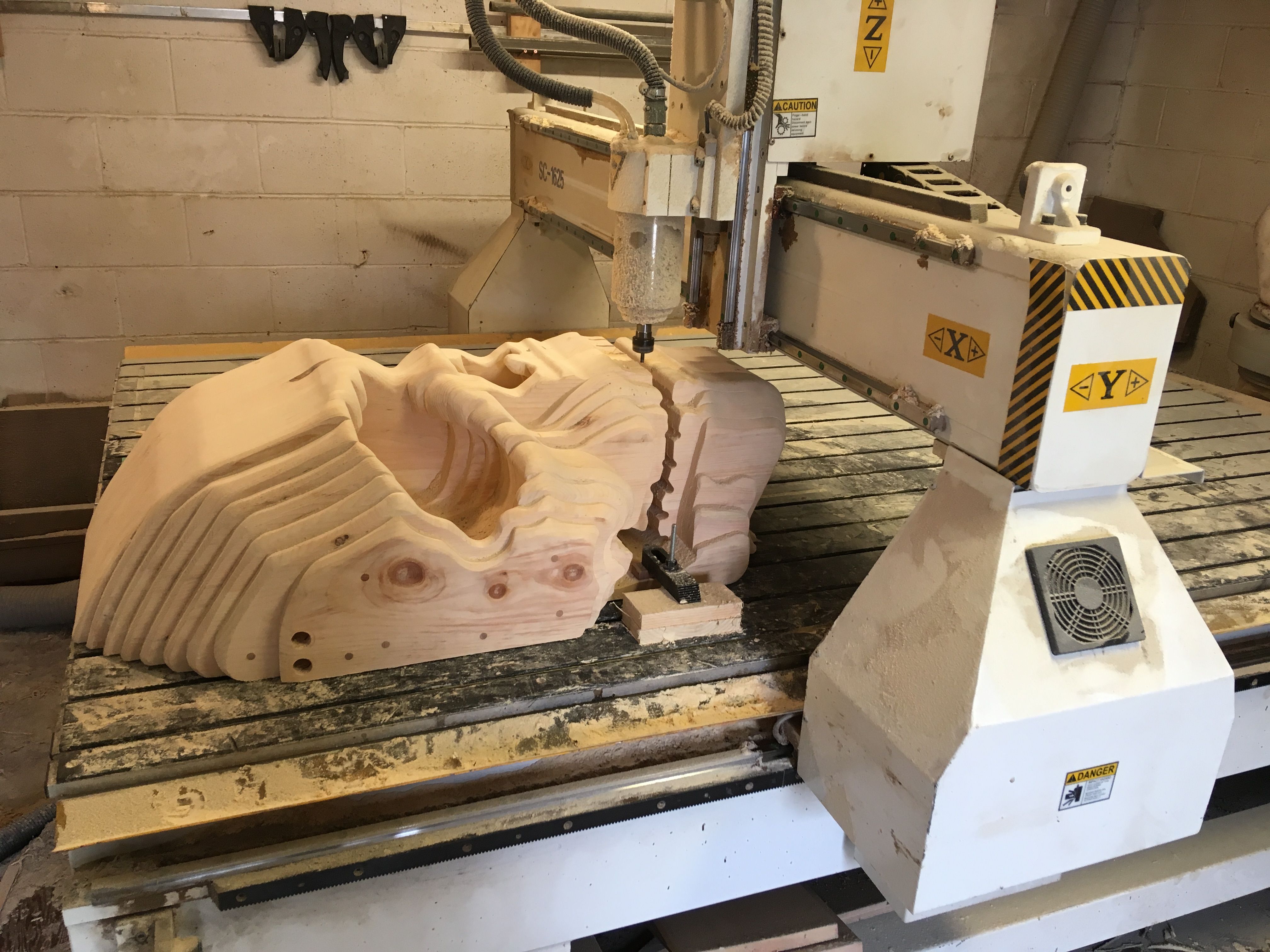 That job earned him the attention of a Mexican restaurant, who commissioned him to build a three-dimensional, wall-sized Sugar Skull as a showpiece to the restaurant's décor, a focal point for the dining room and bar.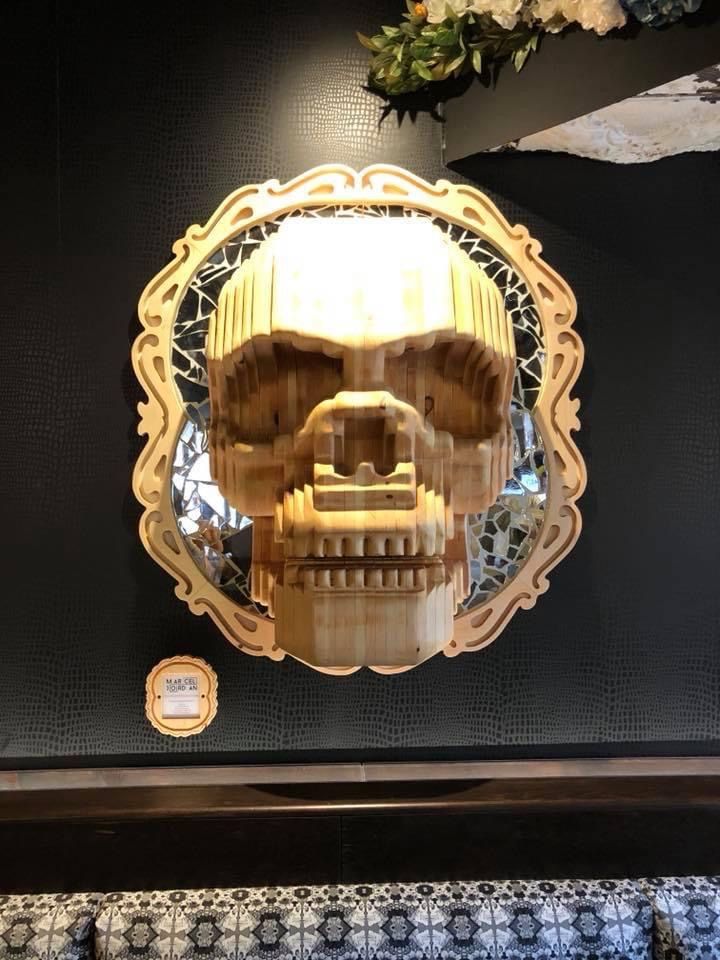 "When they told me what they were quoted for a skull made from foam, I assured them I could do something better, with wood, at a much lower cost. They took me up on my offer and I remember thinking, 'I have no idea how I'm going to do this, but I know I can, and I will!"
Designing it took a long time – 30 hours to be exact. "I found designs online of cardboard skulls that were done in layers," Jordan said. "I considered scaling it in Mastercam and test-running it out of cardboard." 
After the visual design was approved, Jordan needed to simulate the machining process to ensure the program was going to work. The skull was designed in two identical halves split down the middle to accommodate the knotty pine boards on the 5- x 8-foot router. The curves and recesses in the skull's shape and face were programmed using typical pocketing and contouring toolpaths.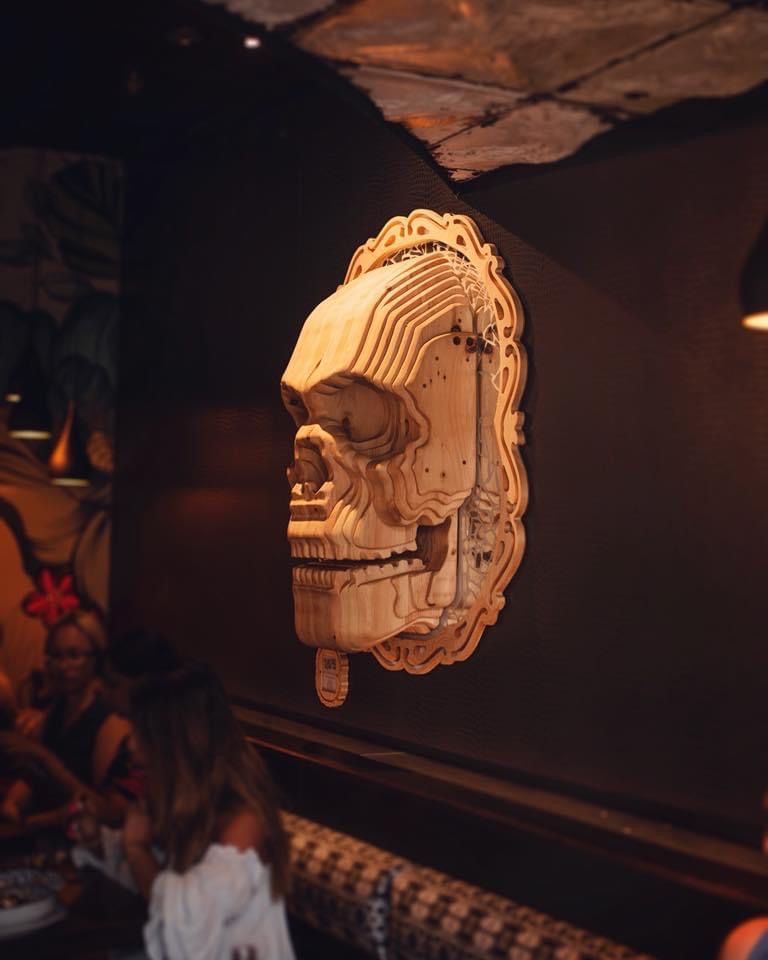 The final piece, which measures four feet tall and is mounted on shattered glass held together by epoxy resin, hangs on a central wall in the restaurant commanding attention from customers and making regular appearances on social media. "My customers were thrilled with the result and it set me up perfectly for a follow-up job—making 10 beer tap heads using the same skull theme but a different skull design."
The skull's popularity put Jordan's name on the map when Chevrolet Canada took notice of his work and commissioned him to make a sign for the winner of the company-sponsored "Most Road-Trippable Town in Canada" contest, a competition in which families from across Canada traveled in search of the most scenic road trip destinations. The sign Jordan was asked to produce would be installed in the contest-winning township. Small replicas of the sign, which would serve as trophies (plaques), would be needed for the winning township mayor.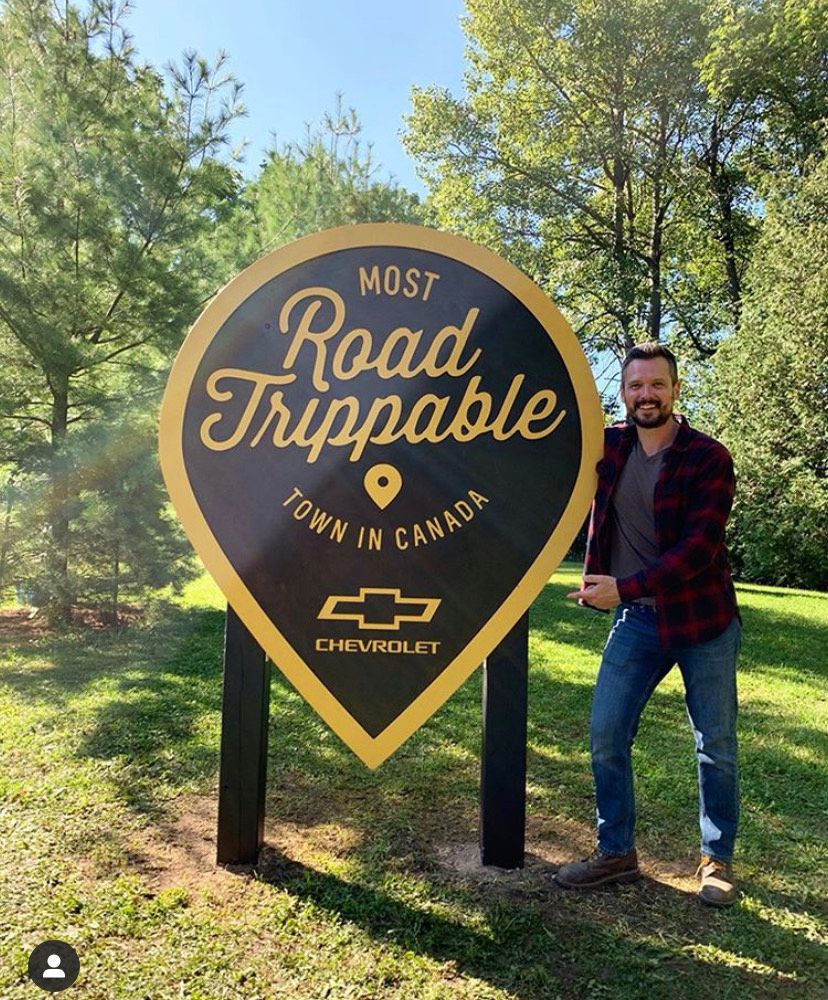 "It was a large wood sign in the shape of a huge navigation map 'pin point' installed in the winning township location," Jordan said. "There was a constant back and forth between Chevrolet and me on this one, so the visuals I created in Mastercam were key." 
The seven-foot sign is engraved with a 1/8-inch endmill using the software's Engraving feature. According to Jordan, the "most road-trippable part" is raised 3/8-inch as is the frame. The router ramps into the wood using a 1.5-inch endmill, hogging out most of the material via pocket toolpaths to achieve the design. Contours are cut using a ¼-inch endmill. Tight corners are tough, though, so Jordan successfully opted to re-machine the sign using a 1/8-inch endmill programming matching toolpaths with offset tooling. The sign is rough-finished and then engraved on the router. Jordan was able to create a scaled-down version by using Xform Scale, changing parameters in the software for the mayors of the most "Road-Trippable Towns".
Chevrolet was happy with the result and the sign was installed in Bonavista, NL. The following year, Jordan was hired to do the signage and plaques again, for the company's 2019 contest winner, Elora, ON. 
By far, the most challenging project for Marcel Jordan to date was "cutting the buck" for a full-size model car. The job came from Guelph, ON-based Vintage Tin, an internationally known fabrication and classic car restoration firm. Owner Wesley Barbour had built other classic cars, but this – the 1967 Alfa Romeo 33 Stadale – was considered one of the most beautiful and rare cars ever made by Alfa Romeo. Jordan's job was to make the framework for the car using a design provided by Trevor Lichty of ACL Designs, a well-known reverse-engineering firm located in Fergus. Lichty converted his 3D design to 2D shapes for Jordan, keeping in mind the ¾-inch thick plywood being cut for the parts. 
 
The real challenge, according to Jordan, wasn't cutting the buck but keeping its 250 pieces organized.
Jordan on his success:
"It's like a dream come true. As more people become aware of what I'm doing and what I can offer, I'm getting jobs that go beyond the small-to-medium-sized pieces that I did when I first started," Jordan said. "I'm getting jobs from big-name companies, jobs that require more complicated programming, and jobs that come with additional asks."
This article was submitted by Mastercam.
Have something to say? Share your thoughts with us in the comments below.