CKCA touts 'Buy Canadian Built Kitchen Cabinets' at WMS
December 3, 2019 | 3:50 pm CST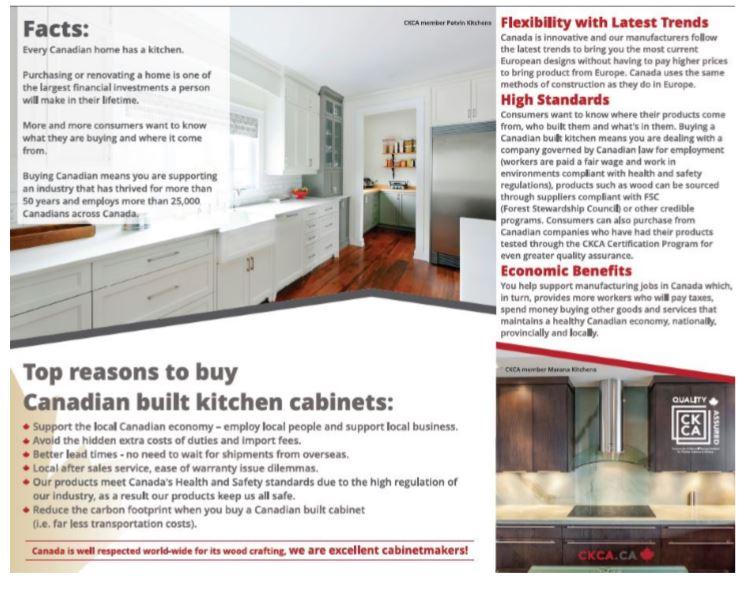 OTTAWA, Ontario - The Canadian Kitchen Cabinets Association is encouraging its members to get on board the "Buy Canadian Built Kitchen Cabinets" bandwagon following a successful soft launch at the Woodworking Machinery & Supply Conference & Expo (WMS) last month.
In her November CKCA News column, Sandra Wood, CKCA executive director, wrote, "It was a great show - well attended. For this event we decided to sport T-shirts with a message, 'Buy Canadian Built Kitchen Cabinets.' Why? Because what better way to convey what we stand for then to put it on a T-shirt. Did it work? Yes! For 3 days we got a lot of people staring at our shirts and that was our goal.  Getting the thumbs up, or smiles or nods of approval from attendees told us that this message is important and resonates with manufacturers and suppliers."
Wood added that CKCA also distributed sample "Buy Canadian" pamphlets at its booth at WMS. CKCA members are being invited to use that sample as a template to create their own "Buy Canadian" campaign to hand out at their showrooms and industry events. They can customize the pamphlet by inserting photos of their kitchen products and logo, and adding a customer testimonial. They can still choose to use the "Buy Canadian" slogan, along with "Top reasons to buy Canadian built kitchen cabinets," facts about the Canadian cabinet industry and other information included in the sample pamphlet.

Peter Istead, volunteer, left, Sandra Wood, CKCA executive director, and Varun Gajendran, Lucvaa Kitchens don their "Buy Canadian Built Kitchen Cabinets" T-shirts at WMS.
"Isn't it about time we started telling Canadians why they should buy Canadian? With so much competition from cheap foreign imports we have to speak up about the differences in Canadian product versus foreign product," Wood wrote, noting that CKCA is closely monitoring the anti-dumping action initiated in the U.S. by the Kitchen Cabinet Manufacturers Association versus Chinese cabinet imports.
Have something to say? Share your thoughts with us in the comments below.