Christmas Trees: Real or Fake?
August 15, 2011 | 5:38 pm CDT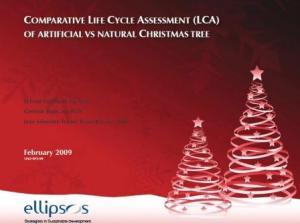 MONTREAL, PQ -
The perennial controversy over which holiday tree species is better for the environment - real evergreens or artificial trees made with PVC - gets another going over as news reports publicize a 2008 study by Ellipsos, a Montreal research environmental consultancy group.  /ccmsdocuments/Woodworking-Network/Christmas Tree LCA - ellipsos.pdf

The 91-page report exhaustively analyzes teh subject. Results show that a natural tree will generate 3.1 kg of greenhouse gases whereas the artificial tree will produce 8.1 kg per year.

Ellipsos used Life Cycle Assessment  following ISO 14040 and 14044 standards, with review by an independent third-party. Tree environmental impacts, from the extraction of raw materials to the end of life, showed that an artificial tree would need to be kept for at least 20 years to be equivalent a real live tree. Currently, people keep artificial trees for six years, on average, says Ellipsos.

Happy holidays from woodworkingnetwork.com

 
Have something to say? Share your thoughts with us in the comments below.