Casino Furniture Maker Gaming Partners' CFO Resigns
September 4, 2013 | 1:31 pm CDT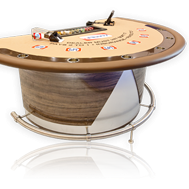 LAS VEGAS - Gaming Partners International Corporation (NASDAQ: GPIC), a global manufacturer of casino and table gaming furniture and equipment, says in an SEC filing that its CFO Gerald W. Koslow will be leaving the company.
Gaming Partners, which produces produces gaming casino furniture and accessories and table layouts for card playing, as well as roulette wheels, dice and cards, lost $54,000 on $14 million in sales in its latest quarter. Headquartered in Las Vegas, NE, Gaming Partners International also has offices in major gambling destinations, including Beaune, France; San Luis Rio Colorado, Mexico; Atlantic City, NJ, Gulfport, MS and Macau, China.
GPIC was formed in 2002 through a reverse merger between Paul-Son Gaming Corporation and Bourgogne et Grasset S.A. initiated by the late Francois Carrette, whose firm, Holding Wilson, S.A., remains GPIC's controlling shareholder.
Have something to say? Share your thoughts with us in the comments below.