Biomass company files for bankruptcy
November 9, 2022 | 2:17 pm CST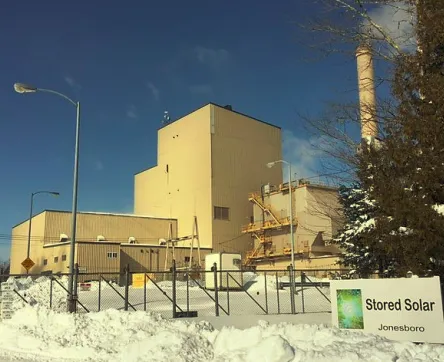 Stored Solar LLC, a  West Enfield, Me.-based company that owns two biomass electricity plants in Maine and several others in New England, has filed for bankruptcy while owing money to several companies and after receiving a $13 million bailout by Maine lawmakers.
According to news reports, the company that had access to millions in state subsidies to help it stay afloat owes $17.8 million to creditors including an energy market investor, the states of Maine and New Hampshire, and Maine loggers.
The company, and all but one of its subsidiaries filed for Chapter 11 bankruptcy protection in September in U.S. Bankruptcy Court in Bangor, according to the Bangor Daily News.
The filing comes six years after Maine lawmakers passed a $13 million bailout of the state's biomass industry, which uses waste wood to produce electricity, with the aim of preserving electric plants and logging jobs.
Stored Solar was one of two companies to benefit from the subsidy package, which used taxpayer dollars to guarantee biomass producers above-market prices for their electricity. But the company, which bought the West Enfield and Jonesboro plants in 2016 after previous owner Covanta shut them down, only ran the plants intermittently following the bailout's passage.
According to the NewsCenter Maine website, which reported on the U.S. Energy Information Administration, the West Enfield, Maine, plant hasn't produced power since December 2020 while the Jonesboro plant last produced power earlier this year, in June.
Months into its restart efforts in West Enfield and Jonesboro, a trade association representing Maine loggers, the Professional Logging Contractors of Maine, alleged some of its members supplying Stored Solar weren't being paid, according to the Bangor Daily News.
The company said in late March 2017 that it had paid the loggers and settled what it called an "invoicing dispute." But Dana Doran, executive director of the Professional Logging Contractors of Maine, said this week that Stored Solar still has not repaid those debts. Also in 2017, the company unveiled plans to open a shrimp farm at its West Enfield headquarters with the help of taxpayer loans.
Have something to say? Share your thoughts with us in the comments below.