Biesse unveils new app to analyze CNC machine workings
July 19, 2017 | 10:07 pm CDT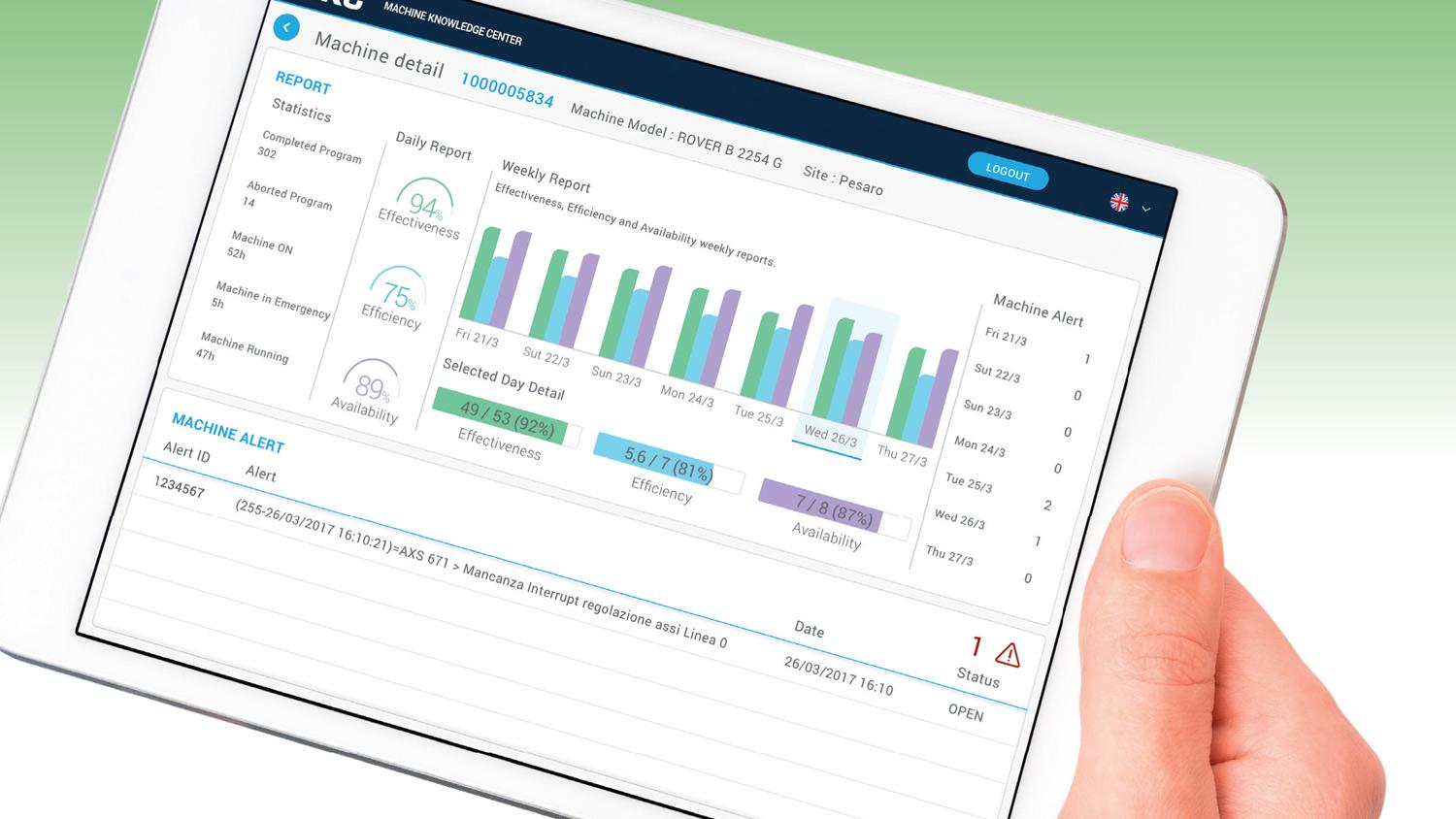 LAS VEGAS – Biesse is showing its new SOPHIA, short for Services Optimization Predictivity Human Innovation Analysis, at AWFS Fair this year. The cloud-based software management tool is designed to help users achieve higher productivity by providing them with a dashboard containing real-time visibility of machine status, performance and functionality.
The new app was described during a press tour in AWFS Fair's opening hour.

"SOPHIA is continuously accumulating, monitoring and analyzing a numeric-controlled machine's data via a cloud-based computing network on a real-time basis," said Cesare Magnani, brand sales manager of Biesse America.
"From the cloud, information such as a machine's performance history and operating statistics are filtered and analyzed to provide projections of the machine's future behavior. This information is easily accessible through a mobile app for the customer anywhere, anytime."

A prime example of SOPHIA's value is its ability to predict an impending failure by constantly being on the lookout for abnormalities such as excessive vibration or high temperature of a CNC router's electro spindles.

"If a machine sensor connected to SOPHIA detects that the machine is exceeding its parameters of operation, it will trigger an alarm alerting both our service department and the customer of a potential problem," Magnani said. "For example, it could be a problem with the spindle, a dull tool or that the operator is pushing the machine past its limits. In any regard, the app allows the customer to analyze the problem and with the help of our service team determine if something might be failing so that it can be repaired or replaced with minimal costly downtime."

SOPHIA represents Biesse's first partnership with Accenture, a provider of IoT analytics. Biesse is initially offering the SOPHIA app on new Rover CNC routers follwing a successful pilot project involving European customers. "While we're starting with the Rover, our final target is to offer this IoT app on any Biesse machine with numerical control," Magnani said.

"For its introduction at the AWFS Fair in Las Vegas, SOPHIA will be demonstrated on a Rover in the Biesse booth," Magnani said. "We will show the dashboard, explain how it works and what the benefits are," he added. "At the end of the day, the IoT app will help prevent lost downtime by providing a warning in a more targeted and timely manner so that the situation can be corrected before it becomes a bigger problem."
Have something to say? Share your thoughts with us in the comments below.