AWFS Names 8 Visionary Award Winners at Woodworking Fair
July 24, 2015 | 12:17 pm CDT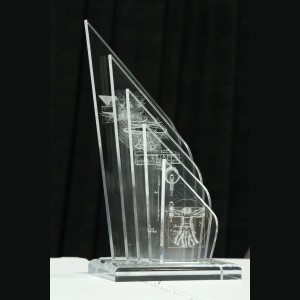 Photo By AWFS
LAS VEGAS – Eight woodworking machinery and supply manufacturers received Visionary Awards this morning at the 2015 AWFS Fair. The Visionary Award recognizes creativity and innovation, as well as leadership in green/environmental product development.
The eight winning products were selected from a group of 25 products, by 22 companies. "We had a great selection of products this year, more so than we've had in the past," said Angelo Gangone, executive vice president/AWFS Fair.
The winners are:



Product Innovation in Components: Schenk Ltd for the Kitsilano- Smoked Larch textured real wood panel.
Product Innovation & Productivity in Sanding: SurfPrep Sanding by Dixon Enterprises for the SurfPrep 3" x 4" Sanding System Kit.
Product Innovation in Software: RSA Solutions for the Wood CAD/CAM  3D/2D AutoCAD and SQL software.  
Innovation & Productivity in Hardware: Striplox for its Striplox Rapid Assembly Connectors fastening solution for cabinetry.
Product Innovation in Cutting Tools: Vortex Tools Co., Inc. for its Tool Selection APP which simplifies tool selection based on cutting needs.
Product Innovation in Power Tools: SawStop, LLC for the SawStop Jobsite Saw which detects contact with skin on the blade and stops the blade in less than five milliseconds.
Product Innovation in Machinery Under $50,000: Next Wave Automation for the Piranha FX  CNC routing system that can also 3D Print and Laser Engrave.
Product Innovation in Machinery Over $50,000: Holz-Her US for the  Evolution Vertical Machining Center which features a vacuum-based clamping system (patent pending), and fully automatic suction cup positioning with hole recognition, allowing workpieces to be machined on all four sides without re-clamping.
Read more news from the AWFS Fair at WoodworkingNetwork.com

Click here to see a complete listing of all AWFS Visionary Award finalists.
 
Have something to say? Share your thoughts with us in the comments below.