Ashley Furniture opens 700,000-square-foot facility on West Coast
August 10, 2022 | 3:56 pm CDT
SPANAWAY, Wash. – Ashley Furniture Industries, the largest manufacturer of furniture in the world, ranked #1 in the FDMC 300 listing, opened its first new distribution facility on the West Coast.
The new location in Spanaway, Wash., expands the company's already established national network of eight distribution facilities servicing the United States. The more than 700,000 sq. ft. facility serves as a distribution and fulfillment center. The multi-million-dollar investment will employ more than 250 associates across Ashley's distribution operations, as well as its affiliated brokerage (Ashley Pacific Northwest, LLC) and retail (Ashley Global Retail, LLC) businesses.
The company also recently broke ground on a 395,000 sq. ft. addition to the facility that will bring the total footprint to 1,110,000 sq. ft. of capacity.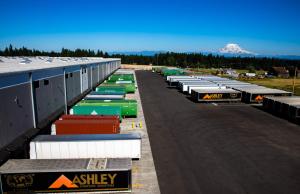 During the past 18 months, Ashley invested more than $1.5 billion into the organization, said Todd Wanek, president and CEO, Ashley Furniture Industries.
"The continuous pursuit to better serve our customers has focused investments into distribution and logistics operations in the U.S. This new facility is a significant step to expand our warehouse capacity to support brick-and-mortar retails operations, as well as our e-commerce growth," said Wanek. "The investments we're making in our company and the expansions into new communities demonstrate our willingness to reinvest in our people, our facilities and our operations to ensure we are well positioned to meet and exceed our customers' expectations.
Established in 1945, Ashley designs, manufactures and distributes home furnishings through retail, e-commerce and wholesale markets. The family-owned company is headquartered in Arcadia, Wis.
Have something to say? Share your thoughts with us in the comments below.