Ashley Furniture hosts wreath laying ceremony at Soldier's Walk
December 21, 2020 | 5:11 pm CST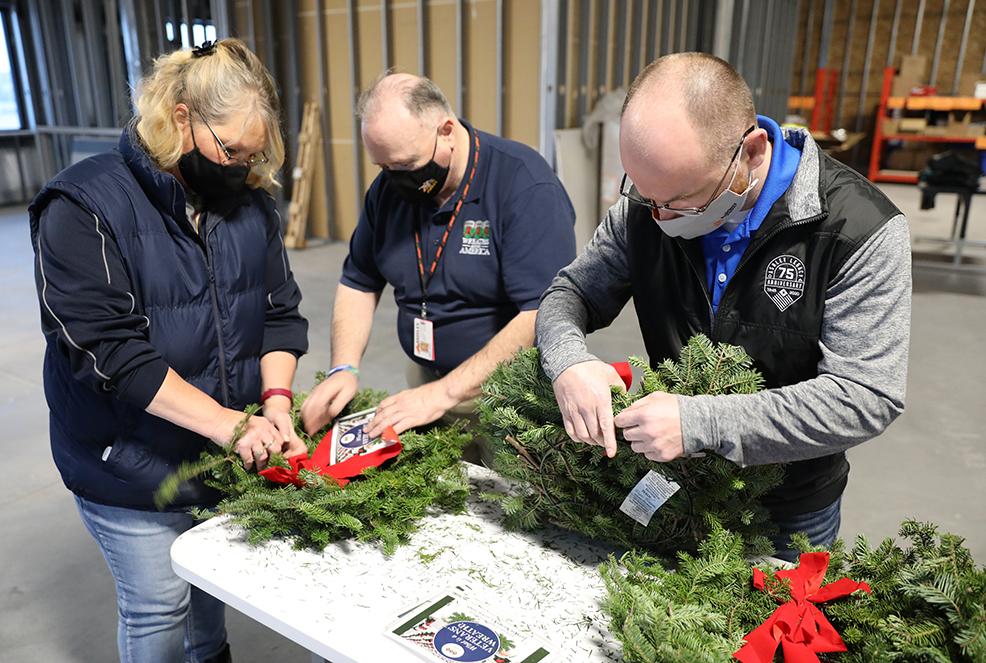 ARCADIA, Wis. – Ashley Furniture Industries hosted a ceremony on Dec. 19 to commemorate the nationally recognized Wreaths Across America Day.  This is the fifth year that Ashley has sponsored the event, held locally at Soldier's Walk in Memorial Park, located in Arcadia, Wisconsin.
Wreaths Across America is an annual event that honors and remembers veterans and active military men and women for their service. Its mission is to "remember the fallen, honor those that serve and their families, and teach the next generation about the value of freedom." According to a news release, this year's theme, "Be an American worth fighting for," was inspired by Staff Sergeant Daniel Strong's keynote address, made during the 2018 escort to Arlington. An infantryman in the U.S. Marine Corps, Strong lost 18 Marines during his time in service, and saw firsthand the impact this true sacrifice had on all involved.
Prior to the ceremony, volunteers from Ashley helped prep the wreaths with bright red ribbons and tags that share the mission of Wreaths Across America. Following the ceremony presentation, members of the Arcadia American Legion Post 17, community members, Arcadia Boy Scout Troop 264, and Ashley volunteers laid wreaths at each of the war memorials along Soldiers Walk. Simultaneously, thousands of volunteers and sponsors in more than 2,500 additional locations across the country, at sea, and abroad held their own wreath-laying ceremonies to honor the contributions and sacrifice of U.S. veterans.
Leading up to this day, beginning in Maine, a parade of trucks traveled down the East Coast on a mission to lay remembrance wreaths at the grave sites of veterans at Arlington National Cemetery in Arlington, Virginia, and other veterans' cemeteries along the way. As part of the "Honor Fleet," Ashley Distribution Services sent three Ashley trucks and trailers to deliver wreaths at 18 locations across Pennsylvania, Louisiana, Texas, Georgia, South Carolina, and California. This is the fourth year the organization has assisted in delivering wreaths.
"We've been participating in National Wreaths Across America Day for the past five years, both with wreath-laying ceremonies and transporting wreaths to participating cemeteries around the country," stated Ron Wanek, founder and chairman of Ashley Furniture Industries Inc. "It's a great honor to be involved with this organization and to be able to recognize our U.S. military personnel. It's also very humbling to see the different generations come together for this event and pass on this tradition and teach about the value of our freedom."
Wreaths Across America is a 501(c)(3) nonprofit organization founded to continue and expand the annual wreath-laying ceremony at Arlington National Cemetery begun by Maine businessman Morrill Worcester in 1992. The organization's mission – Remember, Honor, Teach – is carried out in part each year by coordinating wreath-laying ceremonies in December at Arlington, as well as at hundreds of veterans' cemeteries and other locations in all 50 states and beyond.
Established in 1945 and headquartered in Arcadia, Wisconsin, Ashley is the largest manufacturer of home furnishings in the world and was named one of America's Best Employers by Forbes in 2017. In recognition of his achievements, Wanek was named a Wood Industry Market Leader in 2011, and received the Horatio Alger Award in 2020. Both he and son Todd Wanek, president and CEO, have been inducted into the American Home Furnishings Hall of Fame. The company is ranked 1 on the FDMC 300 list of largest North American wood products producers.
Ashley Distribution Services was established in 1974 by Ashley Furniture Industries, Inc. and today is one of the industry's largest private fleets. Ashley Distribution Services delivers Ashley Furniture to Ashley HomeStores and customers throughout the United States.
Have something to say? Share your thoughts with us in the comments below.