Ashley Furniture and the Waneks donate $1 million+ in three days
September 14, 2023 | 10:29 pm CDT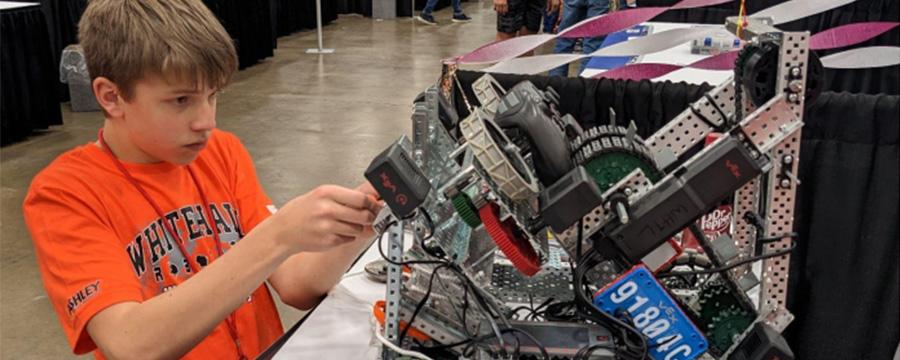 ARCADIA, Wis. — Ashley Furniture, separately and in conjunction with the Ronald & Joyce Wanek Foundation, often donate money and time throughout the year, but in just a few days in September, the organizations were particularly generous.
The generosity benefited a robotics program, student scholarships and the arts.
Robotics 
The organizations donated more than $226,000 in grants to implement and support robotics education for schools near Ashley's advanced manufacturing facilities in Mississippi and Wisconsin, and in Minnesota during the 2023-2024 school year. The awarded funds will allow schools to purchase and upgrade innovative, age-specific VEX Robotics equipment, and to better enhance STEM (science, technology, engineering, and math) education and robotics programs.
Schools were selected based on their overall strategies for incorporating VEX Robotics equipment and curriculum into K-12 classrooms and/or extra-curricular competition programs. The mission is to provide students with the opportunity to be inspired by the excitement of hands-on STEM Learning. Since 2017, Ashley and the Ronald & Joyce Wanek Foundation have supported VEX Robotics efforts among K-12 and post-secondary education with more than $891,000 in grants.
"Over the past three years, both New Albany Middle School and the New Albany School of Career & Technical Education Center have benefitted from the grant program," stated Melanie Shannon, Public Relations & Special Projects Coordinator New Albany School District. "These opportunities have allowed us to implement Robotics classes at our Middle School for students in grades 6-8 and provide the most up-to-date robotics equipment for students in our Engineering classes at our Career & Technical Center.  Ashley has been an amazing partner in helping us meet our STEM and workforce development goals."
VEX Robotics is committed to enhancing robotics education as a leading provider of educational and competitive robotics products. Various lines of equipment are provided for students of different grade levels, their solutions and products provide a streamlined approach to serving students across an entire school district. VEX Robotics equipment can be used to support students outside of the classroom through extracurricular competition programs. Students are tasked with designing and building a robot that competes in game-based engineering play and challenges.
Schools receiving funds for the 2023-2024 school year include: Alma Area Schools, Arcadia School District, Black River Falls School District, Eleva-Strum School District, Gilmanton Area School District, Holy Family Catholic School, Independence School District, Melrose-Minoro Area School District, Mt. Calvary-Grace Lutheran School, Osseo-Fairchild School District, School District of La Crosse, St. John's Lutheran School, and Whitehall School District near Ashley's Wisconsin facility. The New Albany School District, Pontotoc County School District, and South Tippah School District near Ashley's Mississippi facility are receiving funds. Additional benefitting schools include Lewiston-Altura Public Schools, St. John's Lutheran School, and St. Matthew's Lutheran School in Minnesota.
Scholarships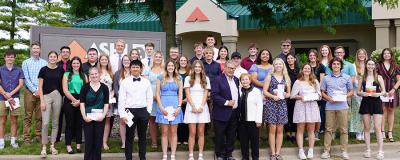 The groups awarded over $320,000 in scholarships to 120 students for the 2023-2024 academic year. These scholarships aim to support students pursuing various fields of education and are a testament to Ashley's commitment to investing in the future workforce.
"When it came time to apply for college, the reality of paying for it quickly came into my decision process. I am honored to be a part of such a diverse group of recipients from various schools, backgrounds and majors. Thank you to Ashley and the Wanek Family for awarding me the Grants in Aid scholarship as it will enable me to help fund my education." - Elizabeth Adams, Ashley Scholarship Recipient
The scholarship program consists of two opportunities offered annually to graduating high school students who are children of Ashley employees. The 'Ashley Grants-in-Aid Scholarship' offers a one-time scholarship of $2,000 to students enrolled in an accredited college or university for the following fall semester. The 'Wanek Engineering and Design Scholarship' offers $5,000 to students pursuing a secondary degree in Engineering or Design.
Recipients from eight states, namely Wisconsin, Pennsylvania, North Carolina, Mississippi, Florida, Texas, Washington, and California, were awarded scholarships. They were invited to attend a presentation and tour of Ashley facilities with their families to learn more about the company's career opportunities.
"I am grateful for Ashley for awarding my son this scholarship, apart from the financial relief, it also recognizes him for his efforts and accomplishments during his high-school years, which I feel is very encouraging for him as he pursues a degree in engineering."  - Chandrasekhar Achanthodi, Ashley Employee
Ashley and the Wanek family have contributed over $3.5 million to over 2,000 student scholarships since 1997. This investment is due to the belief that supporting the education of future generations is crucial in building a sustainable and prosperous future.
The arts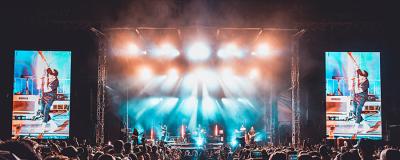 Ashley for the Arts wrapped up another successful weekend of family fun and live entertainment in Arcadia. The annual, three-day music and arts festival took place August 10-12 and drew in tens of thousands of fans to see a world class lineup of performers, enjoy access to arts and craft vendors, as well as rows of food vendors, an inflatable air park, a lumberjack show, street performers, fireworks, and much more! Nearly $700,000 will benefit 70+ non-profit organizations that participated in the event this year.
"Memorial Park was once again transformed into a premier music and art hotspot. From the second you walked onto the grounds, you were immersed with the fun of entertainment and activities for the whole family," said Cole Bawek, Event Director. "We are very thankful to everyone who supported Ashley for the Arts this year and helped us to achieve our goal to have another record-breaking year!"
The festival kicked off Thursday evening with performances by The Whitesidewalls Rock 'N' Roll Revue, Blondie Blue, and Restless Road, as well as fireworks and the Pursuit of a Cure Glow Run. Nearly 300 participants showed up in their neon best, adorned with glow accessories to run for the cause. They were met at the finish line with a pool of yellow glow foam. Proceeds raised from the Glow Run, luminaria sales, and the charity raffle support the advancement of medical research and help to offset medical-related costs that families incur during medical emergencies. Guests also joined in the dedication ceremony of a War Dog Memorial monument, the newest installation to Soldiers Walk Memorial Park.
Despite a weather delay on Friday, the weekend brought in steady crowds of excited fans and the show went on. Memorial Park Drive was lined with over 100 craft fair vendors that displayed, sold, and demonstrated their skills and unique works of art. The walkway housed Ashley Furniture's "Ashley Zone," which highlighted a variety of the company's corporate social responsibility initiatives: Heartworks, City of Hope, Trempealeau Valley Co-op's Mobile Skills Lab, Ashley's Angels, conservation efforts, Wreaths Across America, and local middle and high school robotics teams. 
Throughout the course of the festival, children and families were able to enjoy family friendly entertainment including an inflatable air park, interactive art, a petting zoo, BINGO, lawn games, and more – all of which was included in the low-cost admission. Friday fans were also treated to a military flyover courtesy of the F-35A Lightning II from the 33rd Fighter Wing, Eglin Air Force Base in Florida.
Weekend festivities continued with entertainment from street performers, balloon artists, an extreme juggling show, Painting in the Park with Cheers Pablo, 10 local school performances and three side stages full of music and family entertainment. Timberwork's Lumberjack Show performed an art straight out of Wisconsin's Northwoods' logging history. Food vendors provided hungry festivalgoers with an abundant choice of tasty snacks and meals.
Main Stage performances included OneRepublic, REO Speedwagon, Jake Owen, Tyler Hubbard, Trace Adkins, WALK THE MOON, Raelynn and Sawyer Brown. Festivalgoers jammed out to a variety of classic rock, pop, and country shows. OneRepublic wrapped up the festival with a performance of Counting Stars under a beautiful Wisconsin star-filled sky.
Ashley for the Arts would like to thank all of the fans for joining in on festival fun and for being supporters of the cause, helping to raise a generous amount of money for the community. Ashley Furniture Industries, LLC, Ashley for the Arts' Host Sponsor, along with numerous community and corporate sponsors made this event possible, providing affordable access to music and arts for the entire weekend. With the help of volunteers who filled nearly 4,000 shifts, Ashley for the Arts was able to put on the one-of-a-kind non-profit event. Thank you to all who dedicated their time to the event and to all emergency service and security personnel for their assistance.
Save the date for 2024, August 8, 9 and 10 in Arcadia, Wisconsin. For more information on Ashley for the Arts, visit www.AshleyfortheArts.com.
Have something to say? Share your thoughts with us in the comments below.