American Home Furnishings Hall of Fame receives $2 million in donations
May 27, 2021 | 9:58 am CDT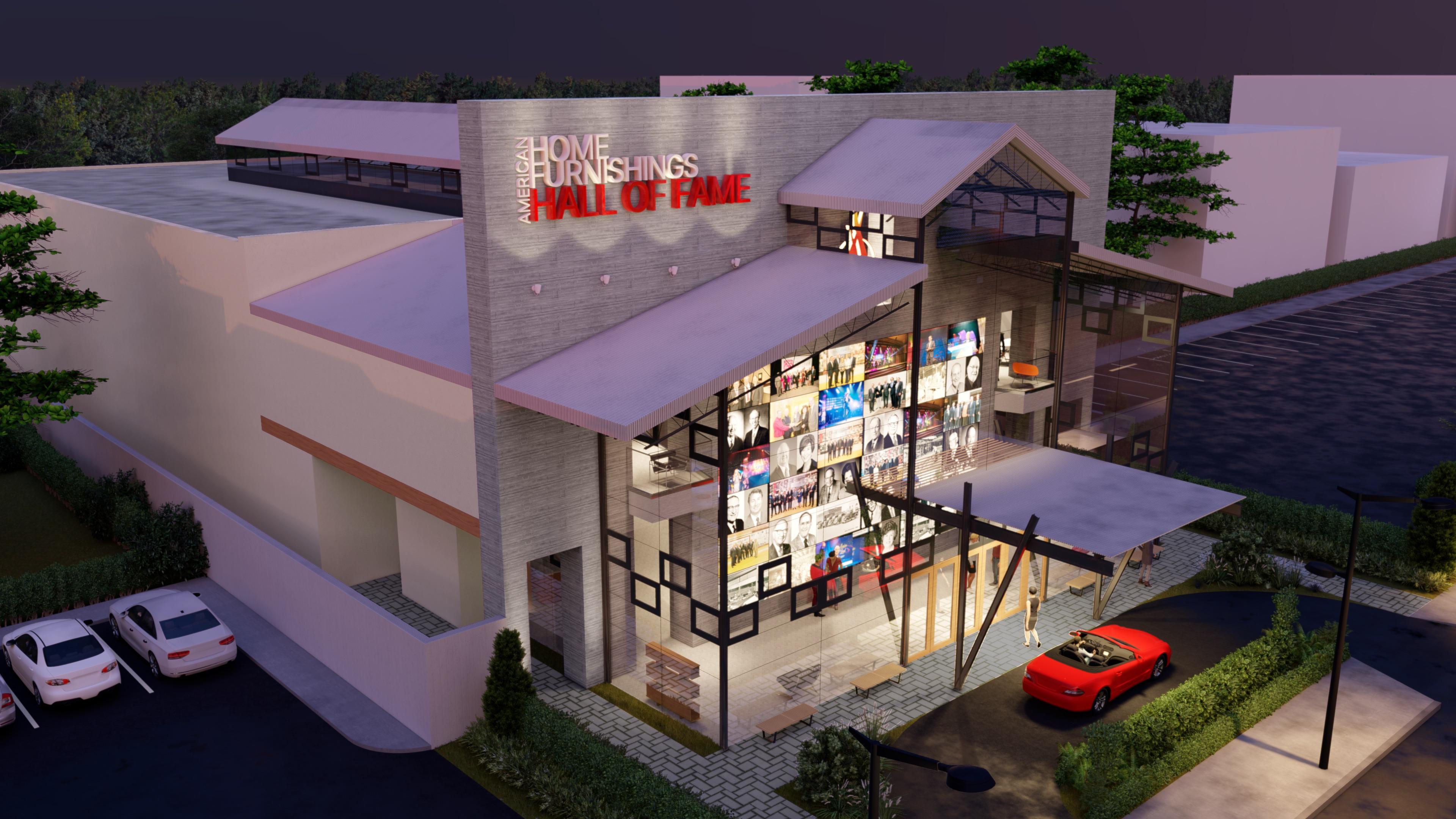 HIGH POINT, N.C. - Close to $2 million in donations have been provided recently to the American Home Furnishings Hall of Fame for its building fund. The grand opening of the permanent Hall of Fame building is targeted for 2023.
Most recently, a $250,000 gift was received from Neil and Robin Goldberg for the Tribute Wall, in honor of the people behind Raymour & Flanigan, the nation's seventh-largest retailer based in Liverpool, New York.
"As we transition to the third generation of leaders, we are even more mindful of what this industry has given to us as a family, and of the significance of providing for the growth and development of future leaders," said Neil Goldberg, CEO and chairman of Raymour & Flanigan Furniture.  "Bernie and Arnold Goldberg founded the company in 1947 as a family endeavor, and we place a high value on remaining family owned and family oriented as an organization.  
An interactive display, the Tribute Wall will celebrate leadership through the use of documentaries, videos, photography and oral histories.
"Our people are our greatest asset and as a culture, we are passionate about our customers. Naming the Tribute Wall at the industry's permanent home is a meaningful way for Robin and me to honor the people that make up Raymour & Flanigan," he added.  "We are proud to be a certified Great Place to Work® and this is a public means among the industry to recognize the value we place on our associates."
Earlier in May, The American Home Furnishings Hall of Fame received a $1 million investment from the Wanek family and Ashley Furniture Industries. The Center for Leadership will provide a platform for education, networking and inspiration, including the exploration of new technology and techniques.
"The furniture industry is changing; we need to be quick and relevant to stay competitive. We're making exponential investments into our own company as well as investing $1 million in this project as a Center for Leadership to become a catalyst for actionable change in the industry," said Todd Wanek, president and CEO, Ashley Furniture Industries. "We want this project to provide a spark of transformation through executive education that will lead us into future opportunities as a country and as an industry."
"Education is a crucial part of our country's success in the global marketplace. In order to secure our country's position as a world-leader in technology and advanced manufacturing, we must continue to evolve ourselves, our business and our industry," said Ron Wanek, Founder and Chairman, Ashley Furniture Industries. "We believe that this investment will create educational partnerships in an industry that we love and has given so much to each of us."
In March, Bill and Carolyn Hinks of Furniture Mart USA in Sioux Falls, South Dakota, donated $500,000 to the Hall of Fame Building Fund, designating the central gathering space as the Bill and Carolyn Hinks Celebration Hall.
"When I first learned about the plans for a home for our industry, I thought it was amazing and that this project will give young people a focus and a sense of the legacies of our industry and the people who have made it great," Hinks said.  "It's going to be an inspiring showplace where we can meet during markets, and as a result, amazing things will happen.  That's what we want to do – to get people new to our industry involved and for all of us to be able to get to know one another and to have a place to share ideas.
"We chose this naming opportunity because we love that our industry is like a big family," he added.  "The Celebration Hall will be the heart of our new home as a training ground and a center of leadership, events and activities.  We are so pleased to be involved and I can't wait to get a shovel into the ground and to see this building under construction." The project currently is in the final planning stages, with completion expected in 2022. 
To date, capital campaign donors to the American Home Furnishings Hall of Fame include: The Wanek family and Ashley Furniture Industries; Bill and Carolyn Hinks, Furniture Mart USA; Neil and Robin Goldberg, Raymour & Flanigan; International Market Centers; Lacquer Craft USA; Manwah; Karen McNeill and Stephen Pond; Bill and Candy Fenn; Roger and Martha Bland; Michael Amini, AICO; Aminy Audi, L. & J. G. Stickley;  The Broyhill Family Foundation Keith Koenig, City Furniture; Chad Spencer, the Dufresne Spencer Group; Hooker Furniture; Bill and Julia Wittenberg; Schwarz Properties; Patrick Cory, Joseph Cory Holdings LLC; Hassell Franklin, Franklin Corporation; Markor; Nebraska Furniture Mart; Nourison Industries; The BB&T Foundation; Donald Belgrad; Andy Bernstein, FurnitureDealer.Net; John Bray, Vanguard Furniture Company Inc.; Bobby Bush; Jeff Child, R. C. Willey; Randy Coconis, Coconis Furniture; Bruce and Kena Cohenour; J. Don Coleman, Coleman Consulting LLC; the DRIVE Foundation; Jerry Epperson; Mickey Holliman, Five Star; Fred Feinbloom; The Furniture Foundation; David Gebhart, Global Views; Lyle Harris, Behold Home; Haverty Furniture Companies; The Ina Mae Kaplan Historic Preservation Fund; Bill and Sue Kimbrell; Amir Loloi, Loloi Rugs; New Atlantic Construction; Norwalk Furniture; Phillips Collection; Martin and Mary Ann Ploy; Prestige Arts/Art Trends; Lawrence Rogers; Will Somers; Jim Sneed, Affordable Furniture; and Imogene Zimmerman.
The American Home Furnishings Hall of Fame Foundation, Inc., is an industry-wide, 501(c)3 nonprofit organization founded to preserve its history, to celebrate exceptional individuals who have made extraordinary contributions to the U.S. home furnishings industry, and to inspire a new class of innovation and leadership.
Have something to say? Share your thoughts with us in the comments below.