American Furniture Manufacturing Sold
October 7, 2015 | 9:55 am CDT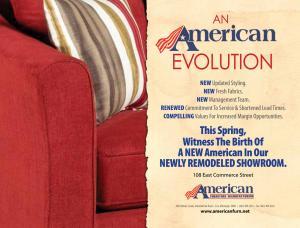 WESTPORT, CT — Upholstered furniture manufacturer American Furniture Manufacturing Inc. has been sold in a deal valued at $24.1 million. Majority owner Compass Diversified Holdings announced the news Oct. 6.
Compass Diversified Holdings (NYSE: CODI) said it sold the residential furniture maker to a private investor group, including members of American Furniture's management team. Compass Diversified received approximately $23.5 million after closing expenses. The amount was in respect of its debt and equity interests in American Furniture and the payment of accrued interest and fees. 
Compass Diversified acquired the Ecru, Mississippi-based American Furniture on August 31, 2007 for approximately $93 million. The holdings firm said it expects to record a loss on the sale of approximately $14 million. 

"Over the past several years, we have worked closely with the new management team of American Furniture and deeply appreciate their effort and professionalism in successfully implementing a turnaround amid a challenging industry environment," stated Alan Offenberg, CEO of Compass Diversified. "We wish the company continued success in the future."
Founded in 1998, American Furniture manufactures upholstered furniture for the promotional segment of the marketplace, including stationary and motion sofas, loveseats, sectionals, recliners, chairs and complementary accent tables. The company recorded sales of $129.7 million in 2014.
Have something to say? Share your thoughts with us in the comments below.