American Furniture Manufacturing Owner Compass Holdings Issues Dividend
July 12, 2015 | 8:47 pm CDT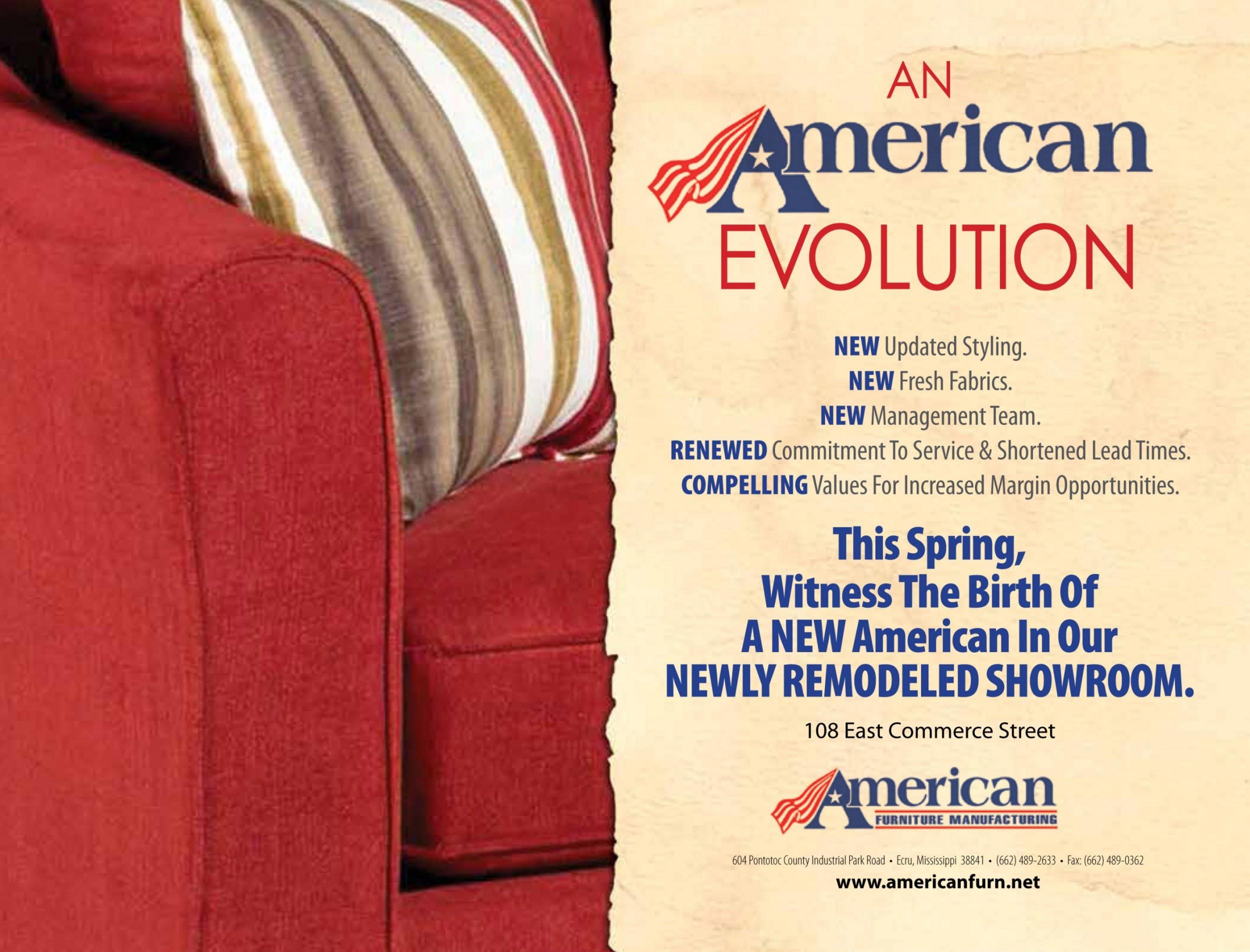 WESTPORT, CT - American Furniture Manufacturing parent Compass Diversified Holdings (NYSE: CODI) declared a quarterly cash distribution of $0.36 per share for the latest quarter winding June 30, 2015, and payable July 29. 
Alan Offenberg, CEO of Compass Diversified Holdings (CODI), explains that the firm maintains controlling ownership interests in each of its nine subsidiaries, maximizing long term cash flow and providing both debt and equity capital for its subsidiaries, which contributes to their financial and operating flexibility. Cash flows generated by its subsidiaries are invested in the long-term growth of the company,
which generated nearly $1 billion in revenue last year
. 
American Furniture was founded in 1998 and focuses on 3 product categories: stationary, motion (reclining sofas/loveseats) and recliners. Headquartered in Ecru, Mississippi, its products are sold in the United States. CODI made loans to and purchased a controlling interest in AFM on August 31, 2007 for approximately $97 million. American Furniture Manufacturing generated $21 million in revenue in the first quarter, up about 5% from the year before, and earning a $1.7 million profit.  
American Furniture began operations with four assembly lines housed in a 60,000 sq. ft. facility. By 2002, American Furniture had achieved revenues in excess of $120 million and grew operations into a 600,000 sq. ft. facility in Houlka, MS. In 2004, American Furniture was sold by its founder to a group of private investors who installed a new management structure and hired a new executive team and grew American Furniture's administrative infrastructure in order to build a solid foundation to support future growth. In 2005, American Furniture aggressively pursued Asian sourcing for fabrics and other assorted materials. Today American Furniture is a leading manufacturer of promotional upholstered furniture operating from an approximately 1.1 million sq. ft. manufacturing and warehouse facility.
For the full fiscal years ended December 31, 2014, 2013 and 2012, American Furniture had net sales of approximately $129.7 million , $104.9 million and $91.5 million, respectively, and operating income of $3.7 million and $0.2 million, and an operating loss of $1.5 million, respectively.
In addition to American Furniture Manufacturing, he design and manufacture of promotionally priced upholstered furniture (American Furniture Manufacturing), CODI owns a quick-turn, small-run and production rigid printed circuit boards (Advanced Circuits); designs and manufactures medical therapeutic support surfaces and other wound treatment devices (Anodyne Medical Device, also doing business and known as Tridien Medical); manufactures engineered magnetic solutions for specialty applications (Arnold Magnetic Technologies); The design and manufacture of personal hydration products for outdoor, recreation and military use (CamelBak Products); environmental services for a variety of contaminated materials including soils, dredged material, hazardous waste and drill cuttings (Clean Earth); designs and markets wearable baby carriers, strollers and related products (Ergobaby); designs and manufactures premium home and gun safes (Liberty Safe); and manufactures and markets portable food warming fuel and creative table lighting solutions for the foodservice industry (SternoCandleLamp).
Have something to say? Share your thoughts with us in the comments below.