530 workers looking for work after Mitchell Gold closes
August 29, 2023 | 12:04 pm CDT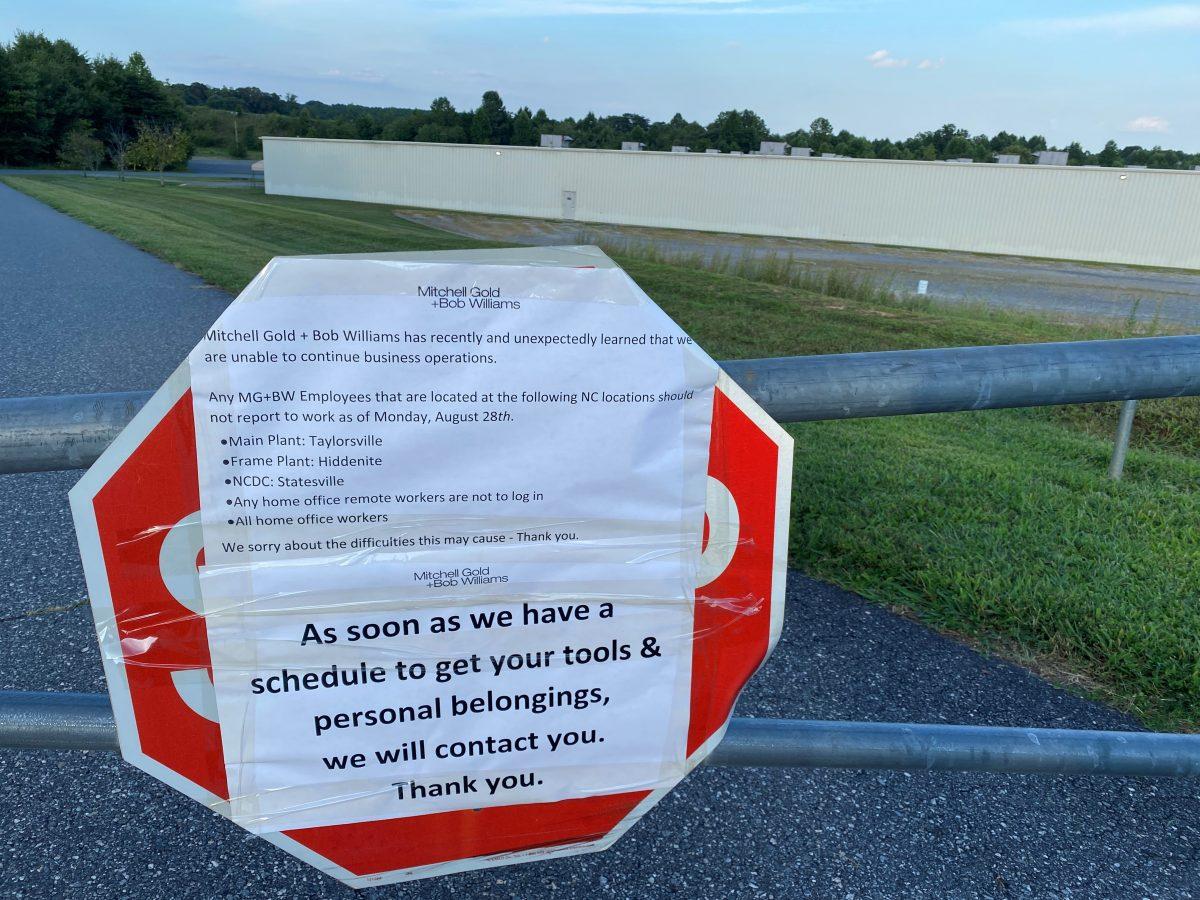 More than 533 employees in North Carolina, and about 800 total nationwide, have been laid off from Mitchell Gold + Bob Williams company in North Carolina, including 440 employees at the Taylorsville site, 47 at the Statesville site, and 46 employees at the Hiddenite site, as per the company's Worker Adjustment and Retraining Notification (WARN) notice.
Laid-off employees will be paid wages through their last day on Oct. 25, but health insurance benefits will run out on Aug. 31, according to a letter from interim CEO Chris Moye that was posted on the office door. Moye had joined the company in April, succeeding merchandising veteran Allison O'Connor.
Company founder Mitchell Gold in an interview with Hickory Daily Record in an interview Monday morning the closings will affect a total of around 800 nationwide. Gold said his understanding is that the company is ceasing operations because the company's bank accused the company of being in technical default and abruptly suspended credit.
"The bank had gotten to the point where they did not want to continue financing the company," Gold told the Hickory newspaper. 
Gold said he and his partner Bob Williams, who founded the company together in 1989, "are devastated and kind of furious also." He said neither he nor Williams currently own the company. He said the company is now owned by The Stephens Group based in Little Rock, Arkansas.
Gold said he left the role of CEO in 2019 and has been under contract with the company to perform work as needed. He said he has not been involved with the company for most of that period but was brought back in last April to assist interim CEO Chris Moye.
The Stephens Group, a private equity firm, which acquired the company in 2014, told CNN that it recently invested $20 million to restructure, but that wasn't enough to save the business.
In an interview with the Dallas Morning News, Allie Laborde, principal, business development at Stephens, said, "Shortly after this restructuring, the company's lender withdrew its support, forcing Mitchell Gold + Bob Williams to cease operations. The company has done the best it could in a very challenging situation."
Woodworking Network readers step up
Readers of the Woodworking Network and its various channels have stepped up. Here are a few of the posts on WWN's LinkedIn page.
Aaron Brody
Partner - Vice President of Project Management at Architectural Arts Millwork, Inc.
Architectural Arts Millwork is hiring, be sure to check us out if you're newly out of a job and want to join a thriving Millwork company!
Cory Stafne
President at St Germain's Cabinet, Inc. - Supreme Counters
St Germain's Cabinet - Supreme Counters is hiring.
Duluth, MN
Lori Rosenberg
Vice President at Rose Custom Cabinets, Inc. - Rose Custom Kitchens & Baths,LLC - Rose Custom Builders, Inc.
We are ALL hiring, hence these companies were forced to close. No matter how automated, without SKILLED employees we can't sustain & pay our overhead! These are not work from home & sit on your ass jobs!
Nicholas Palmer
CEO at Commercial Casework Inc.
Commercial Casework Inc. is hiring! If you are willing to relocate to the Bay Area or Sacramento, give us a shout!
Frankie J.
Chief Executive Officer
Any millworker looking to relocate to Atlanta, get in touch. American Woodwork, Inc.
John Hand
Open at Woodwork specialist by hand former owner Laminate creations by Hand "one off specialist"
Bo Curtis
Eastern Sales Manager at Can Am Sales, Inc.
Koch Cabinets is hiring in Seneca, KA, Morristown, TN and Barnwell, SC
Have something to say? Share your thoughts with us in the comments below.